Fed-Up Dad Writes Strongly Worded Letter From Tooth Fairy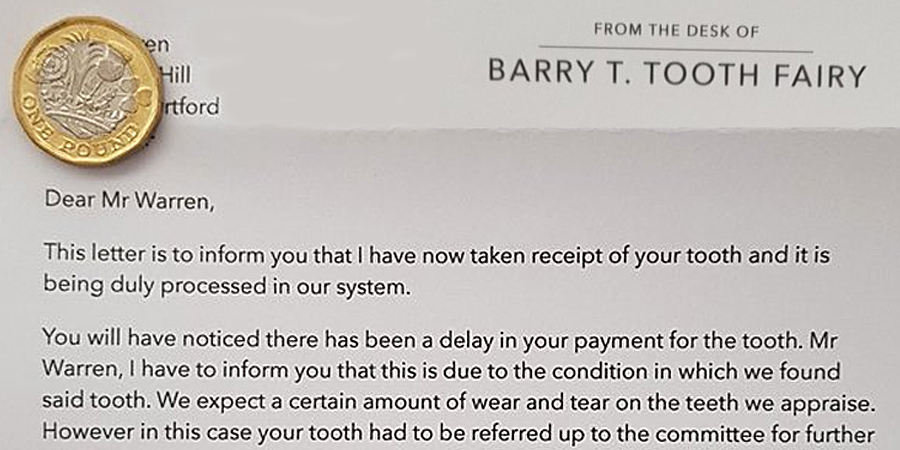 Of all the basic life skills parents are tasked with teaching their kids, brushing your teeth is often overlooked.
Walking, talking, potty-training; all of those are hot topics among parents, but we're all supposed to brush our teeth twice a day.  Until you become a parent, you might not realize how tricky it is to impart this necessity to your children. It's like pulling teeth. Except the goal is to make sure they don't rot and you don't have to pull them.
Henry Warren was so done with his son's lack of dental care that when he lost his latest tooth, he made his move. The dutiful dad typed up an official-as-hell sounding letter direct from the office of the Tooth Fairy.
The letter calls out the boy for the state of his lost tooth, indicating that there would be a delay in processing any monetary reward "due to the condition in which we found said tooth." The "Tooth Fairy" even cites specific culprits – Fanta, cereal, chocolate – traces if which were found on the tooth due to a lack of proper brushing.
Our son is dreadful at brushing his teeth. Turns out the Tooth Fairy has had enough pic.twitter.com/4WWmBvuo22

— Henry Warren (@henrywarren) September 5, 2017
The letter concludes with the Tooth Fairy conceding payment but warning the boy that next time his teeth had better look better or he was going to wake up empty handed:
"We need your assurances that the condition of the next tooth will be significantly better or we will withhold payment."
The tweet has received nearly 20,000 likes and over 6,000 retweets, no doubt from fellow parents who know the teeth brushing struggle all too well.