Festive Dragon Lawn Display Has Neighbor Breathing Fire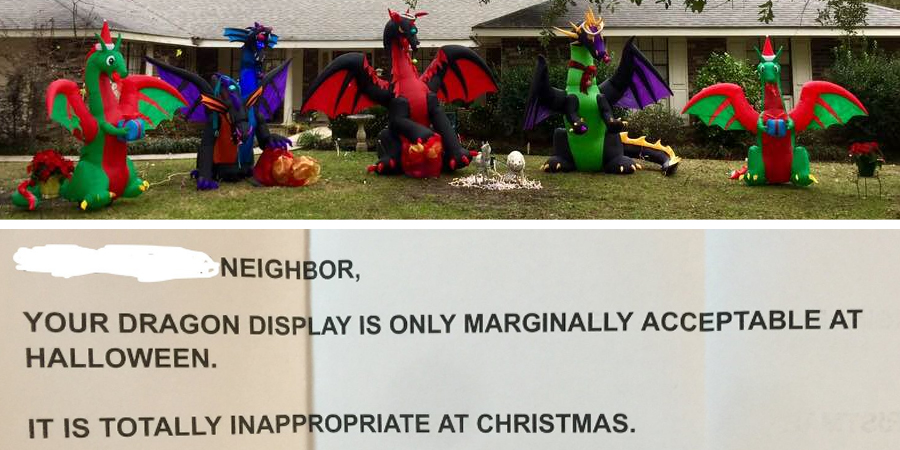 A few years ago, Diana Rowland received some inflatable dragons from her husband as a birthday gift — because what says 'I love you' more than frickin' dragons?
The inflatables were such a hit for Halloween, she decided to bring them back out for Christmas, dressing them up with festive garland, Santa hats, and articles of clothing reminiscent of Bible characters. Once again, the scaley beasts were well-received by the community.
This year marks the fourth Christmas the holiday dragons have been displayed on Rowland's front lawn in Mandeville, LA; however, it is the first year to be the target of community backlash.
Rowland received the following anonymous letter in the mail:
Our dragon holiday display got fan mail! (And apparently the "true meaning of Christmas" involves judgmental bullshit?) ???? pic.twitter.com/7NLZKkEW2x

— Diana Rowland (@dianarowland) December 15, 2018
"YOUR DRAGON DISPLAY IS ONLY MARGINALLY ACCEPTABLE AT HALLOWEEN," it proclaimed in all caps.
"IT IS TOTALLY INAPPROPRIATE AT CHRISTMAS. IT MAKES YOUR NEIGHBORS WONDER IF YOU ARE INVOLVED IN A DEMONIC CULT. PLEASE CONSIDER REMOVING THE DRAGONS. MAY GOD BLESS YOU AND HELP YOU TO KNOW THE TRUE MEANING OF CHRISTMAS."
Naturally, Rowland posted the less-than-subtle note to social media.
"Our dragon holiday display got fan mail!" she said along with photos of both the letter and her admittedly ominous front lawn.
Despite the online support she received, Rowland still struggled with how to handle the situation.
Sure, she could've removed the dragons. Her holiday isn't defined by goofy inflatables, and that could've be a way to spread joy in her community rather than division. But the way this nosy neighbor decided to voice her contempt continued to rub Rowland the wrong way.
"I'm not going to give in to someone sending an anonymous letter like that," she told The Washington Post. "If that person had come to me in person, I would have worked with them, but there's nothing I can really do when it's an anonymous letter."
So, as you probably anticipated, Rowland instead decided to go all Daenerys Targaryen on their ass and ramp up the dragon action even further.
An update to yesterday's tweet re the letter I received from an anonymous, judgy-mcjudgyface neighbor who disapproved of my dragon display and asked me to consider removing them: I have added more dragons. pic.twitter.com/OxsFQs5yQ1

— Diana Rowland (@dianarowland) December 16, 2018
"I have added more dragons," she wrote.
Bringing in two more festive beasts to bookend the original trio, Rowland's bold decision took the internet by storm. Her tweet has been viewed millions of times and received retweets, likes, and positive responses numbering in the tens of thousands.
"Apparently this resonates with a lot of people, having a weird, judgy neighbor," Rowland said in an interview with The Washington Post. "Everyone has that story of the crazy neighbor or the pushy neighbor, the one who sends passive-aggressive notes about where you should put your garbage. And yes, now I have stood up to that person."
She says she has even received offers to buy her additional dragons, but Rowland is not planning to add anything else to the display.
"There's a fine line between standing up to a jerky neighbor and becoming a jerky neighbor," she said. "I think five dragons are enough."
There has been no response from the anonymous letter-sender and Rowland, a former police officer, has no intention of investigating the issue any further. Instead, she plans to focus on the things that make the Christmas season a little bit brighter and leave this holiday hullabaloo behind her.
"That's what Christmas is supposed to be all about," she said. "Things that bring you joy. People have been driving by saying 'I love your dragons.' It's joyful for us and people in the neighborhood who come by."