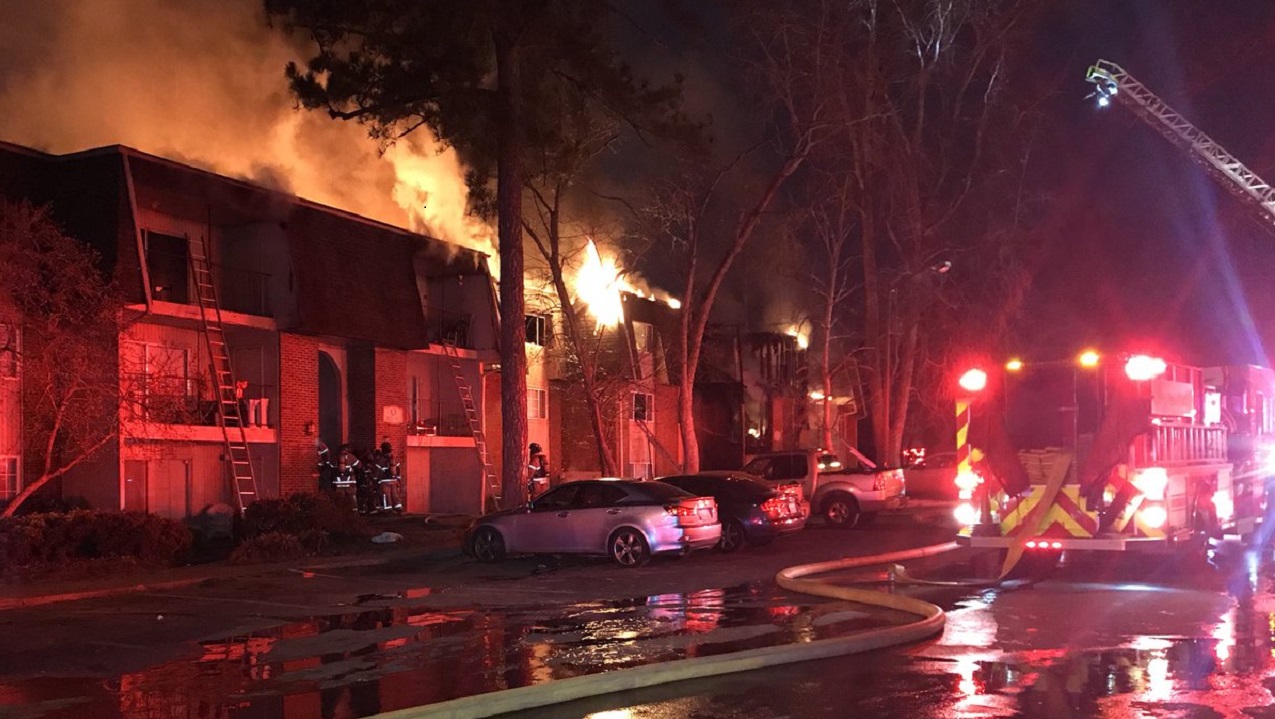 Credit: Twitter
And there is video footage!
There's a reason so many kids grow up idolizing firefighters, and wanting to join their ranks. They're not only death-defying daredevil bad-asses, they are honest-to-god heroes whose job depends on them risking their lives to help others.
Recently, more fuel was added to the heroic fire during a blaze outside of Atlanta, Georgia, and now that the footage is circulating across social media, you can actually watch the heroes in action.
Who needs Infinity War?
During the fire, which was in Decatur, Georgia just days after the new year on January 3rd, parents were dropping children from balconies to get them out of harm's way, and the video is astonishing.
WHOA! A dozen residents rescued from apartment #fire in #GA. #Firefighter catches a child thrown from a balcony. Amazing footage. @DCFRpubaffairs @DCFRlocal1492 Watch: pic.twitter.com/Ow2G7pnNs6

— Vanessa Morales (@NewsDeskChica) January 15, 2018
CBS News reported details of the fire, which erupted outside Atlanta early in the morning and had 45 firefighters on the scene.
Victims' ages ranged from 1 month to approximately 36, according to Captain Eric Jackson, who also told reporters that people were dropping babies into firefighters' arms during the fire.
"We were catching babies like a football – literally," Jackson told CBS News. "There were adults that were on the balcony that were dropping their babies right into our arms. We had a couple firefighters catching babies, so it was just really incredible."
Later in the day, CNN interviewed Captain Jackson, and he detailed further heroics involving rescued children.
"As she was starting to go up the ladder, she gets tossed a blue blanket – it just so happens there was a baby inside" – Capt. Eric Jackson details the heroic efforts of the Dekalb County Fire and Rescue firefighters https://t.co/H3OYyYBgWu pic.twitter.com/36wnTx8x2y

— CNN Newsroom (@CNNnewsroom) January 15, 2018
"As she was starting to go up the ladder, she gets tossed a blue blanket – it just so happens there was a baby inside," Capt. Jackson told the news network.
A dozen people were rescued, including children, babies, and even someone in a wheelchair. Local news people couldn't keep calm on social media.
DeKalb firefighters were catching babies (young as 1 month old) as parents dropped from balconies during apt fire. Also rescued adults, including one in wheelchair. All minor injuries to dozen taken to hospital pic.twitter.com/9tR8etl0g1

— Steve Gehlbach (@SteveGWSB) January 3, 2018
And neither could the regular joes among us, awed by and grateful for the firefighters' heroics.
Hats off to Captain Jackie Peckrul and the rest of the heros, the Dekalb County fire fighters, for an amazing act of selfless heroism. Just watched in awe the report on @ABCWorldNews . God bless!@DCFRlocal1492@ABC https://t.co/j1JIprl8md

— Amro Zakaria Abdu (@aswagalmal) January 15, 2018
Wow! Thank you firefighters for always having our backs in these dangerous situations. You guys are amazing.

— spilled.pepper (@crystalsatierf) January 15, 2018
Who else got tears watching this one? To all #FireFighters and I mean ALL, You will never know the true extent of your heroism or our unwaivering Gratitude! #ThankYou

— 🤍𝐋𝐚𝐮𝐫𝐚 𝐌𝐚𝐫𝐢𝐞 𝐋𝐢𝐯𝐞🖤 (@TweetsfromLML) January 15, 2018
Who needs the Avengers when we have these guys?