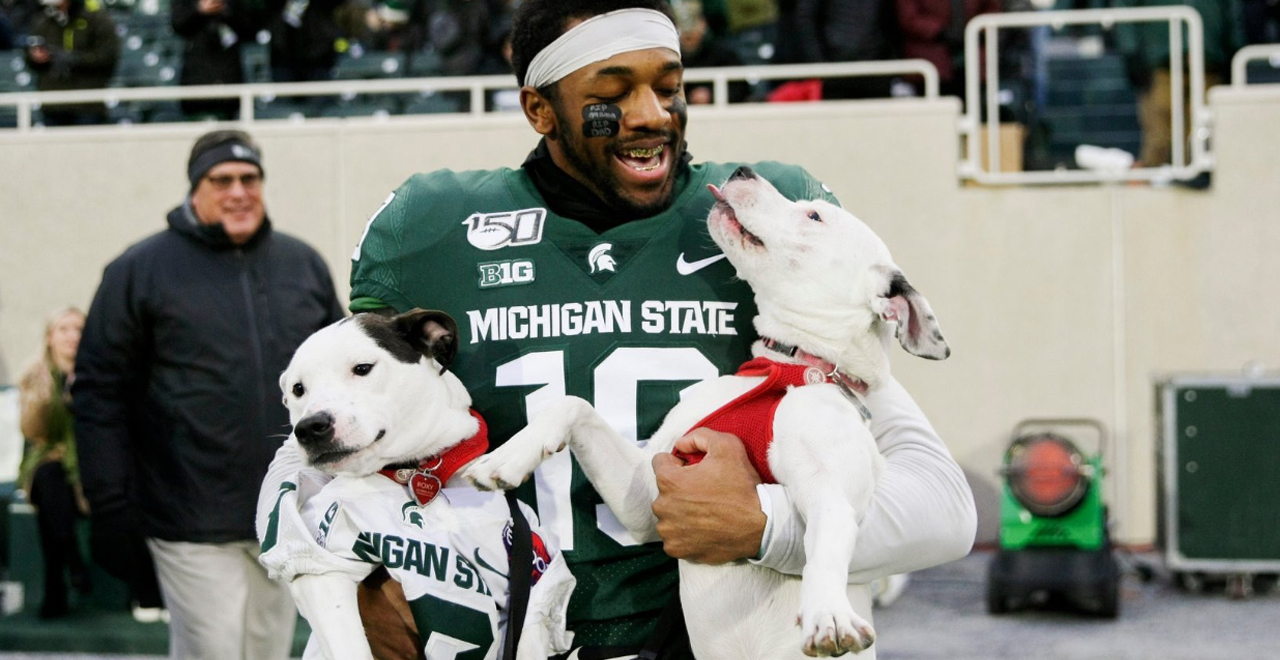 Credit: Twitter/JoshButlerTv
One of the high points for every college football season is senior day. No matter how the season has gone up to that point, emotions are always on high as the seniors take the home field one final time. They are usually accompanied by their parents, as a way of saying 'Thank you' for all the support over the years.
The ritual was a bittersweet one this past weekend for Michigan State defensive back Josh Butler, as both of his parents are deceased. Butler didn't take the field alone, though, as he was accompanied by his two best friends.
The boxer-bulldog mixes he adopted after his dad passed away.
Senior Day! 💚🙏🏾 Thank you Coach D for allowing @Roxy_RemiTv to walk with me. Forever grateful for my Spartan Family💚thank y'all for the endless support through the ups and downs! Bleed Green for life💚
Rip Mama, Rip Dad❤️I love y'all
JBTV out✌🏾 #GoGreen #MichiganState #nofly pic.twitter.com/XeJvpE4Put

— JoshButlerTv 📺 (@JoshButlerTv) December 1, 2019
The cornerback and pups took to the field for thunderous applause from the Spartan faithful. Butler was appreciative of the support from this Michigan State family, helping him through an emotional day. He lost his mother in the spring to breast cancer, and his dad to a heart attack several years prior.
The dogs, Roxy and Remi, seemed overjoyed at the attention and getting to take the field, but that wasn't the first time fans got a glimpse of the duo. The dogs have their own Instagram account, with more followers than most college football players.
The Spartan took to Instagram to talk about his journey to Senior Day.
"Definitely been a blessed journey since taking the greyhound bus as a kid all the way up to Michigan State, being able to prevail through losing my father in 2017, and seeing my mother pass away in my arms just this year in April from Cancer," Butler said on Instagram. "It has strengthened me as a person, man of God, and leader."