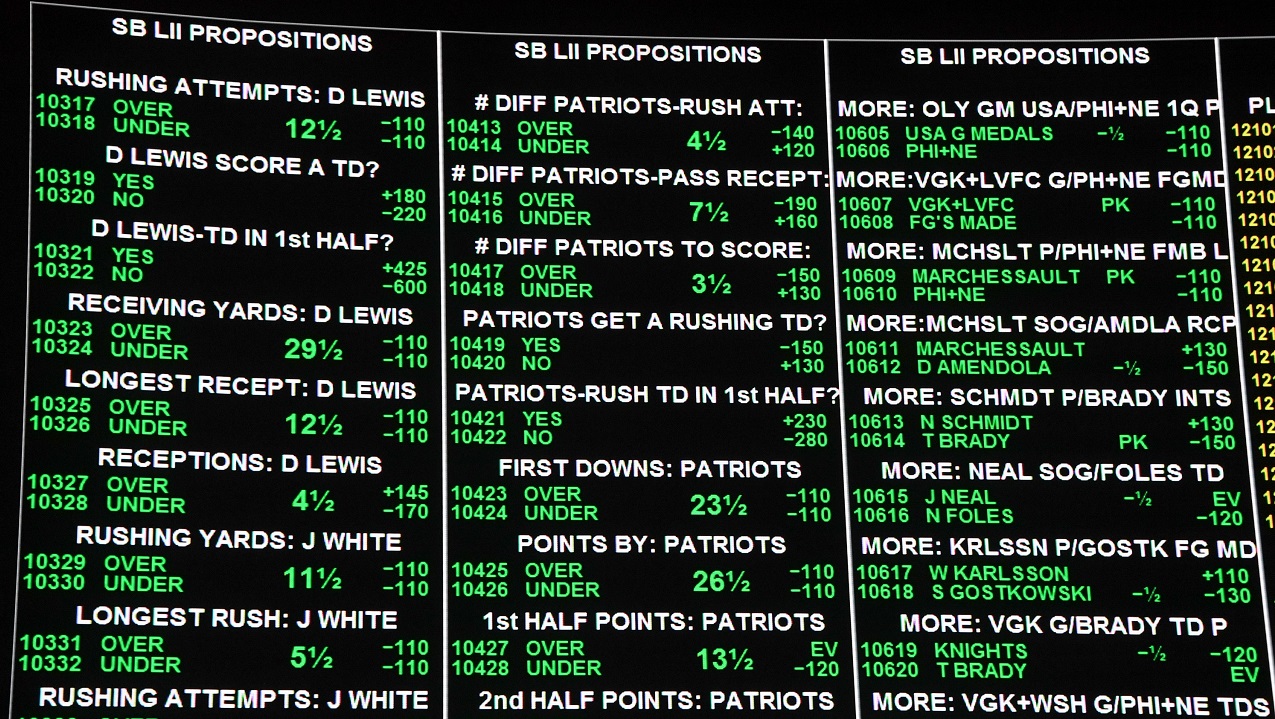 Credit: Getty Images/Ethan Miller
Not that we condone it!
It's no secret that this year's Super Bowl doesn't feature the matchup most fans wanted to see, which would involve any NFC team playing anyone besides the Patriots.
Sure, fans in Philadelphia are psyched, and other than Carson Wentz and his family, they should be. They haven't been to the Super Bowl in a minute and they've never won it, despite Mark Wahlberg's best efforts back in the early 80s and Donovan McNabb's upset tummy against the Pats in 2004. Fly Eagles fly!
Then there's the Patriots, a team that pretty much nobody outside of New England wanted to make the title game again. Many fans are less than thrilled about Sunday's game.
Understandably, there has been a lot of chatter about skipping the big game to watch or do anything else. Never one to waste an opportunity to part fools from their money, Vegas is here to lure you back! If you're struggling to find a reason to tune into the game on Sunday, maybe one of these ridiculous prop bets will entice you.
Half of the aren't even about the game itself!
This Sunday, you can bet on all manner of things, including:
How many tweets Trump will send out?
How many times will "wardrobe malfunction" be mentioned during the TV broadcast?
Will anyone from NSYNC perform with Justin Timberlake?
Will Timberlake cover a Prince song?
Will Eagles fans boo Santa Claus again?
What color will Timberlake's shoes be?
What color will Pink's hair be when she sings the National Anthem?
How long will her performance last?
Will the Patriots perform a Satanic ritual before the game?
How many times will Tom Brady's age be mentioned?
What color will Belichick's shirt be?
Will Vince McMahon smash a chair over Roger Goodell during the trophy presentation?
Fine, a few of those are made up, but most of them aren't! Because Vegas will let you bet on just about anything, including the coin flip and the color of Gatorade that gets dumped on the winning coach.
Some people are surprised:
There's a bet you can place on what color the Gatorade bath for the Super Bowl winning team will be… Gotta love 2018

— Eric Campbell (@Ericcampbellll) January 29, 2018
Gambling is a crazy endeavor – There are now lines out which dictate by the spread which PRINCE song JUSTIN TIMBERLAKE will sing first at the Super Bowl halftime how – The Super Bowl "prop" just opened at Top Bet Sports

— charles benjamin (@chaleeboh3131) January 25, 2018
But the most enterprising gamblers are already devising ways to game the system and tilt these bets in their favor, either by committing a crime:
My favorite Super Bowl prop bet:

• Will Tom Brady's jersey be stolen again? 10/1

If anyone is going to Minnesota and willing to take a risk, let me know. Let's make some money.

— Corey Seidman (@CSeidmanNBCS) January 26, 2018
Or baiting the president into being, well, himself:
So there is a Super Bowl prop bet on number of Trump tweets during the game. The over/under is 2.5, this is a no brainer. If we can get someone famous to tweet something even moderately critical about Trump 5 mins before kickoff, his fragile ego will cause a tweet storm and bam $

— Dionysus (@alchemist_stone) January 23, 2018
I'm not much of a gambler myself, but I'll be watching. And as a Dolphins fan, the only outcome I care about is the final score, which will hopefully be about 3700 to Zero in favor of the Wahlbergs.