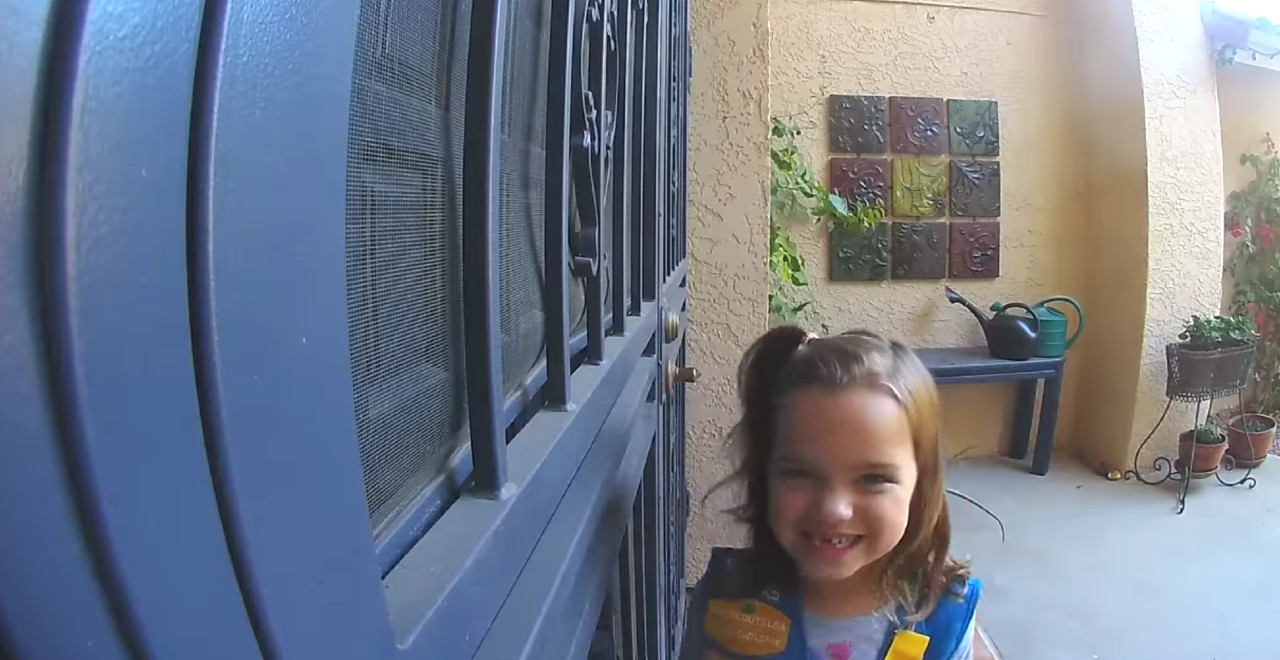 Credit: Facebook/KristenShoyer
It's Girl Scout Cookie season again, which means a flock of primary school students will be turned into the country's largest door-to-door sales staff. This is also the time of year where everyone you've ever worked with who has a daughter will begin messaging you to ask how many boxes you're going to buy. But during these "unprecedented times" Girl Scouts are forced to get more creative, which has led to some standouts.
A first-grader from Arizona has gone viral for her downright adorable cookie pitch, which was captured on a neighbor's doorbell camera. Allie Shroyer is a first-grader at a school in Scottsdale and her pitch game is ON-POINT.
Straight from the shoot, with her adorable opening of "Hi, I'm Allie, would you like to buy some Girl Scout Cookies?" to the "Would you like one, or two, or three or…" up to 12, she knows the game (some people want cookies by the dozen boxes!).
"What's your favorite color? Because the boxes are colors and maybe you can get a box in that color" is a great twist to throw in, you hit them with something they aren't expecting and that's how you move 12 boxes.
She's like an adorable Gordon Gecko, and her sales tactics are a hit. The neighbor shared the video with the girl's mom, who put it on Facebook. And it's blown up, as Allie sold 200 boxes on the first day.
Her mom told People she knew Allie couldn't do the traditional door-to-door pitch because of Covid, so she could try to do it through the doorbell camera.
Since her video went viral, Allie has become a super salesman, with sales totaling nearly 2,000 boxes. Of course, you probably have a million ways to get the delicious cookies this spring (they really shouldn't be seasonal, we need them year-round), you can always buy from Allie online.