Girl Asks Santa to Change Dad's Shift so He Can Be Home For Christmas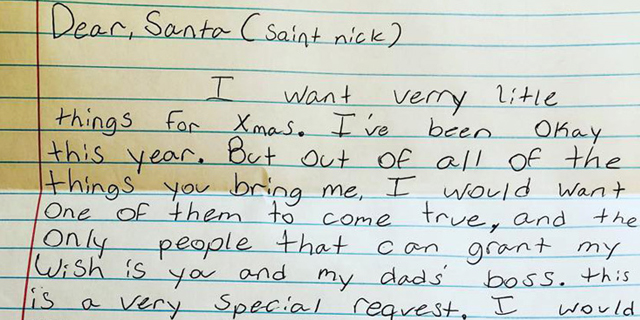 When I was a kid and Christmas came around, I put a lot of thought into my list.
Before I clued into the fact that my parents were responsible for the stack of presents under the tree, I would ask for some pretty outlandish stuff. Like the G.I. Joe aircraft carrier. Or a bigger bedroom. Or no school for the rest of my life.
After all, Santa was magic, maybe he could deliver something outrageous for me! I never got any of those things, for obvious reasons (I'm not convinced that aircraft carrier even existed!), but they weren't important. Not like one little girl's wish to Santa.
Zadora is a 10-year-old from Springfield, Massachusetts who asked Santa for one very special gift this Christmas, and her grandmother was so touched by her request, who shared the letter with WWLP.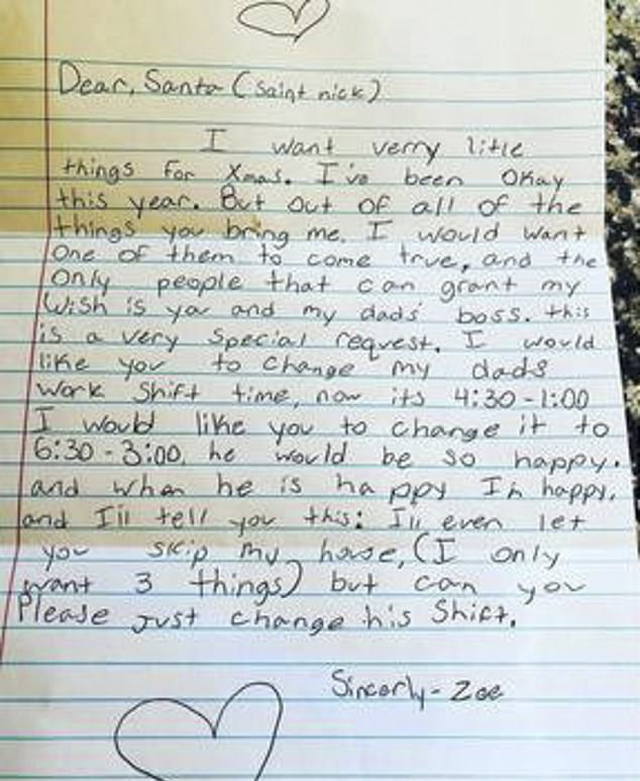 In her letter, "Zee" tells Santa she doesn't want any gifts, she just wants her dad's shift at the post office to start a little later.
"He would be so happy," Zee said. "And when he is happy, I'm happy, and I'll tell you this: I'll even let you skip my house."
Her father, David Matias, has been working the 6:30 shift for 10 years, but it was recently changed to 4:30. And his daughter noticed the time they were losing, because Dad used to get her from school and they'd have a few hours together. But the shift change eliminates that.
"I have all I want right now from my parents and I realized that I just wanted to spend more time with my dad," said Zadora.
Dad feels her pain. "Just the two-hour change had a big impact because now Zadora's father gets out of school and it's getting her from school and going straight to work so even the time we did have we lost that," David told WWLP.
Given the busy holiday schedule he's not very hopeful that the Post Office will accommodate his daughter's request, so, like Zadora, he's hoping for a little Christmas magic.