Gleyber Torres' Dad Goes Bonkers Watching His Son Play In ALCS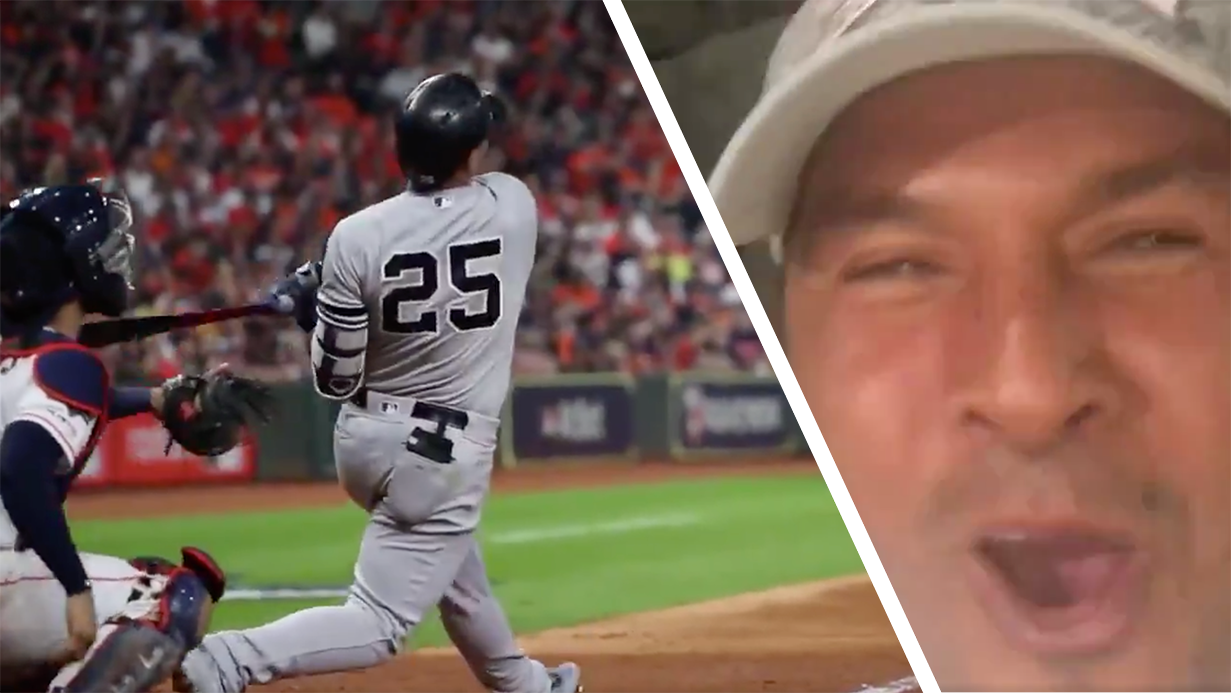 Watching your kids succeed at sports is a proud moment for any parent, but seeing them do it on the professional stage is something else entirely.
Take Eusebio Torres, for example. He witnessed his son, the 22-year-old Yankees phenom Gleyber Torres, step into the batter's box in Game 1 of the ALCS and blast a run-scoring double against the Astros in the top of the fourth inning.
I dare you to find someone more excited than this dad.
Gleyber is making his pops proud. ❤️

(via @usebeisbol)pic.twitter.com/Id7Hz7aLeT

— Cut4 (@Cut4) October 13, 2019
You can practically feel the pride emanating from the screen.
Eusebio has been watching his son wreck opponents on the field for years, but to see it happen on such an immense platform must be magical… and the celebrating didn't stop there.
In the sixth inning, Gleyber extended the Yankees lead by popping a homer over left field. As you probably suspected, Eusebio went absolutely nuts in the stands and documented the whole thing.
Guao let's go Yankees seguimos paso a paso #gleybermania🙌🏽🙌🏽🔥🔥 pic.twitter.com/GtMFaFzhMQ

— Eusebio Torres (@usebeisbol) October 13, 2019
Clearly channeling his dad's energy, Gleyber still wasn't finished. In the following inning, he cracked one out yet again to further expand the Yanks' lead over Houston.
Wow wow Astros es un buen equipo pero Yankees está demostrando que es un súper equipo, haciendo la tarea del indio. Gleyber David contribuyendo con su granito de arena. Seguimos paso a paso🙌🏽🙌🏽🔥🔥#gleybermania pic.twitter.com/z9hKBqoerC

— Eusebio Torres (@usebeisbol) October 13, 2019
Sure, you might say it's easy to be happy when you're the father of a professional ballplayer, but when you consider the years of hard work and dedication it took to get there, it makes it pretty damn hard not to be team Torres.
The Yanks may have fallen to the Astros in the series overall, but Gleyber clearly has a promising career ahead of him, and it looks like his proud pops is going to be there every step of the way.