Golden Retriever Is Thoroughly Terrified After Darth Vader's Iconic Entrance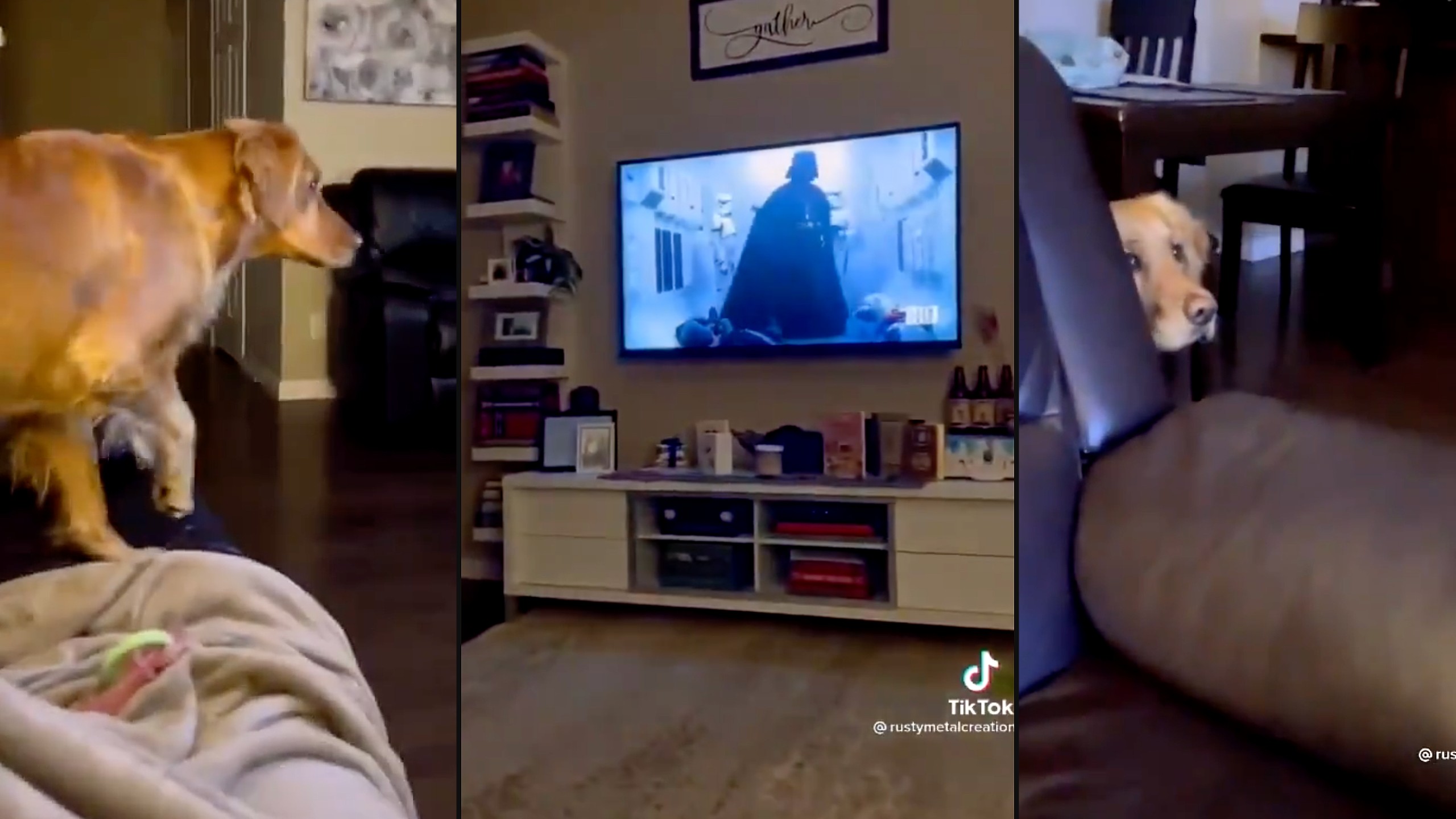 Darth Vader is one of the most memorable villains of all time. The iconic costume, his unsettlingly non-human voice – heck, even his breathing is utterly unforgettable. What sets Vader apart, even more, is his backstory, the fact that he hasn't always been evil. Darth Vader is a chilling example of a seemingly average person being pulled in by the dark side, forcing us to think about our own capacity for evil. Or maybe, you know, he's just really freaking terrifying.
A golden retriever named Ellie reminds us all that even without any prior knowledge, Darth Vader is one scary dude. Poor Ellie had no idea what was coming when she first encountered Vader himself, and her adorable yet heartbreaking reaction brings us back to the first time we laid eyes on the fearsome villain.
In a TikTok shared by rustymetalcreation, we see a highly attentive Ellie staring wide-eyed at a familiar scene. We've been here before, and we know what's coming – but Ellie's real-time reaction to Darth Vader's iconic entrance in Episode IV makes it feel almost like we're watching it again for the first time.
The remaining Stormtroopers step aside after an epic battle, and the music turns ominous as the shadowy figure of Darth Vader approaches. The smoke clears enough for us to see Darth Vader in all of his evil glory, which is Ellie's cue to get the hell out of Dodge.
Alarmed, Ellie stands up with her eyes fixed on the screen. In a bizarrely human moment, it seems as if she's giving the entire situation one big "NOPE" before turning away from Darth Vader – she even gives one last over-the-shoulder glance before doubling down on her decision to bow out.
Like a kid that insisted they were brave enough to watch Men in Black before laying eyes upon Edgar the Bug, Ellie didn't want to call it quits entirely. To preserve what was left of her pride (and of course, find out what happens next), Ellie finds a safer watching spot than directly in front of the TV. At the end of the clip, Ellie adorably peeks her head out from behind the couch – still fully invested in the movie, but from the safety of her very own makeshift bunker.