Good Samaritan Stands on Corner With Sign to Reunite Lost Dog With Owner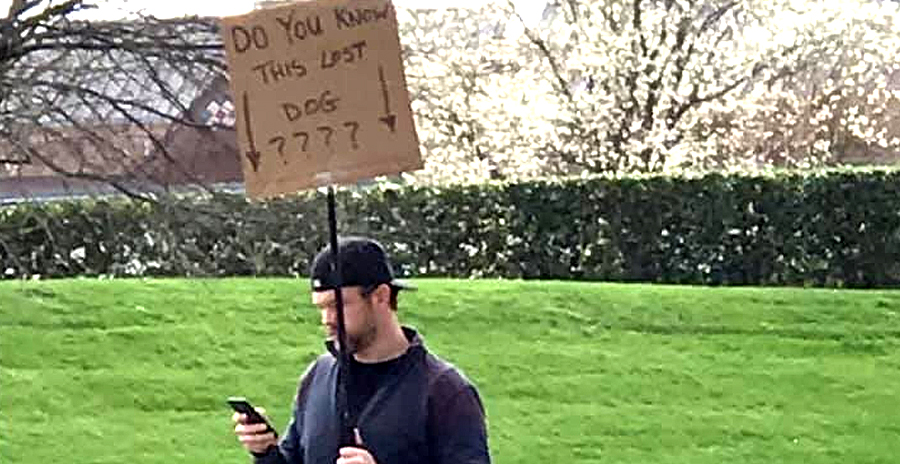 In my neighborhood, it seems someone is always losing a pet. The telephone poles are smattered with 'Have you seen my [BLANK]' signs desperately seeking assistance from anyone who might have run across a rogue pupper or a stray cat.
If only my neighborhood had someone like Jason Gasparik to come to the rescue.
The 40-year-old Charlotte, North Carolina resident recently got a little viral fame for his above-and-beyond efforts to reunite a lost dog with its owner.
Jason was driving home one night when he saw a group of people attempting to calm an agitated dog, and once they did, Jason took the dog home and got to work. He posted a picture of Roxy, a chocolate lab, across social media and community websites, and he even brought her to a 24-hour vet to find out if she had one of those tracking chips. No dice.
So the next morning, out of ideas, he made a sign that read "Do you know this lost dog?" and stood on a street corner with Roxy for three hours, hoping someone would recognize her.
"Saturday morning I was sitting there with her thinking what else could I do? So like a total dork I made my sign and went to stand out on the sidewalk with her," he told People.
Not all heroes wear capes. ????????????This man is standing on the street in Ballantyne looking for this lost dog's owner. @wcnc

Pup was found on Ballantyne Commons Pkwy(Photo: Eben Patten) pic.twitter.com/LCW9JPTlCL

— Meilin Tompkins (@MeilinTompkins) March 3, 2019
Roxy's owner, Ed, was driving around (his bad back prevents him from walking well, frantically trying to locate his dog. Thankfully, local photographer Eben Adrian had snapped a pic of Jason and his sign and posted it online. Ed soon learned of Jason's efforts, and the two quickly met up to reunite Roxy with her owner.
— Meilin Tompkins (@MeilinTompkins) March 3, 2019
Eben's photo took off, rocketing Jason to viral fame – "That's when it skyrocketed. I was getting pinged left and right. I couldn't keep up with all the messages I was getting." – but he was just glad to get Roxy back home. And he plans to see her again.
"[Ed] can't really walk her much and you could tell when she was with me that she loved going for walks, so I'm planning to go over there to see her this weekend."