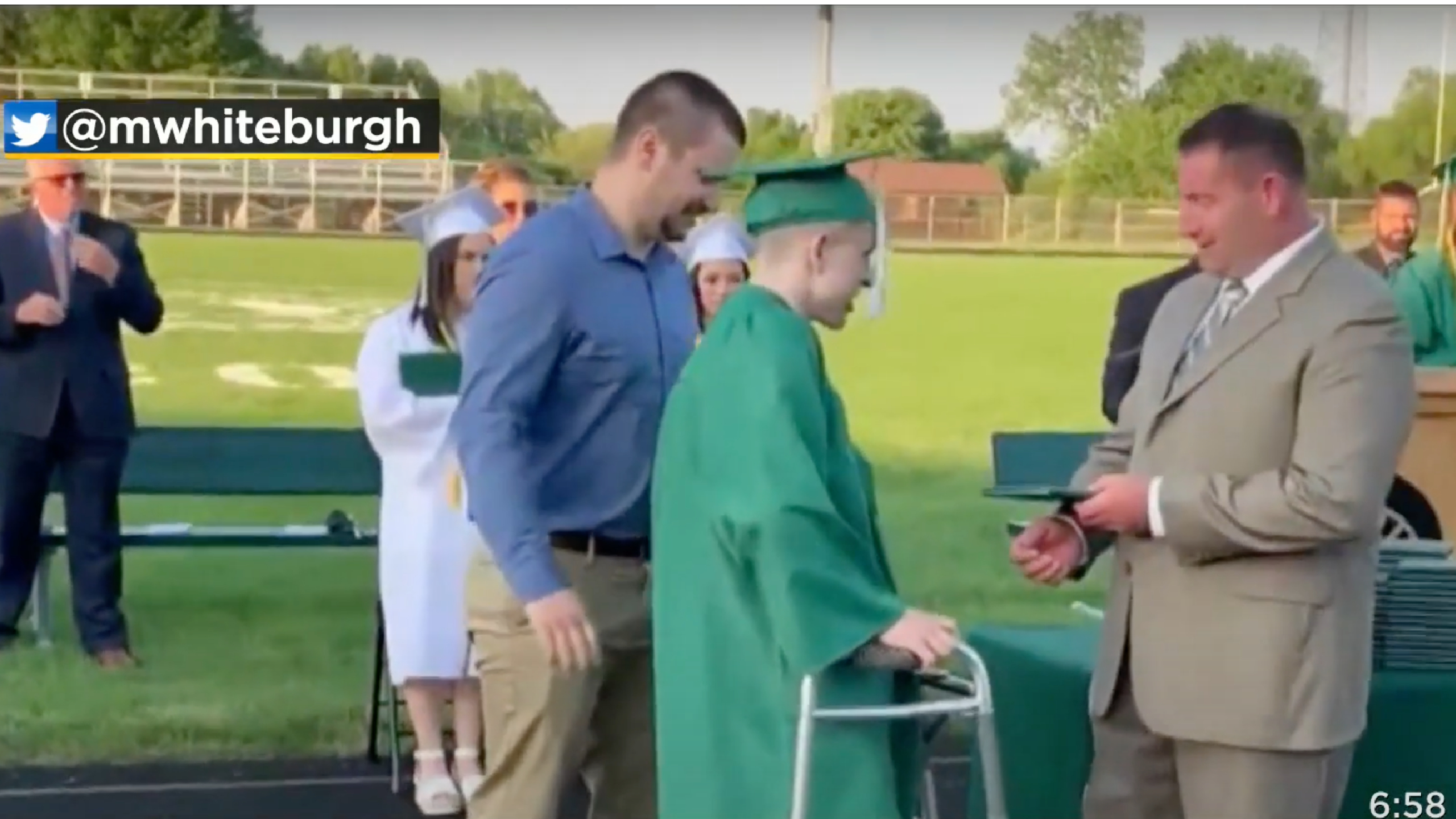 Credit: Twitter/mwhiteburgh
Hayden Hamilton was severely injured during a football game his sophomore year of high school. The accident paralyzed him from the neck down. But for the first time since that frightening ordeal, Hamilton was able to walk during his graduation ceremony.  Seeing their friend take his first steps in years, his classmates erupted in cheers. He received a rousing standing ovation from the stunned student body.
"That felt better than any touchdown I ever scored," Hamilton told the Pittsburgh Post-Gazette. A reporter captured the emotional footage and shared it on Twitter, saying "Go ahead and try to keep a dry eye through this."
Go ahead and try to keep a dry eye through this. In 2018, Laurel High School's Hayden Hamilton was paralyzed from the neck down after a hit in a high school football game. Tonight HE WALKED!!!! To get his diploma at graduation – and then got a standing ovation. pic.twitter.com/pRczqXJUbK

— Mike White (@mwhiteburgh) June 5, 2021
He told the reporter it was cool to take these steps – both physical and symbolic,  on the field he wasn't able to walk off on the night of his injury.
"I just wanted to be able to walk off that field again," he said. "That was the main goal, to walk off that field once more."
His classmates were stunned, and said he more than deserved the standing O. He was also voted Homecoming king, so it's clear teammates and classmates have his back. This win was an incredibly special moment for all of them at graduation.
Hamilton's story even caught the eye of some celebrities, as Mark Wahlberg shared the video and called it inspiring in every way.
Congratulations @haydenhamilton_!!! Truly inspiring in every way. 👨🏻‍🎓💪 https://t.co/saXhNg8jIy

— Mark Wahlberg (@markwahlberg) June 8, 2021
Former Pittsburgh Steeler Ryan Shazier, who also had to learn how to walk again after an injury in a game also praised the video. "Hayden this is amazing, man I'm so proud of you," he wrote on Twitter.
Hamilton's shown that no matter what he's taking big steps towards a bright future ahead,