Grandma Curbs Speeding with a Hairdryer, Becomes Honorary Trooper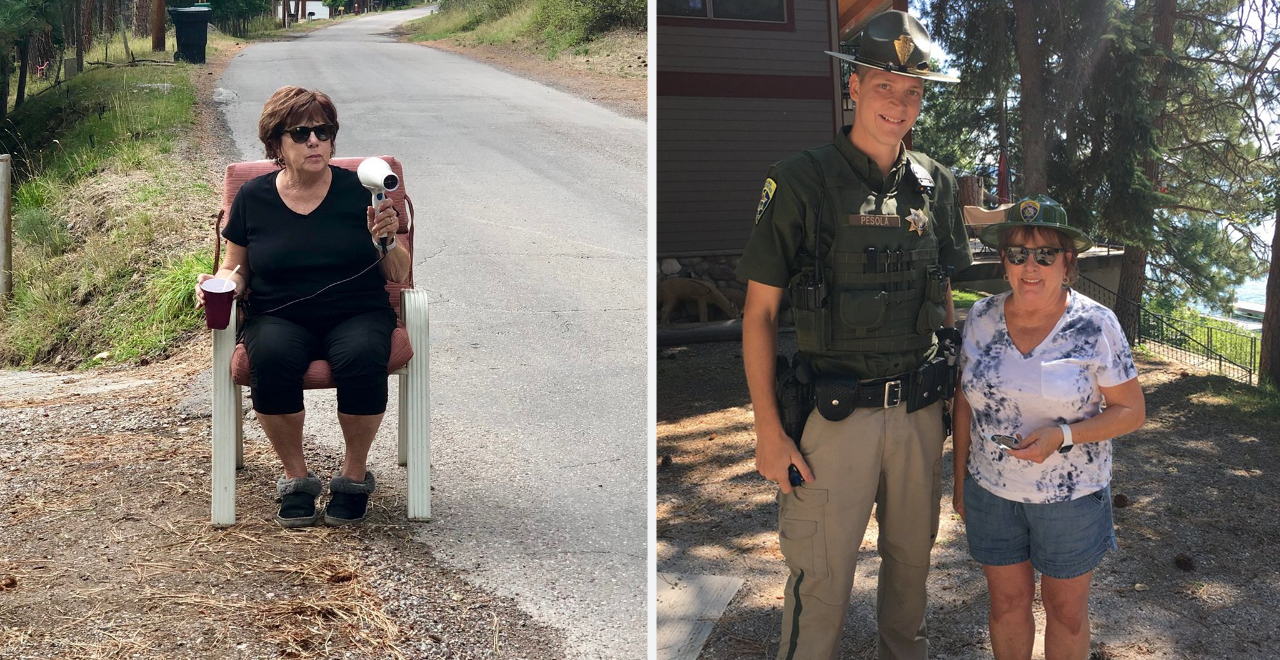 We've all had moments where we dreamt of being vigilantes, taking the law into our own hands to protect the innocent. This grandmother actually did it. Though much more responsibly than other supposed heroes of the big-screen blockbusters.
Patti Baumgartner lives in Polson, Montana, a mostly quiet town with a population of just over 5,000. But Baumgartner grew concerned with how drivers sped through her neighborhood, which she felt put her grandchildren at risk. Unwilling to sit idly by, she decided to do something about it. When her son posted a picture of her unique solution to Twitter it quickly garnered attention.
This Lady is helping @TrooperPesola slow drivers down on Finley Point. She's running radar with her #SoloCup #FinleyPoint #SlowDown pic.twitter.com/zicvdRpCyc

— Timmy B (@timmyb48) August 18, 2019
So Baumgartner sits by the road, hairdryer in hand, hoping the resemblance to a radar gun will be enough to deter would-be speeders. "They forget to slow down and there's a lot of people that are complaining they can't walk or ride their bikes. I wouldn't even attempt riding a bike around." Baumgartner tells MTN News. "We were talking about maybe something would slow the cars down. So we decided put me in a chair and I guess use the hairdryer as a speed thing."
In his tweet, Baumgartner's son tagged Montana Highway Patrol trooper Noah Pesola. Unlike the typical rocky relationship between citizen crime fighter and police, Trooper Pesola loved what Baumgartner was doing. "I thought it was hilarious, I think that we have a speed issue in Montana and I thought it was a great creative idea for the public to try and combat that a little bit without making people too upset." Pesola tells MTN  News. In fact, he was so appreciative he gave Baumgartner a title of her own. "It's not an official, or anything like that, for the honorary trooper. [It] was just kind of what I called it. I didn't know what else to do for her, when she's doing something for her community, and like she says she's got grandkids in the area when she's doing something for her grandkids' benefit. The best thing I could think of was give her a trooper hat and a badge to make her look a little more official."
I was able to find Ms. Patti.

She was made an honorary Trooper with a campaign hat and sticker badge for her work to keep her grandkids safe. #SlowDown#KidsCrossing#KeepOurKidsSafe https://t.co/M2EYlDQlku pic.twitter.com/eaAh4s1It2

— Trooper N. Pesola (@TrooperPesola) August 20, 2019
Trooper Pesola even tweeted out a photo of his own, sharing his meeting with Baumgartner, where he helped supply her with a slightly more official look. Though we don't know if the hairdryer is actually making a difference, Baumgartner tells MTN she plans to continue taking it out, in the hopes of keeping her neighborhood, and grandkids, a little safer.
If you like stories of grandmothers and cops, this 93-year-old getting arrested for her bucket list is a can't miss!