Grandpa Who Left Viral Note at Batting Cages Reunites With Grandson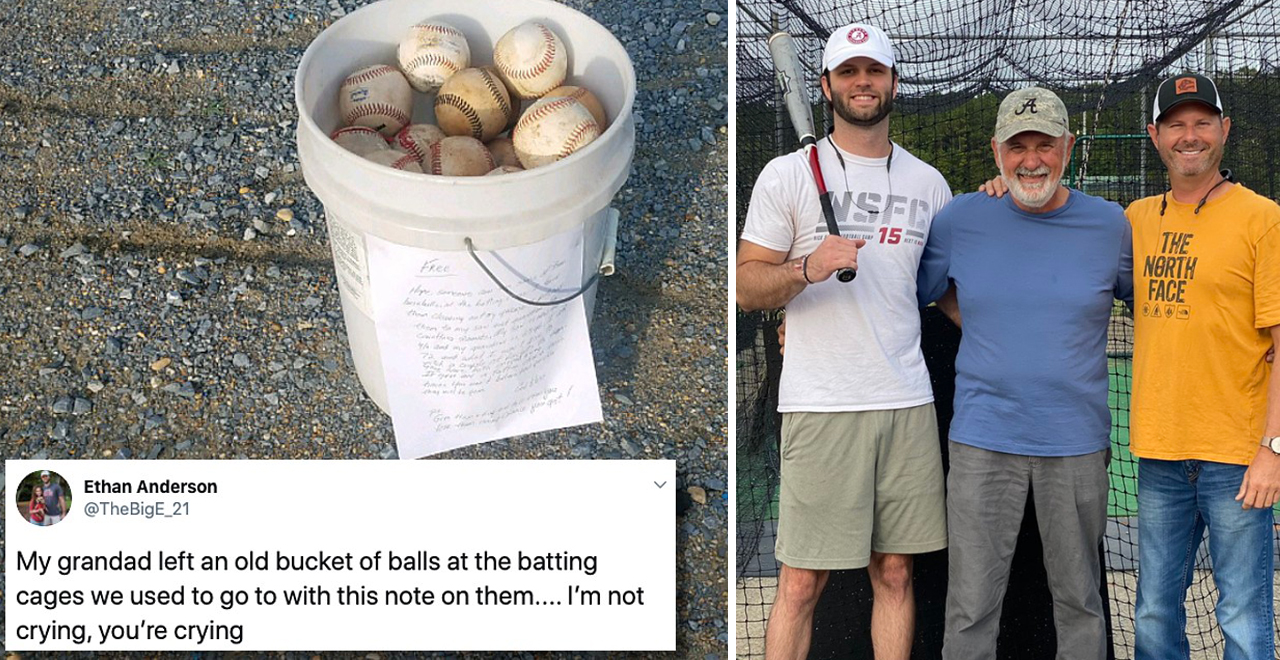 Watching kids transform into their own people with their own hopes, dreams, and motivations, is one of the most rewarding parts of being a parent. On the flip-side, kids growing up means – well, that they're grown up. You may not always be the first person they run to for comfort as they get older, and games you used to play will one day be deemed "babyish" and "lame". In the moment though, you may be more concerned with whether you'll get them to bed on time, or the fact that you haven't so much as gone to the bathroom without someone sitting directly outside the door in as long as you can remember. Before we know it, kids are putting themselves to sleep, and our bathroom time is never interrupted again. And boy, we'll miss it.
Randy Long, a 72-year-old from Birmingham, Alabama was recently hit with nostalgia for the time he used to spend with his son and grandson. While cleaning his garage, he stumbled upon some old baseballs and was immediately taken back to the days his family used to spend in the batting cages together.
Instead of throwing the balls out, Long had another plan. He wanted to leave the baseballs for another family, one that was just now living the days that Long was so deeply missing.
Long's grandson, Ethan Anderson, shared a photo of the baseballs along with the note his grandpa left on Twitter after his grandma shared the photos with him. With over 200,000 likes in just over a week, it's evident that Long's message struck a chord.
My grandad left an old bucket of balls at the batting cages we used to go to with this note on them…. I'm not crying, you're crying pic.twitter.com/zlQFwNq1R2

— Ethan Anderson (@TheBigE_21) September 28, 2020
The note read, "Hope someone can use some of these baseballs in the batting cages. I found them cleaning my garage. I pitched them to my son and grandson for countless rounds. My son is now 46 y/o and my grandson is 23 y/o. I am 72 and what I won't give to pitch a couple of buckets to them. They have both moved away. If you are a father cherish these times. You won't believe how quickly they will be gone. God bless."
Long concluded, "P.S. Give them a hug and tell them you love them every chance you get."
Life moves quickly, more quickly than we realize. We're often so busy getting from one point to the next, we forget to stop and appreciate just how amazing each moment is. The things we don't think twice about will one day become the things we'd give anything to do just one more time.
Anderson didn't expect his post to gain so much traction, nor did he expect Twitter to band together to push the now 23-year-old to go visit his grandpa.
This is everyone until you go see your grandad. pic.twitter.com/5NGpOnfZ7Y

— Theodore (@TeddyBBGun) September 30, 2020
Fortunately, Twitter didn't have to wait long. Anderson made the trip back so that he and his grandpa could spend some quality time together. Oh yeah, and they went to the batting cages.
Made the trip back and I have to say… the old man still got it pic.twitter.com/dCwTJaQGcO

— Ethan Anderson (@TheBigE_21) October 6, 2020