Grill King, Lord of the Lawn, and Dad Sneakers: Adult Scented Play-Doh Is Coming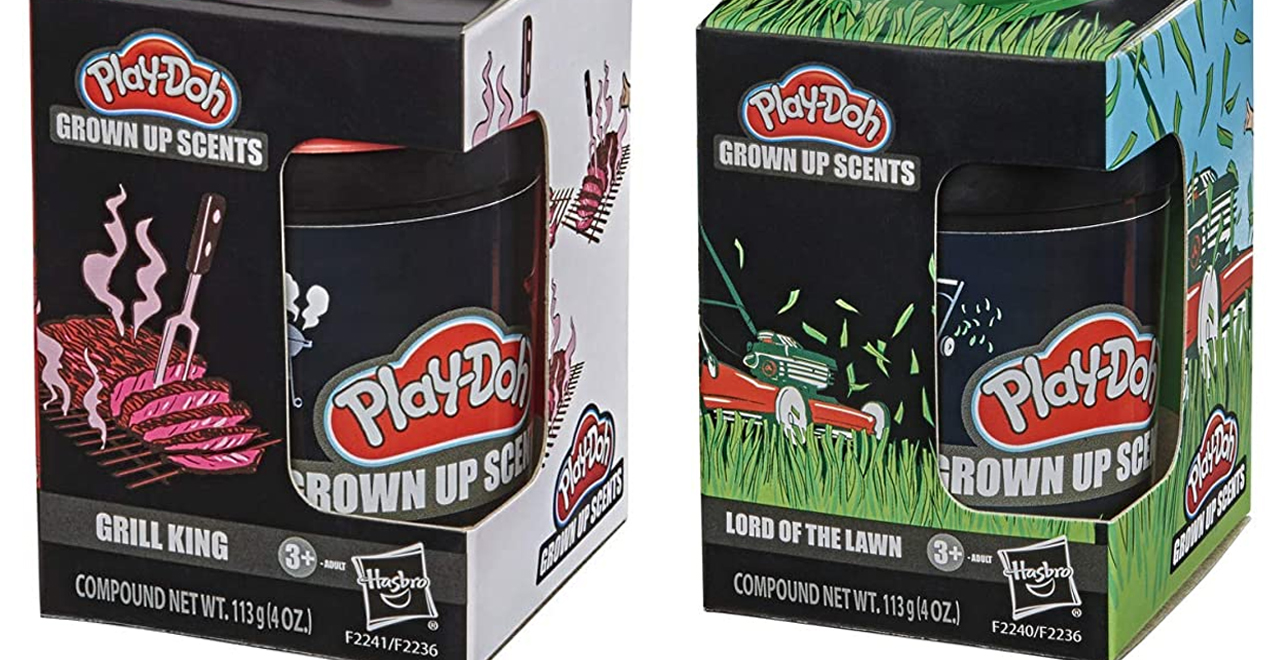 Believe it or not, the holiday season is right around the corner. I don't know about you, but I'm getting pretty tired of the whole gift-giving deal being a totally kid-centered effort. Reconciling the list of things your kids have asked for over the past few months with the list of things they're unlikely to cause significant structural damage to your house with is no easy feat. This year though, the geniuses at Play-Doh finally have a little something for the adults.
To give grown-ups something to look forward to when it's time to rip the way-too-shiny paper off those mystery-filled bad boys, Play-Doh is giving us a leveled-up version of what they make best. Yeah, it's more Play-Doh. But it's grown up Play-Doh.
No, it can't fix whatever it is that's wrong with your back and it doesn't contain any alcohol, but grown-up Play-Doh comes in a pack of six different scents that are guaranteed to remind you of all the best parts of adulthood. According to the Amazon page, those scents are Grill King (smoked meats), Dad Sneakers (rubber), Lord of the Lawn (fresh cut grass). Moms will be sure to enjoy: Spa Day (floral), Overpriced Latte (coffee), and Mom Jeans (clean denim).
Ah yes, combining the smells of adulthood with the child-like urge to eat the goo you just pulled from a tub. An incredible crossover that leaves us asking "is it still non-toxic, or is this some kind of test?"
Amazon explains, "It won't solve your first world problems, but it's a great gift for men or women, fun white elephant gifts, stocking stuffers, fidget desk toys, gag gifts, etc. This variety pack of funny themes can also be funny anniversary gifts for mom and dad, a fun touch to your groomsman or bridesmaid gifts, and more," because nothing says romance like a pot o' mush, and of course, the 7th anniversary is the Play-Doh anniversary.
Since toy ads and seasonal aisles at every big-box store may as well be marked "12 and Under," it's important to take full advantage when grown-up gifts present themselves. As of now, Amazon is sold out – but add your name to the waiting list, and you'll be rolling in Doh in no time.
In the meantime, you might be interested in our scented candles for dads: New Dad Shoe, Fire up the Grill, and Early Morning Mow.
Just a heads up, if you buy stuff using the provided links, The Dad may collect a small commission.