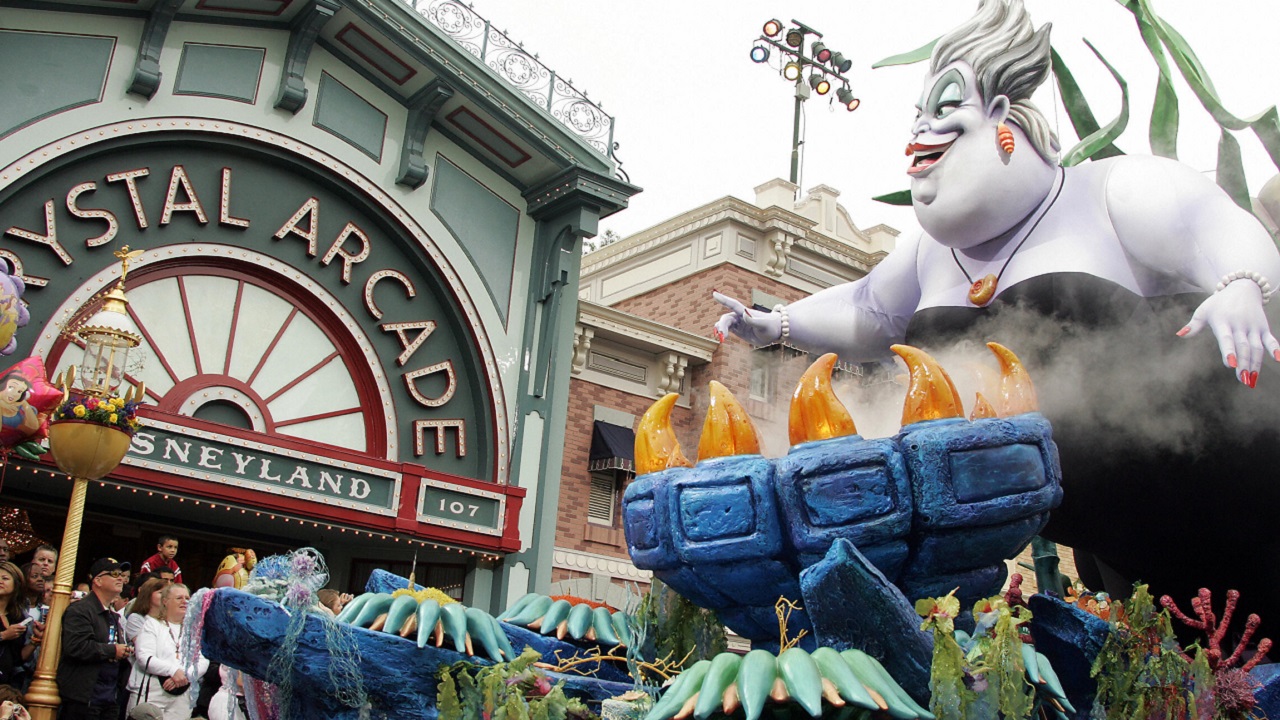 Credit: Getty Images/Robyn Beck
Kids lost their minds when Ursula lost her head
Childhood innocence can't last forever. But when you're a parent, the last place you expect your kid's innocence to be shattered is at Disneyland. But that's exactly what happened to the kids on the California theme park's Little Mermaid ride recently.
Not only couldn't Ursula prevent Ariel from getting her voice back, she lost her own head in the process!
Thankfully, the Ursula in question was merely an animatronic figure on The Little Mermaid Ariel's Undersea Adventure ride and not an actual person or this article would have a very different tone. Although judging by the kids' reactions, it might as well have been.
As patrons made their way along the ride's route, they came upon the singing Ursula, who normally looks like this:
Unfortunately, on this day, her head was not where it usually is…
This happened today which caught me off guard because Disney is usually so critical over things like this😂 #offwithherhead ! pic.twitter.com/biGGYG6ec2

— Lilah (@dzzymssy) January 28, 2018
I feel like it would have been better if the head was completely missing! Instead, the children got to see Ursula's noggin hanging by wires, dangling down to her chest, all the while still belting her villainous tune.
The Huffington Post spoke with someone on the ride. "It was a pretty freaky thing to see," she told the website.
""Immediately after we got off we were ushered out along with everyone else, and the employees looked very concerned," she said about the incident. "Many people had seen Ursula decapitated, including kids who understandably were upset."
Understandably so, especially since Ursula wasn't the only character who lost a head that day! Apparently the auctioneer from the Pirates of the Carribbean ride went headless for a stretch as well!
Got a clearer picture taken with my DSLR. I know flash pictures are forbidden, but it was way to tempting 😜🙈 pic.twitter.com/OsZujdeG36

— Julian (@HOPAJUL) January 28, 2018
The happiest place on earth was decidedly less happy that usual that day.
So today at Disney, Ursula's head fell off, AND the auctioneer's head fell off.

What I'm hearing is that the faces were still moving on both of them, since cords were still attached to the bodies.

Weird.

— Wesley Snyder (@365DaysOfDisney) January 29, 2018
The kids weren't loving it, but that didn't stop Twitter from coming through with jokes.
Animatronic Ursula's head fell off today, but she just kept singing & I've honestly never related to anything more pic.twitter.com/DbeFSKAAYA

— Melissa (@whatthemelmel) January 29, 2018
Queen of Hearts apparently went on a rampage today.

— A M Y ✨🦄 (@aimster_17) January 29, 2018