Heartwarming! How The Dad Helped One Father Earn His Dad Shoes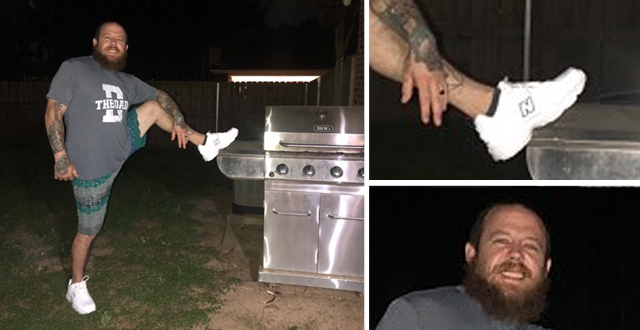 This is the story of a man who dared to dream.
A father who stood up to persecution and ridicule from those around him, emerging victorious in the face of almost unfathomable odds. He's an inspiration to dads around the world and honestly, one classy looking son of a gun.
This is the triumphant tale of Jeffrey Davis.
Back in February of this year, Davis had been scrolling Facebook and came upon a meme that would forever alter not only his own life but the lives of his entire family. It was a post showing a classic New Balance shoe, with the tagline "the official shoe for dads." Being a dad himself, Davis was immediately inspired to purchase a pair of these iconic yet understated staples of fathers everywhere.
"I started joking with my wife and kids about getting a pair of 'dad shoes' to wear to school functions and other dad events," Davis recently told The Dad. "My wife told me I was NOT getting them and my daughter was mortified that I was even joking about getting a pair."
But faced with adversity, the Georgia dad persisted, offering up a challenge to his wife, Riane. "I said 'if I get 200 likes on Facebook, I'm getting a pair.' My wife responded with '1,000 likes and you can get them.'"
With a clear goal now firmly agreed upon, Davis posted a photo of a stunning, white-on-white pair of the all-too-familiar dad kicks. However, after a few days, Davis said the post only had around 100 likes. So in a final act of bravery, he decided to throw a hail mary to the only people who would understand his struggle: others dads. "I decided to share it on The Dad's Facebook page right before bed, not expecting it to get much attention. The next morning I woke up and had 1.3k likes."
Stunned by the outpouring of support, Davis was excited to reap his reward. But like most dads, he admits life just got in the way. "I had tried to buy them a few other times but my wife and Makenzie (the couple's 10-year-old daughter) were so embarrassed they refused to let me purchase them while they were with me."
Davis says this delay only gave him more time to dream. "I also saw a Facebook post of some pretty cool crochet shorts that I thought would be a nice addition to my new "dad" wardrobe. My wife's father caught wind of this and he had a friend of his make me my very own pair!"
Once his shoes, shorts and official "The Dad" t-shirt arrived, Davis said he began planning a video to showcase his new gear. "I FINALLY talked my wife into being a part of it. She agreed under one condition. She would record it but she was not going to be caught dead on camera."
The couple picked up their children under the guise of a quick family outing. "We told them we were talking them to Bruster's for ice cream. Once we got there, my wife and all the kids went to decide what flavors they wanted while I stayed in the car to "make an important phone call." After they got out, I got my outfit ready… pull the socks back up, took off the gym shorts, and put on my dad face before I walked up to join them."
The devious dad captured his daughter's reaction in a clip he posted to Facebook.
Davis says he now plans on having a few "rad dad grill outs" and vows to "keep his grass nicely mowed, and embarrass his wife and kids as often as possible" all while rocking the new kicks. His inspirational story a reminder to dads everywhere to reach for the stars but always keep your feet planted firmly in a pair of comfortable sneakers.