Hero Dad Catches College Kid Who Smashed His Sons' Pumpkins [WATCH]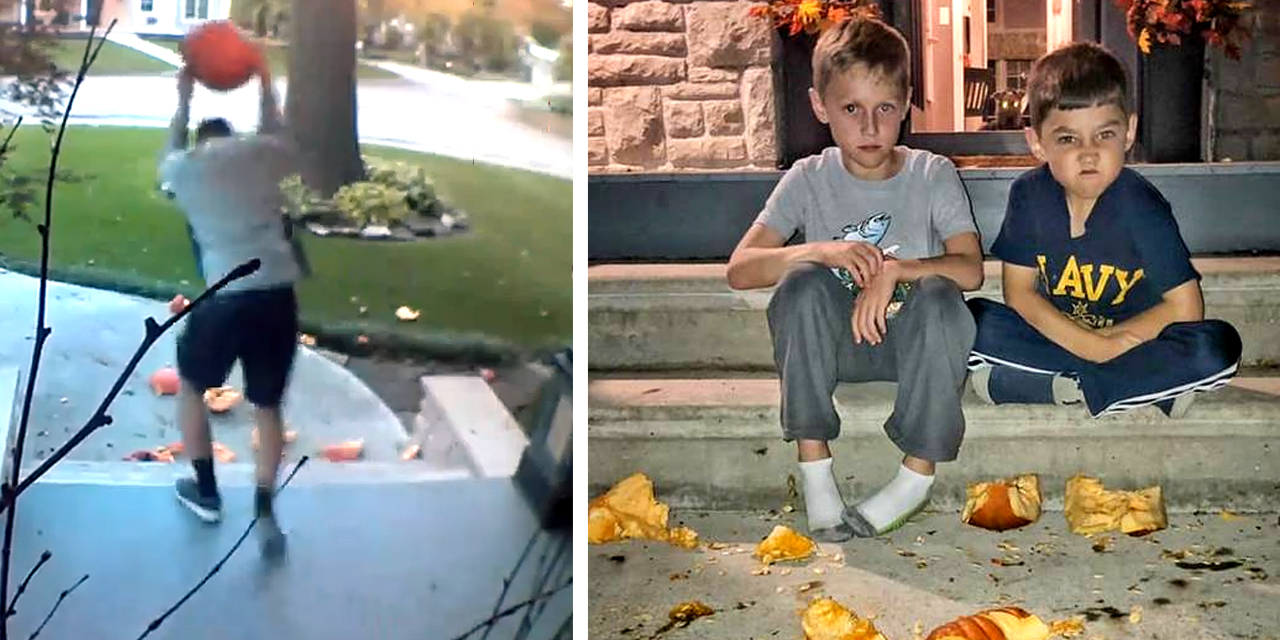 With all the hassle and mess that it takes to make jack-o-lanterns with kids, you'd think everyone would sense their sacred aura. Sure, it's a barely recognizable "face" haphazardly drawn and carved by an 8-year-old, but that anthropomorphic gourd sits on your damn porch with pride.
Unfortunately, there are some lame folks in the world who, for some reason or another, think it's funny or entertaining to ruin small joys like this.
For instance, the Leiszler family of Lawrence, Kansas, came home to pumpkin carnage after a stranger had walked up to their house and smashed jack-o-lanterns created by their two boys, Bennet and Harrison.
Luckily, the Leiszlers have a front door camera that caught the vandal in action.
"We were walking around after dinner in downtown Lawrence when my wife and I simultaneously got alerts on our phones that the camera had started recording," Chris Leiszler told The Wichita Eagle newspaper. "We saw it happen in real time, and there wasn't a thing we could do about it."
Angry and in search of justice, Chris and his wife decided to reach out the community by posting the video online to see if anyone could identify the person responsible. He also added a photo of his 9 and 6-years-old sons to emphasize who the real victims were.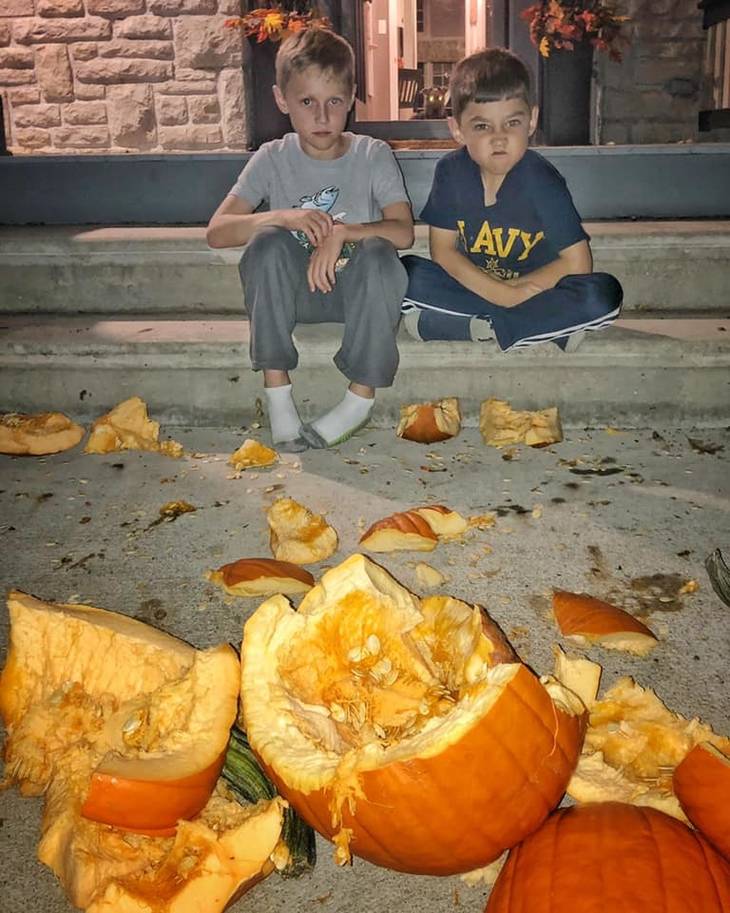 This isn't the first time the Leiszlers have had to deal with their home being targeted around Halloween either. Just last year, a giant skeleton decoration (lovingly named "Kevin" by the Leiszlers) was stolen from their front porch and later found by the house mother of the nearby Delta Chi fraternity house in their parking lot.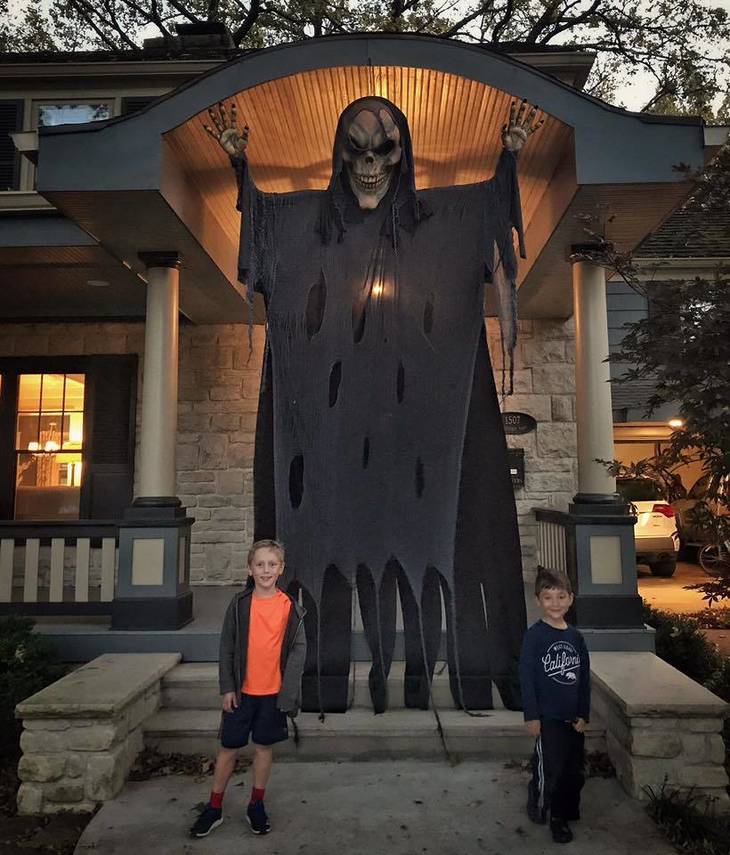 The theft prompted the purchase of the Leiszler's security cameras.
Chris even insisted that they bring the jack-o-lanterns inside at night this year in order to avoid being targeted. "But this happened in broad daylight!" he said. "We're just tired of it."
"We took the boys to a few of the fraternities in our neighborhood to see if anyone would be willing to identify the person in the video," he said. "Of course, no one would claim they knew him."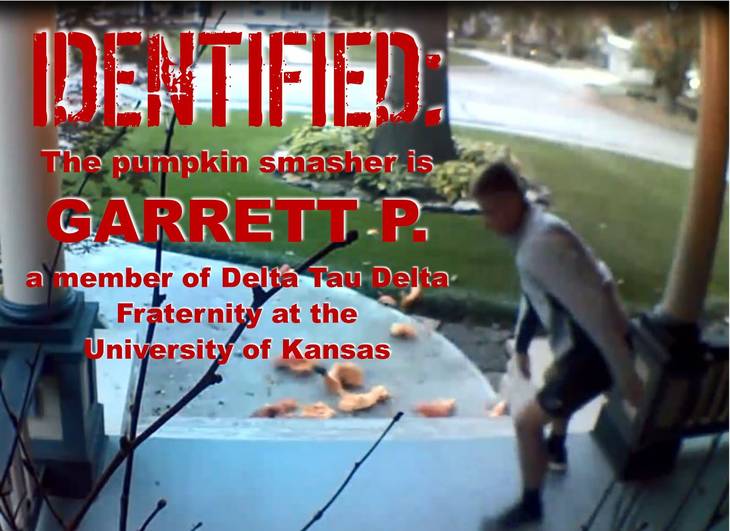 But thanks to the wonders of social media, the Leiszlers recently received an anonymous tip identifying the pumpkin crusher as a local fraternity member. Walking over to the fraternity house with a police officer, Chris confronted the suspect and "the kid 'fessed up.'"
Chris says that the vandal and his two accomplices are going to be coming back to the Leiszler residence, but this time to apologize to the family; specifically, Bennet and Harrison. As for Chris, he has yet to decide what he's going to do afterward.
"If I find the apology to be sincere, and if I feel they've learned their lesson, then I won't press charges and publicly shame them by releasing their full names," he said. "I will, however, come up with a community service project for them to do."
Overall, Chris says he simply wants this person to be held accountable for his actions so things like this won't happen in his community anymore.
"More than anything, I'd like him to meet my sons face to face and apologize to them," he told The Eagle. "And even though they're less than half his age, maybe he could learn a thing or two from them about being mature and treating other people with respect."