Hero Pizza Shop Manager Travels 450 Miles to Deliver Pizza to Dying Man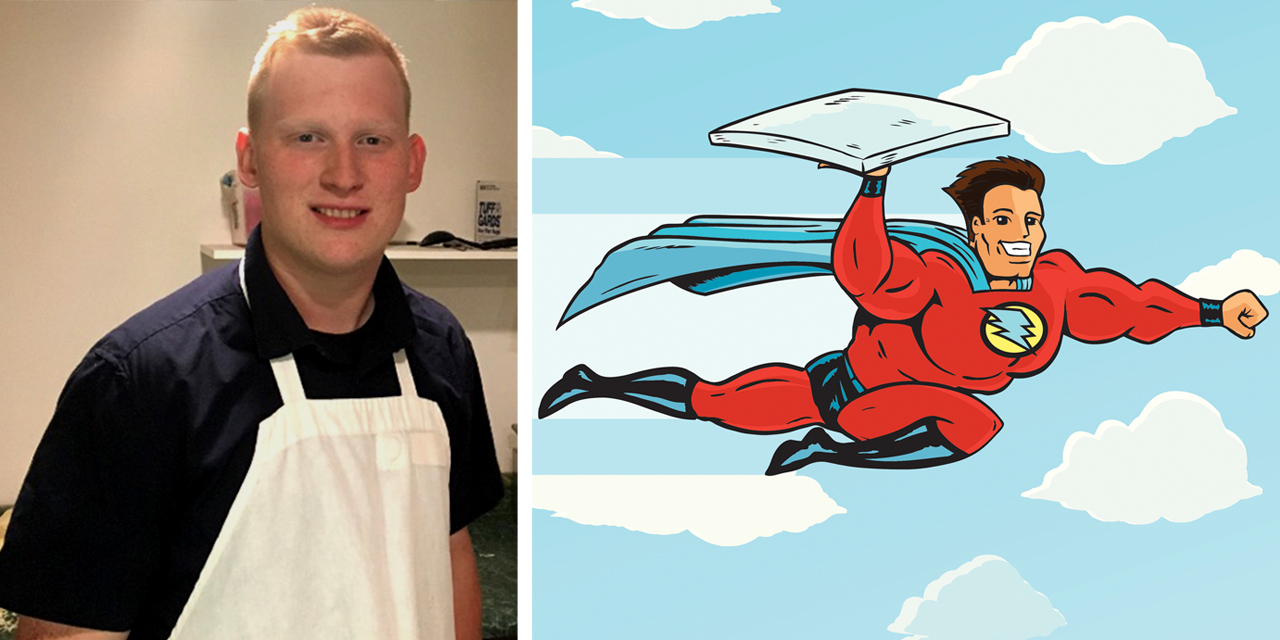 Let's get something out of the way right now: pizza delivery men are already heroes. They bring us food, the best food, whenever we want it. They deserve all the praise in the world.
But sometimes, a pizza delivery man goes a step further. Sometimes, a pizza delivery man goes above and beyond. And I don't just mean delivering your pizza extra quickly, or at closing time.
Dalton Shaffer, the manager of Steve's Pizza, a pizza place in Battle Creek, Michigan, isn't your ordinary delivery guy. First of all, he's the manager. Second of all, he did something extraordinary last week, for an old patron of Steve's who was desperate to taste his favorite pie again before cancer made it impossible.
On October 13th, Dalton drover over 200 miles from Michigan to Indiana, just to deliver pizza to a man in hospice care with just days to live. Then he made the trip home – all in all it was a 450 mile journey.
Richard Morgan lived in Battle Creek as a younger man, more than two decades earlier, and he's always considered the pie from Steve's Pizza to be without equal.
His wife wrote about Richard's love of Steve's on her Facebook page.
"We were young and money was tight but every pay day, Rich would pick up Steve's Pizza for dinner," Julie Morgan wrote. The couple had planned to take a weekend trip to Michigan for her birthday, and to get some Steve's, but before they could, Richard ended up in ICU.
Richard was forced to stay home under hospice care and wasn't able to make the trip. But his dad called Steve's, merely hoping someone there might write his son a letter or pass along some kind words, but he hadn't counted on Dalton Shaffer.
"Unbeknownst to us, my dad contacted Steve's Pizza and spoke to Dalton, a manager there. He told Dalton a little bit about our situation and asked if the shop might send a friendly text or card to us," Julie Morgan wrote on Facebook.
"Without hesitation Dalton asked what kind of pizza we wanted, and told my father he would bring it to us (by the way, Steve's doesn't deliver). My dad clarified that we were in Indianapolis, at least three and a half hours away from Battle Creek. Dalton said he understood that, and would leave after he closed the store."
And wouldn't you know, Dalton did it.
"While Rich and I slept, at 2:30 AM, Dalton rolled into our driveway, left the car running and delivered two extra special pizzas to my waiting family. He told them we were in his prayers, and offered to help in any way he could. My dad offered to put him up in a hotel, but he refused and immediately left for the return trip home because he had to work the next day."
Now that is some good pizza. And some even better people.
Read Julie Morgan's full post: