High School's Harry Potter Dance Performance is Pure Wizardry [WATCH]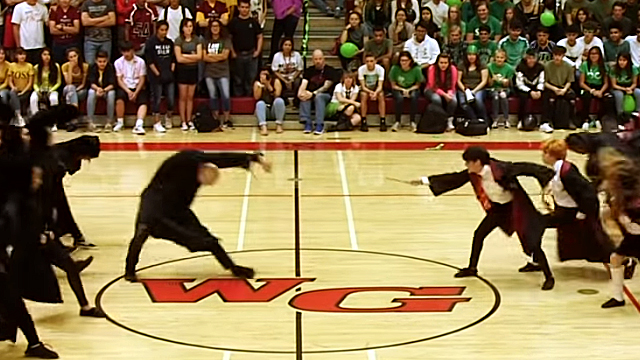 There isn't a lot of dancing in the Harry Potter books, but that didn't stop an amazing high school dance team from putting their own highly choreographed spin on JK Rowling's fantasy epic.
Walden Grove High School in Sahuarita, Arizona is already known for their dancing chops, thanks to a Wizard of Oz-themed Homecoming routine that went viral last September. The ridiculous routine, complete with Dorothy's house, a tornado, and a yellow brick road, has gotten over 3 million views on YouTube and and got the squad an invite to compete on "America's Got Talent."
Well, they're back, and for this year's homecoming celebration, they decided to tackle Harry Potter. They were ready to outdo their L. Frank Baum opus with a detailed, delirious performance that included the cupboard under the stairs, the train, the sorting ceremony, and more. They even went so far as to feature a showdown He-Who-Will-Not-Be-Out-Danced.
These kids showcased everything from arrival at Hogwarts to the first flying lessons – including broomsticks and Harry riding atop a group of fellow dancers – set to dance hits, including a bumping remix of "Expecto Patronum" as the budding wizards practiced with their wands.
And then Voldermort arrives, with a blast of smoke, a convincing mask, and a crew of evildoers to help battle Hogwarts and Harry in the final dance showdown.
This video has racked up over 4 millions views from a public that can't seem to get enough Potter – or enough amazing dancing from this ridiculously talented group of high school students.
Oh yeah, the beats in the routine are pretty faithful to Rowling's stories, so spoiler alert?
Here's the Wizard of Oz routine: