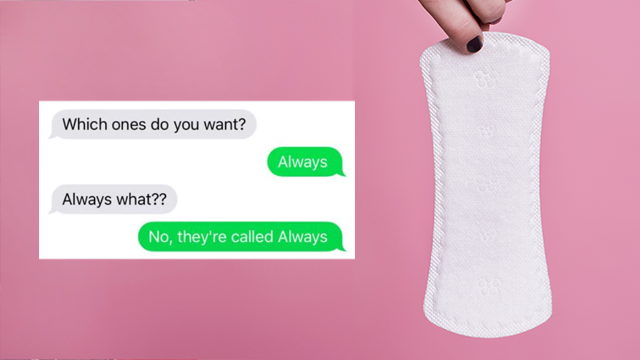 Credit: Getty/emapoket
Men can be pretty clueless. That unrefined stupidity rears its ugly head in various ways, but it's never more undeniable than when we're tasked with purchasing products designed for women.
One dad in the UK got the ultimate crash course while picking up some maxi pads for his daughter. The resulting text convo is hilarious with a surprisingly heartwarming ending.
It started off with a Who's-On-First?-like misunderstanding about the brand Always, followed by the realization that womanhood is inherently expensive.
Then his worst fears came true: a stranger saw him. But thankfully he had the peace of mind to ask before sniffing a box of maxi pads.
Finally, he did what guys are best at doing: putting their foot in their mouths and then smoothing the situation over with a sugar offering.
Take note, dads of young girls. Someday you too will get the screenshot treatment. Or maybe you'll flip the script like this dad with handwritten texts after he confiscated his daughter's phone.