Raking Hot Dogs Over The Coals Is The Best/Worst Life Hack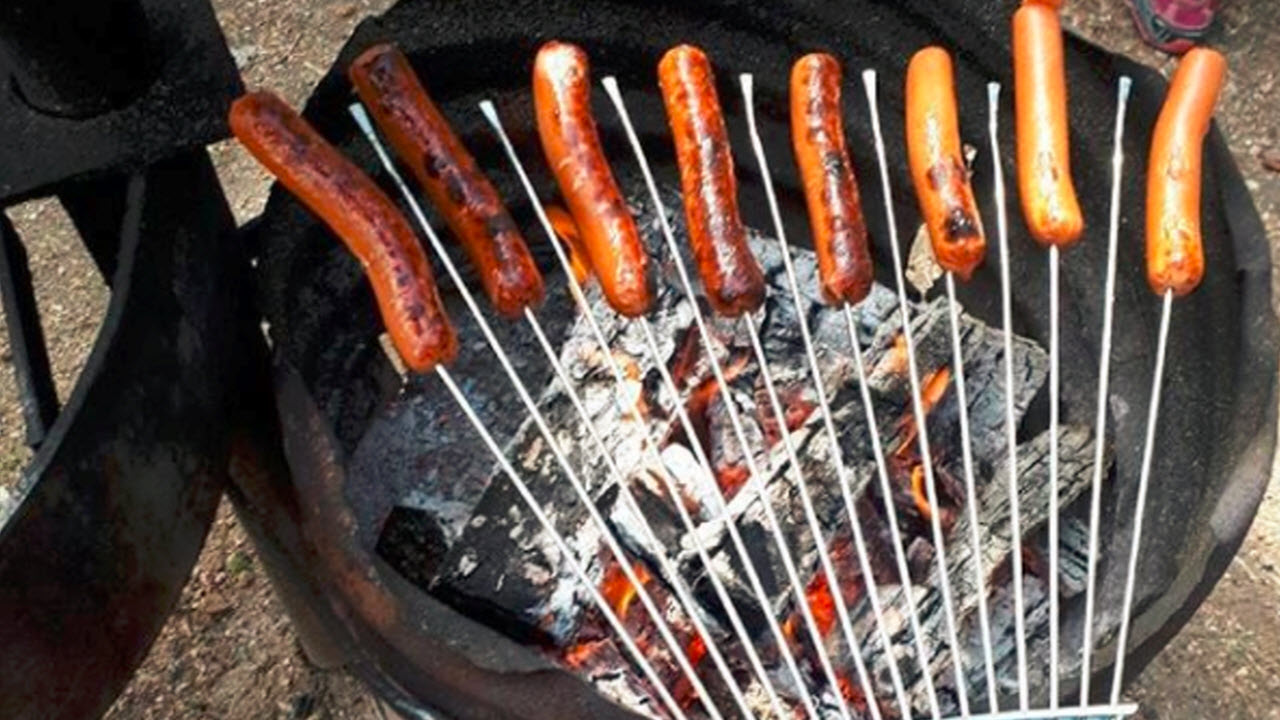 Multitasking meal time just got a lot easier
Grilling a million hot dogs isn't cool. You know what's cool? GRILLING A BILLION HOT DOGS.
Okay, not really. But if you use a rake you can cook more of them at once. TL;DR: that's basically the whole hack.
Look, you already have a rake. Don't bullshit me, I know you have a rake. I live in the city and even I have a rake! Do I use the rake? No. Because raking suuuucks. You know what doesn't suck? A BILLION RA– wait, that's not right. You know what doesn't suck? Hot dogs! Everybody likes hot dogs, problem is, it's not easy to cook them for everybody, not quickly. At least, it wasn't easy, until now!
https://www.instagram.com/p/BUlHqJhlBEv/
Thanks to Pinterest – that's literally the only time I've ever said or will ever say that sentence so help me god! – and Delish, this new hot dog hack is making its way around the interwebs, and yes, it involves rakes. Not the Don Draper type of rakes either, although if he had Pinterest I guarantee you he'd be all over this video because there's nothing more manly and also potentially irresponsible and dangerous to do with your children than to cook a dozen hot dogs at once on the tongs (tongs?) of a rake.
You can probably guess how it works and if you said something about cradling the hot dogs in the rake you're a moron, like how would that even work, they'd all roll to the lip of the rake in a big bunch and would fall off with the slightest movement GET YOUR HEAD OUT OF YOUR ASS. No, you slide each dog down a separate tong of the rake, skewering them, essentially using the rake as a large fork (that's why I went with tongs above, FYI) and holding it over the grill or firepit or let's be honest if you're doing this hack it's probably a burning tire.
Kind of disgusting, right? I mean, unless you just buy a specific-hot dog rake – in which case you either have a lot of disposable income and/or some real problems in your life – your rake has likely been through some shit already. Like, literal dog-shit, to be specific. Not that that's anymore nasty than what's probably in actual hot dogs but still, we've all spent our entire lives in willful denial of the inner workings of hot dogs to the point that we've fooled ourselves into enjoying them, but I don't have the capacity to do that for a shit-rake, not now that we've raised that specter.
Unsanitary as it may be, it is impossible to deny that this rake hack is a time-saver, especially if you're having a cookout or have dozens of children to feed, and who doesn't need more time? A lot more time. Because a little more time isn't cool. You know what's really cool? A BILLION MORE TIME.
Plus, if your guests actually take you up on a shit-rake dog, they may well get sick after eating it, and that means more beer for you!
(We also shouldn't be remiss in thanking Amy Sedaris, who seems to have invented this hack as a joke before someone decided they actually needed it in their life for realz because what hath 2017 wrought?!)