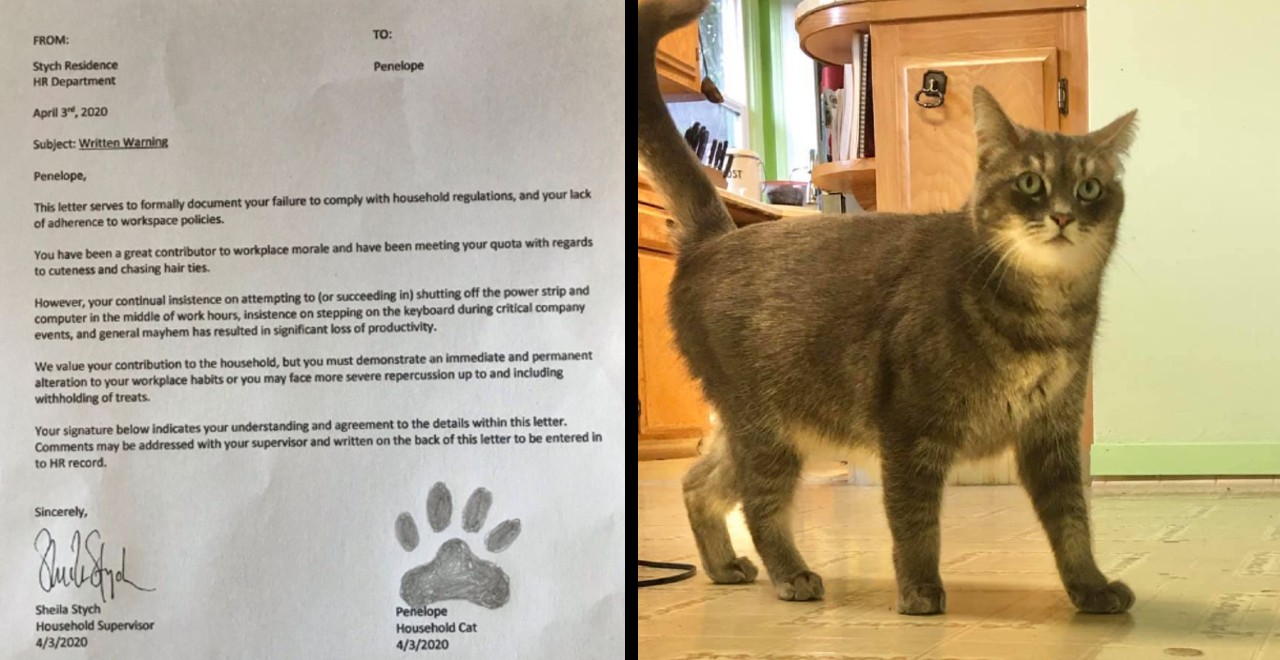 Credit: Facebook/Andrew Stych
Having good coworkers is essential to productive and positive experiences at work. When you're in the office, there are plenty of places to hide from That One Coworker who microwaves fish and always seems to have "a quick (23 minute long) story" when you're on your way to the bathroom. Working from home is a different ball game altogether – your coworkers are your roommates, your only means of socializing, and sometimes, the bane of your existence.
One man named Andrew Stych found an unconventional way to deal with a particularly pawblematic coworker. He drafted a letter from his household HR department and delivered it – to his cat. Now, anyone with a cat will tell you, they truly do not give a single crap. They will dig their claws into your favorite sweater. They'll quietly knock a full glass of water onto the floor while looking you directly in the eye. Cats are adorable and full of destruction.
Andrew and his wife Sheila have been quarantined with their pitbull and four cats for what quite honestly feels like the better part of a decade. Penelope, the cat whose behavior has clawsed concern throughout the household, finally received a formal complaint about her behavior.
The letter read, "Penelope, this letter serves to formally document your failure to comply with household regulations, and your lack of adherence to workspace polices," says the hilarious letter. "You have been a great contributor to workplace morale and have been meeting your quota with regards to cuteness and chasing hair ties." He continues, "However, your continual insistence on attempting to (or succeeding in) shutting off the power strip and computer in the middle of work hours, insistence on stepping on the keyboard during critical company events, and general mayhem has resulted in significant loss of productivity. We value your contribution to the household, but you must demonstrate an immediate and permanent alteration to your workplace habits or you may face more severe repercussions up to and including withholding treats."
Fortunately, both Penelope and Sheila (Household Supervisor) signed the letter.
Fingers and paws crossed that this is the beginning of a purrfect working arrangement.