Inspired by Viral Photo, Dozens Share Emotional Lasts With Loved Ones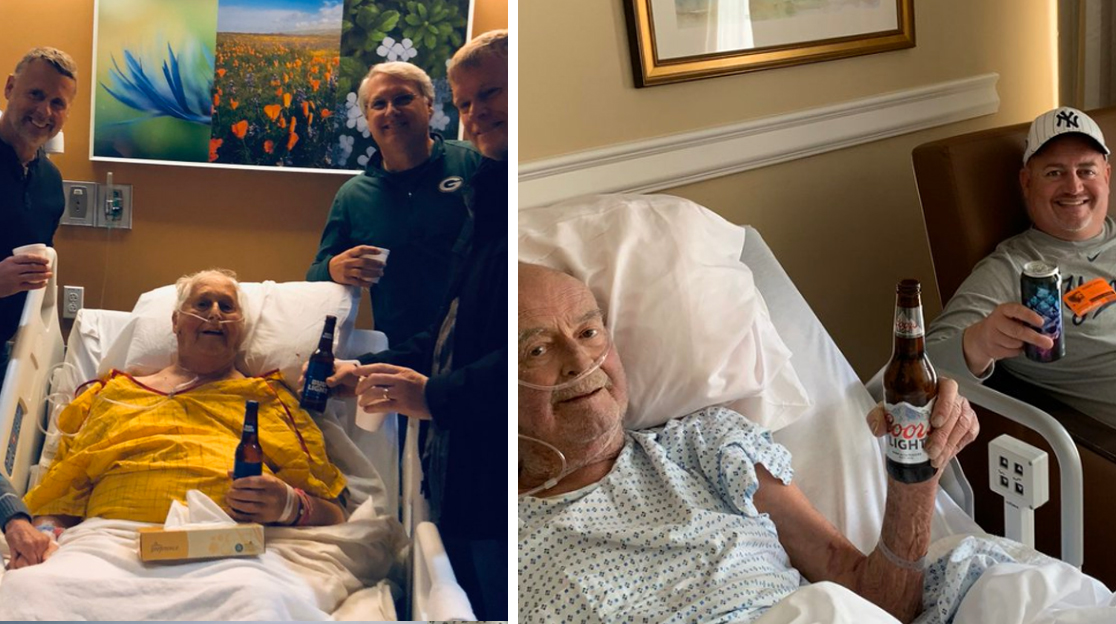 Earlier this month, The Dad featured the story of the viral photo of the dying man who wanted "one last beer" with his sons on his deathbed. The sweet photo and the poignant moment went viral, with more than 300,000 liking the original post. The tender moment of goodbye with a parent also prompted dozens of people to share their own special "last"s with parents.
Twitter user Robert Dorsch passed along his condolences, along with a photo of him enjoying one last cold beer and Yankee game with his late father in the spring.
Did the same thing with my Dad in May. Cold beer and a Yankee game. My condolences pic.twitter.com/aNSULc7AT8

— Robert Dorsch (@RichterSupt) November 22, 2019
Ben Riggs shared the sweet photo of his grandpa, who requested to have one last cigar and beer.
I don't know you… but I felt this. Days before my grandpa passed he let my dad and I know he wanted a cigar and a beer. We made it happen. I'm so sorry for your loss. Your grandpas smile is one for the books! pic.twitter.com/HDv3y2kLeA

— Ben Riggs (@RenBiggs) November 21, 2019
Saying goodbye to a loved one is always going to be a tough, emotional experience. So it's important to savor those emotionally charged final moments and be grateful for the chance to say goodbye. One user shared a photo of their grandmother, who enjoyed on last round of shots.
My grandmom did the same thing but with shots of Bailey's 😭💓 pic.twitter.com/LjSg757YIn

— gnocchi plate (@brussproutsrock) November 21, 2019
While the alcohol photos are admittedly badass, not all the sweet photos shared by others were booze-related. One person said her mom just wanted to see her grandson graduate, so the graduation came to her.
This photo is priceless. My mom wanted to see her grandson graduate, so we brought it to her. pic.twitter.com/bGh5JcSxF6

— Melissa M (@kissmeimiowish) November 22, 2019
For someone else, the last thing they wanted was an ice cream cake and the common denominator here, to be surrounded by loved ones.
my grandpa passed in 2016. i was there for his last birthday, his 83rd. all he wanted was an ice cream cake, and to be around his favorite ladies: me, my mom, and my grandma.

cherish that moment. my condolences to you and yours. pic.twitter.com/V5w1sNukOM

— henny omega. (@meredithbellpb) November 22, 2019
The story reverberated around the nation, and thousands took to social media to offer condolences, tributes, and to share memories. And even those that didn't get their final beer together still found a way to make a unique tribute.
Didn't get to have a beer with my dad before he passed. Not even a @MillerLite fan to be honest but it would have been what he wanted! pic.twitter.com/uAI7qNkmhr

— Dustin (@schoeckds) November 22, 2019
All the stories and photos shared just reinforced the point of the story, to live in the moment, and enjoy each one we have with the people we love.