It's Drake vs Golden State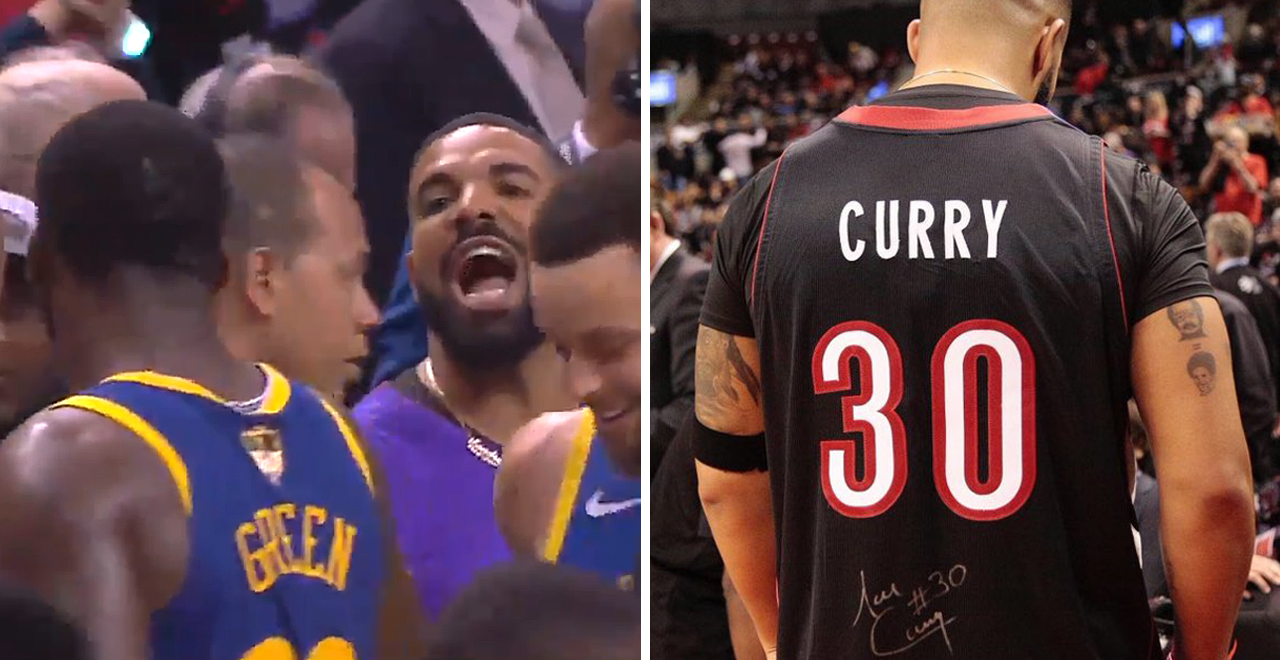 The NBA Finals were supposed to be another routine coronation for SuperSteph and crew, but, for the moment, it looks like we could have a series. Kevin Durant is off pouting, tending to an injury that won't heal, Andre Iguodala could miss game two, and Kawhi Leonard and the surging Raptors pulled off the upset in game one.
Of course, Leonard is fairly robotic, so it took a celebrity superfan to inject this Raptors team with a surrogate personality, as Drake has been parading around the sidelines with the panache of a college basketball walk-on. NBA commissioner Adam Silver had to personally talk to Drake before the finals, and that still didn't stop him spending big money to troll Steph Curry by wearing his dad's Raptor's jersey. And Drake still managed to make headlines for exchanging words with Warriors' senior trash talker Draymond Green.
Drake had some words for Draymond after the Raptors' Game 1 #NBAFinals win ???? pic.twitter.com/d0NCKKFFHE

— SportsCenter (@SportsCenter) May 31, 2019
Draymond, thankfully, handled the situation about as well as we could have expected.
Draymond Green was not feeling the Drake questions pic.twitter.com/PhGMpg3GXu

— TSN (@TSN_Sports) May 31, 2019
I was a little worried about Draymond heading into this series, as he had recently adhered the age-old maxim of talking about your kids to help your brand when he spoke about how watching his son made him stop flopping. The last thing we need right now is a toned down Draymond Green because then this series just turns into a waiting game until Durant comes back and Golden State goes back to cruising.
The real story from game 1 was Toronto's Pascal Siakam, who led the Raptors in scoring with 32 points in another marquee performance during his breakout season. Just moments after the highlight performance, Siakam told reporters "I'm just doing it for my dad." Siakam's father passed away while he was playing in college, and writes RIP Dad on his shoes before every playoff game. Learn more about Siakam before game two, just in case we can't count on round two between Drake and Draymond.
In the other championship series, the underdog St. Louis Blues are fighting valiantly to save our great nation from the nightmare of another Boston championship. One of the sure things you can count on in sports is behind every storybook underdog playing for a championship is a sick kid they are playing for. The Blues are no different, so read this and get on the bandwagon.
When the #stlblues take the ice for Game 3 on Wednesday, they'll have a very special guest in attendance. https://t.co/RNtsGKIaXX pic.twitter.com/M2vVVwl10P

— St. Louis Blues (@StLouisBlues) May 14, 2019
John Calipari is the best coach in college basketball, and it must be really special for his son Brad to play for his dad as a walk-on for the Kentucky Wildcats. Except maybe not, as Brad Calipari has entered the transfer portal. That's gotta make things awkward around the dinner table, when your own son wants to leave your team.
One of the craziest pictures in the sports adjacent world this week was the viral photo of the line to the summit of Mt. Everest. I get mad when I get stuck in mild rush-hour traffic, I can't imagine what it would be like to climb to the top of the world and get stuck in this.
This pic of the line to the Everest summit has gotten a lot of attention, but apparently many news orgs/photo agencies haven't given credit to the photog @nimsdai. He also hasn't been paid for it.

He risked his life to take this photo…he had to take his gloves off at 29k feet! pic.twitter.com/88lEii83Ev

— Yashar Ali (@yashar) May 27, 2019
LeBron tries to protect his son on social media. Like any parent, LeBron worries about how the cesspool that can be social media will affect his son. But, after promising his Bronny Jr. he could get an Instagram account when he was 14, LeBron welcomed his son to the social media world, with a warning to the haters.
Of course, acknowledging trolls is pretty much the best way to activate them. And on cue, a swarm of haters and trolls started commenting. Oh, wait, that's just Draymond Green again.