John Legend Is on a Mission to Modernize Men's Rooms For Dads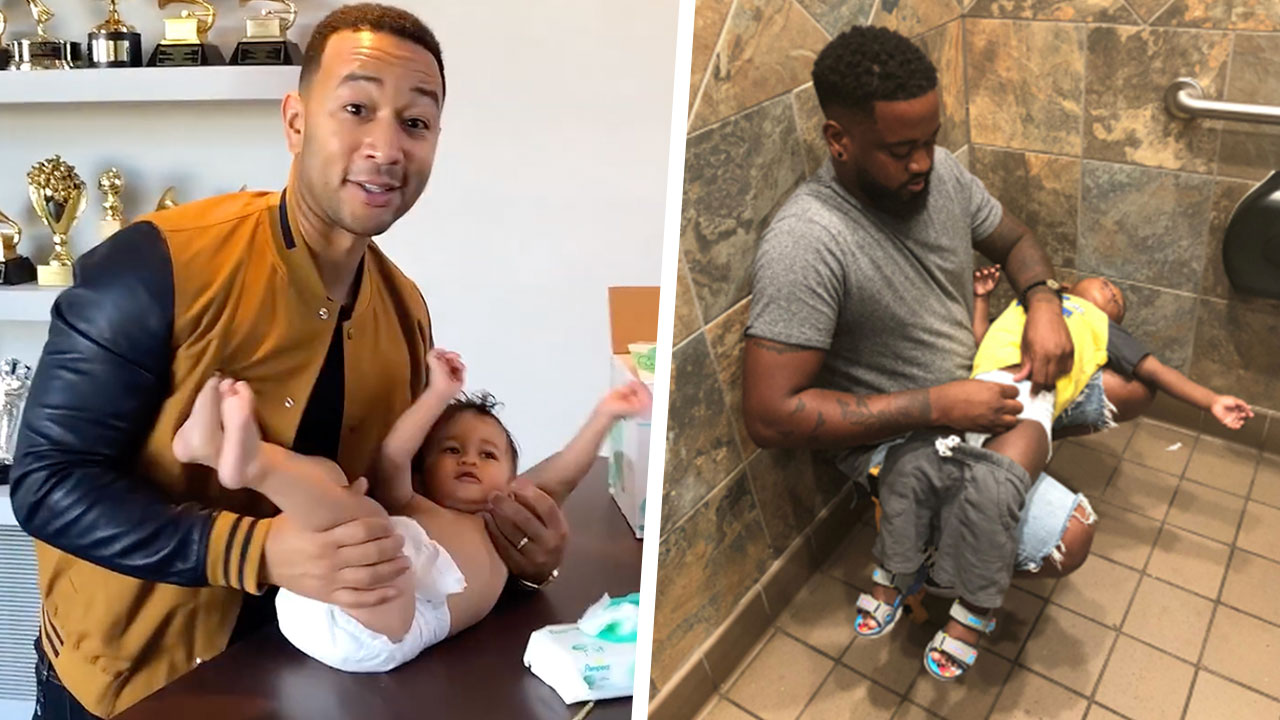 Things have changed pretty drastically over the past 50 years.
Computers that once occupied entire buildings now fit comfortably in our pockets, cars can (sort of) drive themselves, and as you're probably aware: dads can change diapers.
Today, terms like "co-parenting" are becoming more prevalent as households continue to evolve, often challenging long-held stereotypes regarding typical parental roles in the process. Studies from institutions around the globe have confirmed the positive impact dads can have on their kids by being more involved, not to mention the break it gives our other half to do something crazy like take a shower or sleep for 15 minutes.
Although dads are now changing, both diapers and patriarchal predispositions, there's one place that hasn't quite kept up. While women's restrooms across the world have adapted to the needs of moms on-the-move, dads have been relegated to changing diapers on the hood of their car or even worse, while having to hold them on their lap. 
Well, fear not, dutiful dads! Music sensation and all-around cool guy, John Legend, has set out to remedy this shitty situation by partnering with Pampers on a new campaign dubbed "Love the Change" launched earlier this week.
According to research from Pampers, 9 out of 10 dads surveyed say they've entered a public bathroom that didn't have a changing table. To be fair, most of us have entered men's rooms that didn't have a working toilet. So the initiative aims to install 5,000 Koala Kare changing stations in public restrooms around North America by 2021.
https://www.youtube.com/watch?v=DFhaSY-Wsps
While Legend and his wife – model, author, and Twitter phenom Chrissy Teigen – have both acknowledged they are often privy to luxuries most only dream of, when it comes to changing a diaper, anyone who has done it knows that having a safe place to do the deed can be the difference between wipe and death.
In an interview with TODAY, Legend says that with the addition of his son, Miles, he's even more aware of the perils surrounding potty time. "It's a little more dangerous; You have to shield yourself. I just caught a little spray the other day," he laughed. 
"Daddy diaper duty is a real thing," Legend said. "Daddies should be involved, and overall, we should be involved in the parenting responsibilities as much as we can. It's time for society to say it's time to change this kind of thing."
Pampers and Koala Kare have selected the first 500 locations that will receive the new tables, with initial installations planned in the next few weeks. The company is also encouraging dads to share a photo or video of their favorite bonding moment using #LoveTheChange on Instagram.