Hundreds of Joshes Have Pool Noodle Battle for Josh Supremacy, 4-Yr-Old Wins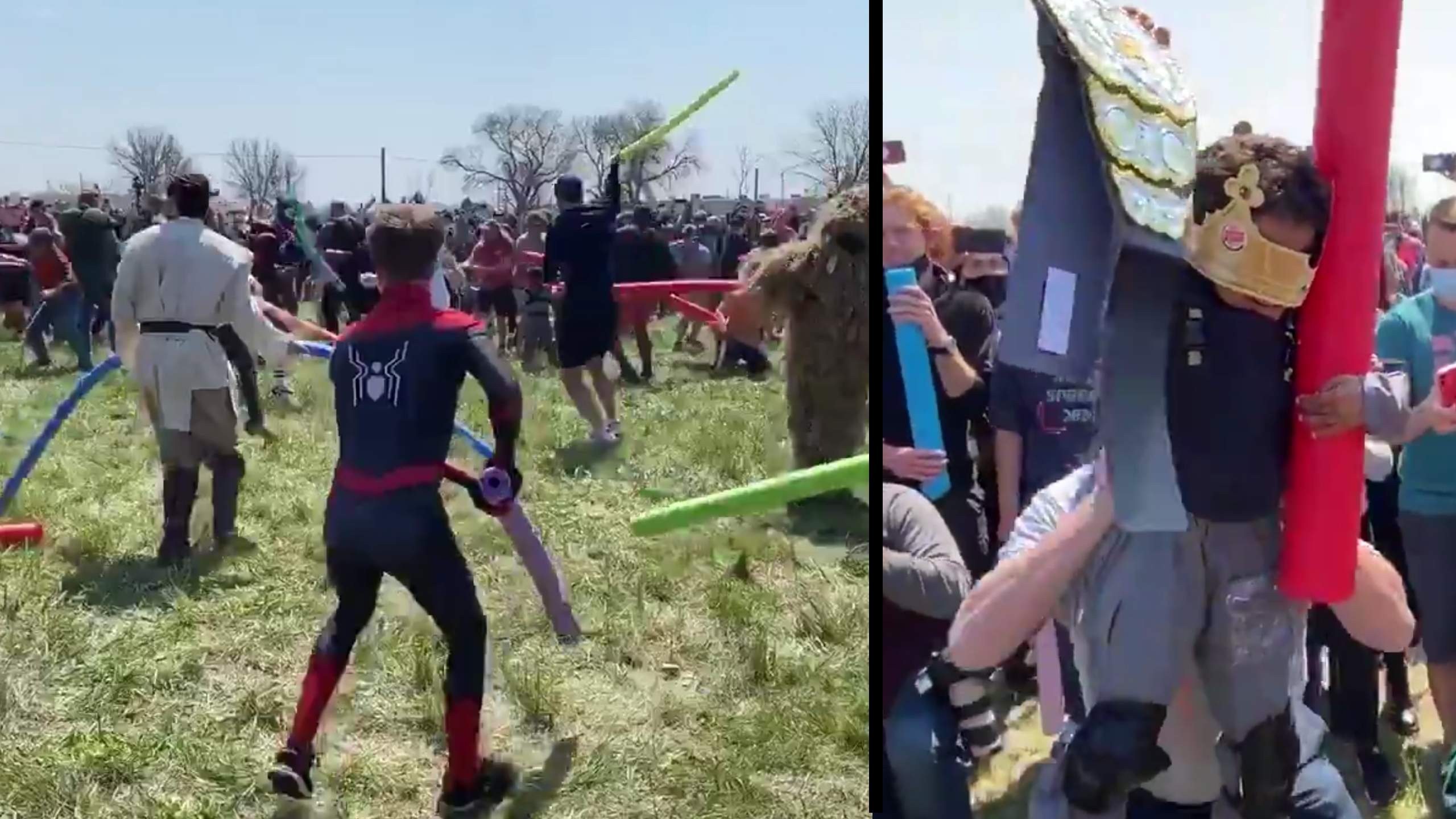 The internet brought together hundreds of people named Josh at a Nebraska park so they could crown the true King of the Joshes. That's the whole story. Somehow it makes no sense and perfect sense at the same time, which feels like a lot of news in 2021.
The #JoshFight has begun. This is absolute mayhem! pic.twitter.com/1VQic21Dvt

— Yousef Nasser (@YousefKLKN) April 24, 2021
Here's what happened: Josh Swain gathered other Josh Swains into a Facebook group to schedule a battle to see who would become the person to keep the name. It morphed into a "battle of the Joshes", as the OG Swain posted a new location (the coordinates were a park in Nebraska) followed by some general rules for those who wished to join the combat (no physical violence was one of the rules).
The OG Swain did have one other Josh Swain there, so per the rules, the two faced off in rock-paper-scissors to see who could keep the name.
For the rest of the Joshes, it was a wild pool noodle fight in the park. Oh, as part of the event, they also had a food drive and raised $10,000 for a children's charity. They raised it as part of the fund to help the other Joshes "change their name legally", but it was made clear it was actually a fundraiser for kids.
Then, chaos.
People wore costumes and really went all out for this bizarre internet thing. The internet can be full of a lot of things that bum you out (things that are the opposite of The Dad), and this is just a pure delight. The battle royale was won by Little Josh, a four-year-old Josh.
He was crowned King of the Joshes (with a Burger King crown) and celebrated by all the other Joshes at the event. Long may he reign. (his post game quote was "I like to fight").
BREAKING: Five-year-old #LittleJosh has won the #JoshFight! pic.twitter.com/VTztUHDMeW

— Yousef Nasser (@YousefKLKN) April 24, 2021
Incredibly weird. Incredibly cool. And they raised a lot of food for those who need it, and money for a Children's Hospital. One of the few things that hits that Venn diagram sweet spot of totally bizarre and totally cool.
The #JoshFight and @joshswainaz raised all of this food for the @FoodBankLincoln and raised over $8,000 for @ChildrensOmaha.

You can contribute to the Children's Hospital here:https://t.co/AP7NxBd8nK pic.twitter.com/NVEPXJPfdT

— Yousef Nasser (@YousefKLKN) April 25, 2021