Judge Holds Baby While Swearing Law Grad Mom Into The State Bar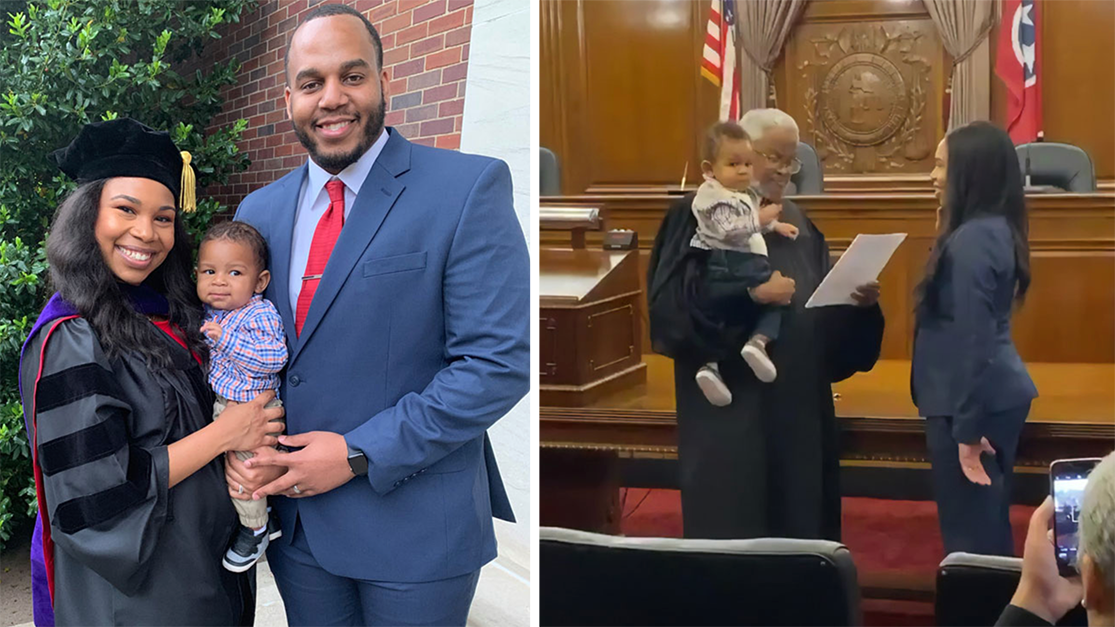 Despite each of us being one at one point in our lives, a baby's presence is frowned upon in a remarkable number of places. Sure, they're allowed in movie theaters, on planes, and in classrooms but parents know the disapproving glares from critical onlookers all too well.
Thankfully, not everyone winces when seeing someone tote their infant through the door and it's always refreshing to see someone act so uncharacteristically human.
When new law graduate and mother Juliana Lamar approached Judge Dinkins to have her State Bar Oath administered, she did so while holding her 1-year-old son, Beckham.
Instead of being judgy (as judges tend to be), Dinkins, a Court of Appeals Judge in Tennessee, offered to hold little Beckham so he could be a part of his mother's special day.
Y'all. Judge Dinkins of the Tennessee Court of Appeals swore in my law school colleague with her baby on his hip, and I've honestly never loved him more. pic.twitter.com/kn0L5DakHO

— Sarah Martin (@sarahfor5) November 9, 2019
The judge, clearly experienced with kids, gently bounced the little boy on his hip all while speaking the oath, and people who have seen the video simply can't get enough – it has since been retweeted over 10,000 times.
"She's one of four women in our class who became moms while in law school," Sarah Martin, the owner of the video, commented on her tweet. "Women are amazing."
Lamar endured an emergency C-section to give birth to Backham and, despite an average recovery time of 6 weeks, returned to classes after only one week. She credits the support of her husband and the love of her son that kept her going towards the law school finish line.