"If you can't fly then run, if you can't run then walk, if you can't walk then crawl, but whatever you do you have to keep moving forward."
Every third Monday of January we recognize the impact and legacy of Dr. Martin Luther King Jr. We honor the man and his work by taking "a day on, not a day off" to learn more about the struggle for equality, and find opportunities to better our own communities in his spirit.
For a lot of kids growing up now, the history Dr. King lived and changed can feel like another era altogether, rather than a mere 53 years. According to Tanara Burke, the former associate director of the National Voting Rights Museum in Selma, AL, and the director of Just BE, Inc., "Dr. King is almost a fictional historical character to many young people…They don't get that they are (in many cases) one generation away from him and that they are directly affected by some of the gains he and others like him fought to achieve."
To help kids fully understand Dr. King and the world he inhabited, Scholastic has recommended a series of books for all age-groups which can help your family keep history relevant.
If You Grew Up In The Time Of Martin Luthor King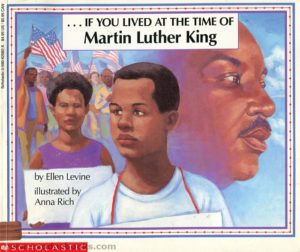 This series of books for grades 2-4 is a fun way to introduce children to different eras. With an engaging question-and-answer format, and full-color art children can learn what it was like to participate in the Montgomery Bus Boycott, stage a sit-in at a lunch counter, join the famous March on Washington, and more.
Martin Rising: Requiem For A King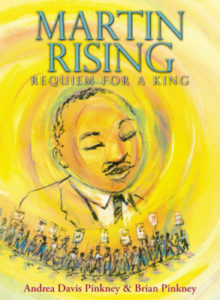 The award-winning Pinkney duo celebrates Dr. King's nonviolent struggle for civil rights –– as he transforms America through the spirit of love. This poetic and beautifully illustrated book for grades 4-7 conveys the final months of Martin Luther King's life –– and of his assassination –– through metaphor, spirituality, and multilayers of meaning.
Chasing King's Killer: The Hunt for Martin Luther King, Jr.'s Assassin
Learning about the tragedy and horror of Dr. King's death can be as important as learning about the ideals he devoted his life to.  For older kids in grades 7-12,  bestselling author James L. Swanson gives an astonishing account of one of the saddest moments in American History. It can be tricky for parents to navigate questions about Dr. King's murder, but it is necessary for all of us to remember how his quest for peace ended in a shocking moment of violence. Swanson's book can help contextualize the event to teach kids how far we've come, and how far we have yet to go.
Along with educating our kids about history, today is an opportunity to bond with our kids on the only federal holiday recognized as a day of service. Of course, during a pandemic, serving the community can be difficult, but there are ways you can participate from home. Even attending a virtual event or talk can be the start of meaningful conversations with your kids to inspire them. The National Museum of African American History & Culture has moved their annual celebration "A People's Holiday" online, and The King Center, Coretta Scott King's nonprofit memorial will also be holding online events today.
For a more engaging activity, consider supporting Historically Black Colleges and Universities. HBCUs arose in the 60s as a response to education inequality, and award a large portion of bachelor's degrees held by Black students. Advocating for these spaces honors the work done by Dr. King and encourages future heroes to find their footing. The best way to support them is by calling a local representative and advocating for continued federal spending.
However you choose to remember Dr. King with your family today and throughout 2021, you are choosing to honor history, courage, and an unrelenting pursuit of justice.
"Everybody can be great…because anybody can serve. You don't have to have a college degree to serve. You don't have to make your subject and verb agree to serve. You only need a heart full of grace. A soul generated by love."

-Dr. Martin Luthor King Jr.