Kids Boost Brands, Lightsaber Sports and a Caddie Paid Under Par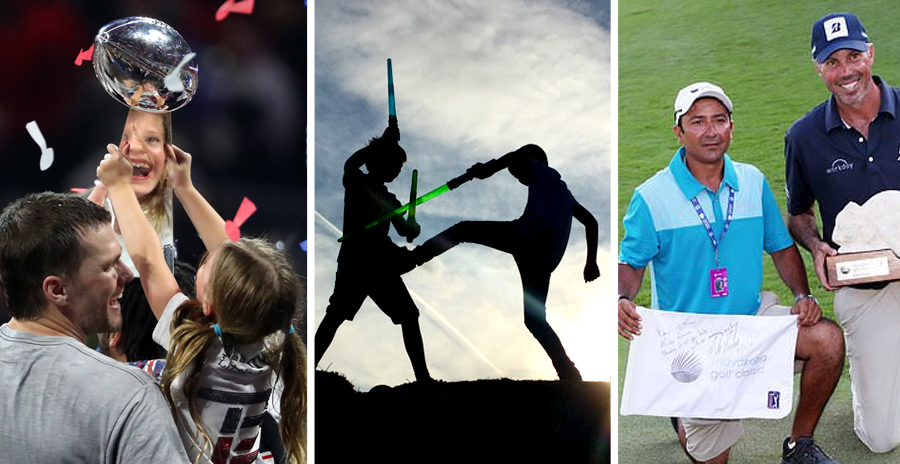 Few things are as good for a professional athlete's brand as their kids. Isaiah Thomas was the latest example as a cameo from his 7-year-old son in a postgame interview with NBA TV stole the show.
.@isaiahthomas' 7-year-old son Jaiden has nothing but praise for his dad after watching him get the win in his season debut! #GameTime pic.twitter.com/XQ5wzfhBtM

— NBA TV (@NBATV) February 14, 2019
In an age where the internet seemingly exists only to drag famous people for even the slightest of missteps, kids are a surefire antidote to the amorphous hate. Steph Curry's daughter has been the highlight of post-game press conferences and we're only a month removed from sports media twitter canonizing Drew Brees for playing catch with his kids.
Social media has made players more accessible than ever before and too many sports fans use this world-changing technology to unleash torrents of toxicity. Seeing a player with their kid helps people remember they are human. What a sad sentence to have to write in 2019, but it's true.
It even works for Tom Brady. The greatest quarterback of all time also seems like a robot with a quack trainer and an excessively disciplined lifestyle. His day-to-day seems as boring as it would need to be in order to be effective at his age in the most brutal sport. But seeing him with his daughter after the Super Bowl made you see him as just another dad.
Easily my favorite #SuperBowl photo of the night. (????Getty Images) pic.twitter.com/1M0GQPORxb

— Matt L. Stephens (@MattStephens) February 4, 2019
Throwing a kid into the equation or giving fans a window into your home life seems like a home run every single time. It's impossible to get bad press when your kid is involved. Like any rule, of course, there are exceptions. In this case, that exception would is named Adrian Peterson.
The Chicago Cubs owner had to apologize recently for his dad's racist emails. As the son of a billionaire, I'm sure this isn't much of a blip on his radar, but it does feel like it's setting a weird precedent. Yes, the emails were racist and bigoted, but crazy conspiracy email is not the province of the insanely rich, and the last thing we need is the expectation that we all have to answer for our parents internet habits. While I don't want to be part of the gotcha culture we live in now, I will meet it halfway and cosponsor a bill to ban computers for anyone over the age of 70.
Lightsaber dueling is now an officially recognized sport in France and I am genuinely surprised at how quickly I got over my shock. I still remember a time when sports fans spent entire months pointlessly arguing about whether or not NASCAR was a "sport."
I guess the groundwork has been laid by nerd sports like Quidditch and the growing prevalence of eSports. It does seem a little absurd that competitors have to wear body armor, because if Star Wars movies have taught me anything, it's that armor is ineffective even against rocks thrown by a tree muppet.
If you want someone to get mad at, I'm all in on the Matt Kuchar loathing. He won 1.3 million in a tournament and then paid his caddie (granted, it wasn't his usual caddie) $5,000, which is about $125,000 short of what a normal caddie would expect in that scenario. His publicly manicured "apology" was confusing and vague. For example, during his damage control rounds, it was a little bizarre that he released a statement and spoke to the press before calling the caddie. He needs to tweet a picture of his kid handing the caddie a giant check.
Finally, as someone who has worked in hockey broadcasting, this is one of the most terrifying videos I have ever seen:
Pierre McGuire avoiding death @nhl @nbcsn #bruh pic.twitter.com/CzhS5ayKc0

— Dis Gif (@DisGif) February 19, 2019