Kind Restaurant Server Uses Lunch Break to Sit With 91-Yr-Old Man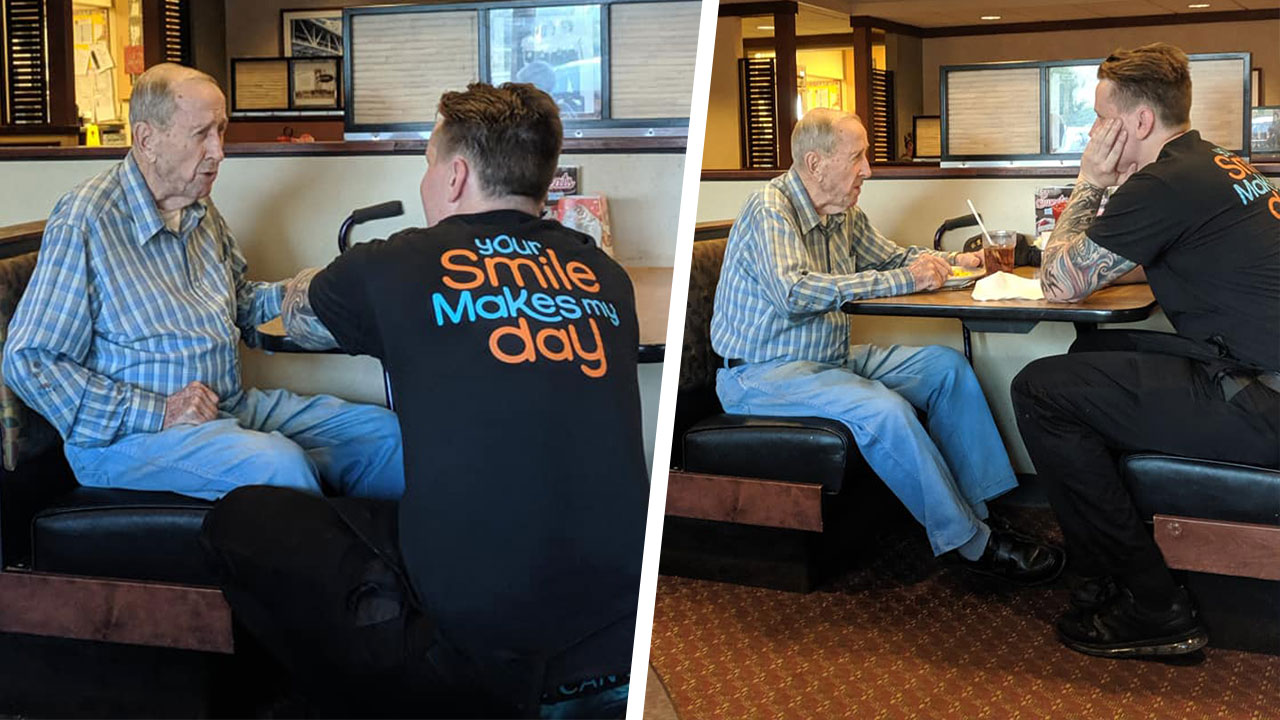 It only takes a minute to be kind.
It's a simple enough idea, but all too often, kindness takes a back seat to our busy schedules and hectic lives. So when a Pennsylvania woman recently witnessed one such act, she knew she had to share it with others.
Lisa Meilander was out to eat with her family at Eat'n Park restaurant in Belle Vernon, PA, when she noticed their server speaking to an elderly gentleman at a booth located nearby. Due to their proximity, Lisa and her family could hear the conversation taking place. The man told their server he was 91-years-old and had trouble hearing. Their server, Dylan, kneeled down to get closer, giving the solo diner his complete attention. After chatting for several minutes, the man apologized for talking so long. "I'm alone now," he said, "and I don't often have someone to talk to." Dylan smiled and said he enjoyed listening.
After a few more minutes of conversation, Dylan helped the man decide what to order and returned to the kitchen. Inspired by the gesture, Lisa wanted to pay for the elderly man's meal, however by the time Dylan returned l, he told Lisa that "Someone's already taken care of it." Lisa sharing in a Facebook post "I guess we weren't the only ones eavesdropping on the conversation."
Shortly after, Dylan returned with the food, telling the man he was now on break and asking if he could join him while he ate. The elderly diner happily accepted the company, and the two continued their conversation. Patrons around the restaurant had taken notice and were all smiles as they enjoyed their meals.
Lisa took a photo and shared her story, adding that even as they left the restaurant, the two were still seated and enjoying one another's company.
"With all of the negative stories about our youth today this was a breath of fresh air."
Dylan's small gesture has now been shared over 67,000 times and Lisa's post now has hundreds of thousands of positive reactions. While he likely made the elderly man's evening, Dylan's act has now touched so many more lives. It's proof that kindness is contagious, and that sharing a few moments of your time is all it takes to make a difference in someone else's life.