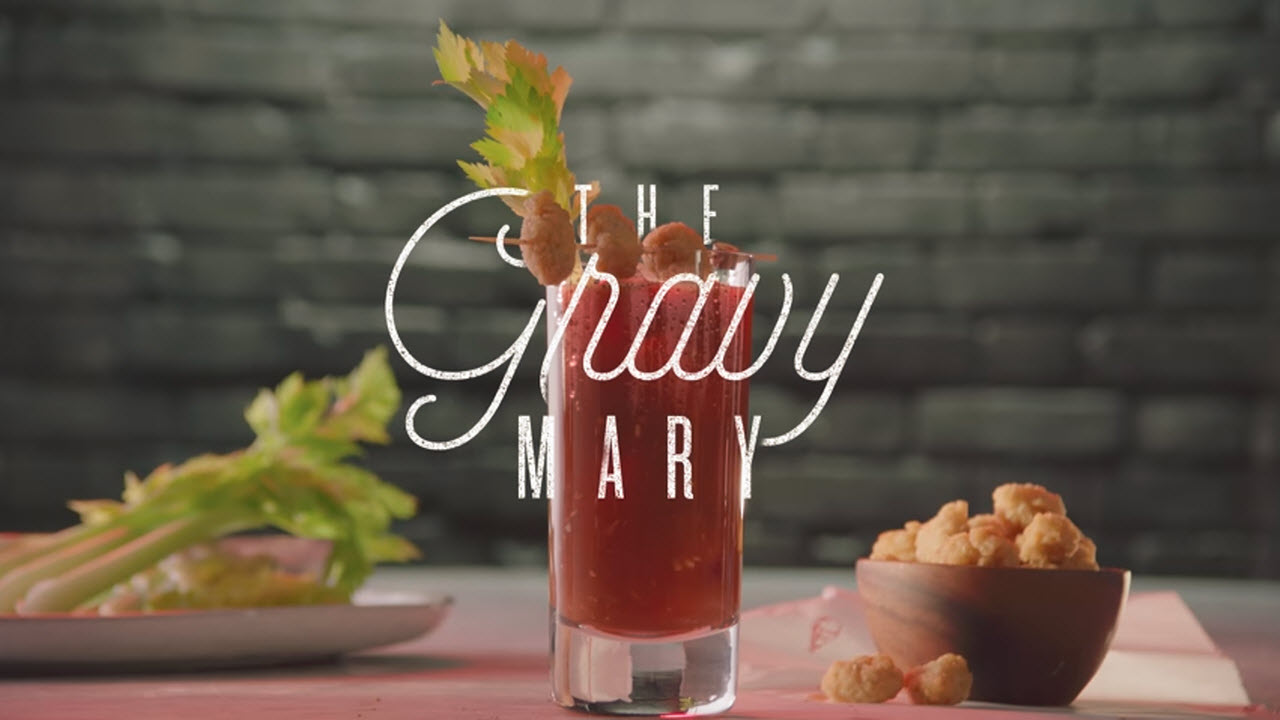 Credit: YouTube/KFC UK and Ireland
Because America needs to get even fatter
In the ongoing fast food wars, a few franchises stand out for their willingness to cross any and all lines. Pizza Hut put cheese in its crust, Hardees prides itself on trying to kill you with calories, Taco Bell uses Doritos as taco shells, and KFC created a sandwich that uses meat instead of bread.
Colonel Sanders and his Army of Death are back, and this time, they're coming for your drinks.
That's right, your drinks. And I don't mean they're making super-sized soda cups that use macaroni and cheese as ice cubes. (Forgive me if that hits stores later this year.) No, I'm referring to alcoholic beverages, because for some reason, KFC has released recipes for alcoholic beverages featuring a KFC-centric special ingredient:
Gravy.
YOU HEARD ME.
WFLA News out of Florida has the details on these new concoctions, the recipes for which were posted on KFC's websites in the UK and Ireland.
The names of the three gravy-based drinks are: Gravy Mary, Southern Twist and Fingerlickin' Sour, and I've posted the recipes at the bottom of the article. Knock yourself out! Personally, as soon as I see "20mL KFC gravy" on the list, I'm skipping ahead to the next drink on the menu.
There are videos showcasing the preparation of each drink on the KFC UK and Ireland YouTube channel, which you can watch right now!
Here's the Southern Twist:
The Fingerlickin' Sour:
And The Gravy Mary, which, at least consistency wise, seems like the only one in which gravy might possibly make sense if I were already drunk and trying to do that thing where Homer needed to gain hundreds of pounds to get on disability:
I can't lie: every time they poured the gravy in, I had to cover my mouth in case I threw up.
The first comment on the Gravy Mary video, which has 54,000 views, sums up my general feelings on this entire matter: "I'm reporting this video to the FBI."
Maybe that's just me. If you want to give them a try, you can: here are the recipes for the gravy-based drinks. But if you end up making them, please keep it to yourself. I can't lose another friend.
The Gravy Mary
Ingredients:
20ml KFC Gravy
50ml vodka (optional)
90ml tomato juice
1 tsp horseradish cream
20ml worcester sauce
15ml lemon juice
Hot sauce
Paprika, celery salt, pepper
Highball glass
Ice
Celery
KFC Popcorn Chicken
The Southern Twist
Ingredients:
60ml KFC Gravy
50ml bourbon
Lemon
Brown sugar
Parsley
The Fingerlickin' Sour
Ingredients:
60ml KFC Gravy
240ml mezcal
1 tbsp orange marmalade
1 egg white
25ml lemon juice
15ml cherry liqueur
Lemon thyme spring
Coupette glass