LeBron Is Better Than Jordan, UFC Fighter Dislocates Shoulder Celebrating & More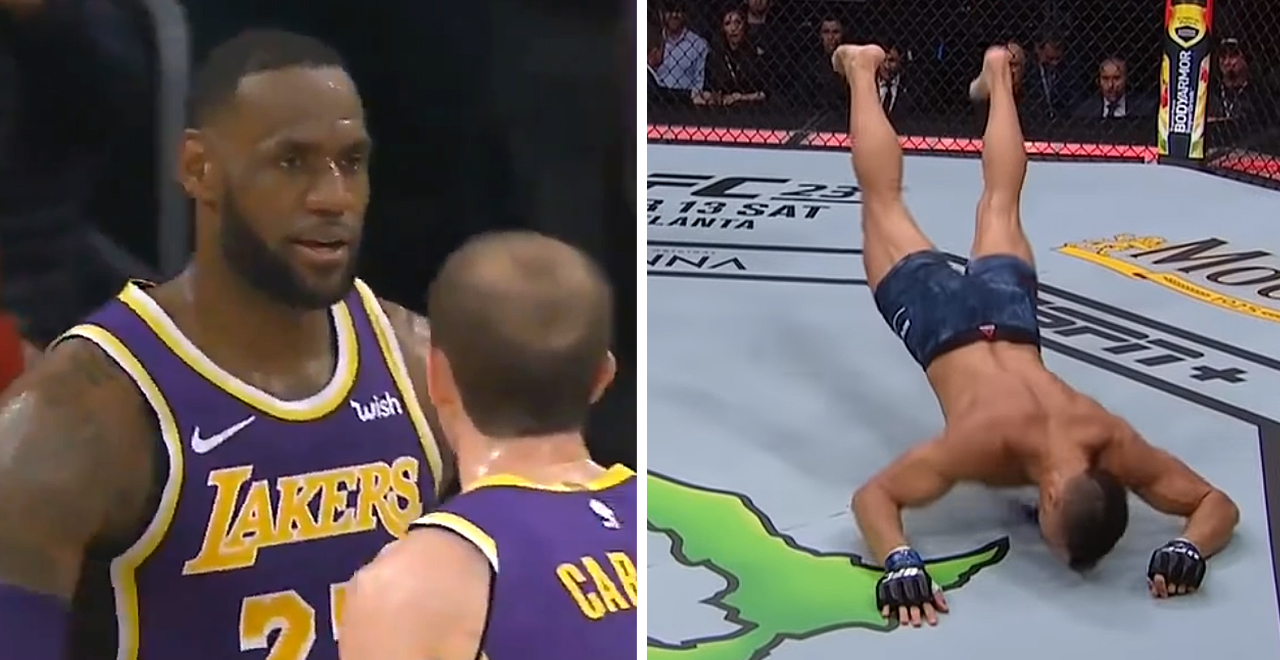 LeBron James passed Michael Jordan on the all-time scoring list and it seems like an important time to state an objective truth: LeBron James is better at basketball than Michael Jordan. LeBron is a far superior rebounder, can guard more positions, scored more than Jordan, has more assists than Jordan, has hit more game-winning shots than Jordan.
Forget about the fact that LeBron seems like a better guy, teammate and human (the championship undid all the damage done by The Decision) and forget that he never gambled himself to the point that he needed to play another sport for a year. If you were starting a basketball team from scratch, you would take LeBron over Jordan every single time.
After all, Jordan is 56 years old, out of shape, and hasn't played professional sports in YEARS. No debate.

A touching moment that night was shared between LeBron and Lakers guard Alex Caruso.
Grateful that Alex Caruso was mic'd up for this historic moment for LeBron James. #LakeShow pic.twitter.com/UuRZjUIMRv

— The Ringer (@ringer) March 7, 2019
The biggest sports story on the internet a few weeks ago was the 4-year-old who was mic'd up for hockey practice. While it's a cute story, there is part of me that lives in abject fear of being in the reverse scenario. I would not want the entire country to see a video of me mic'd up while watching my 4-year-old play soccer. It would be a lot of this:
"Ahhhh, why is she doing that? GO TO THE BA—is she dancing? Why is she dancing?…I have no idea who taught her that word… some of these parents are yelling loud enough that I'm starting to think they have money on this game…
what is she doing now, is she collecting leaves off the field?…please don't miss the ball, please don't miss the ball, please don't miss the ball, SIGH, how did she miss the ball? I'm pretty sure that one kid is old enough that he drove here…why did we sign her up for this?…I never should've bet the over on a game where they don't keep score."
Killer moves: A UFC fighter knocked out his opponent in less than a minute, and then dislocated his shoulder celebrating. That has to be a crazy range of emotions, to go from winning a fight you spent weeks training for, escaping unscathed before being wrecked by a 90s dance move.
Here's how it's done:
Speaking of LeBron earlier, he always saves his best for the playoffs, so I can't wait to see what's in store this year. Maybe a guest color analyst?
A 9-year-old girl opened a whole new business line for Steph Curry. In November, she wrote a letter to Curry about how she was disappointed his shoes didn't come in girl sizes. So, Curry responded and promised that would change. On International Women's Day March 8, Curry and Under Armour dropped a new color of the Curry 6 and had the girl add her personal design touch. The money raised from the shoe sales will go to a scholarship for female students in the Bay area. This entire story has inspired me to keep a list of celebrities for my daughter to call out when she gets older. Also, it's very inspiring to see anyone anywhere actually writing a letter.
In far less empowering news, there is going to be a new movie starring Will Smith as the father of tennis greats Serena and Venus Williams. So, instead of making a movie about iconic female athletes and some of the best players of all time…we're just going to make a movie about their dad and how he's the real hero? Cool…cool.