LeBron James Jr. Hits Game-Winning Shot Against Dad's Alma Mater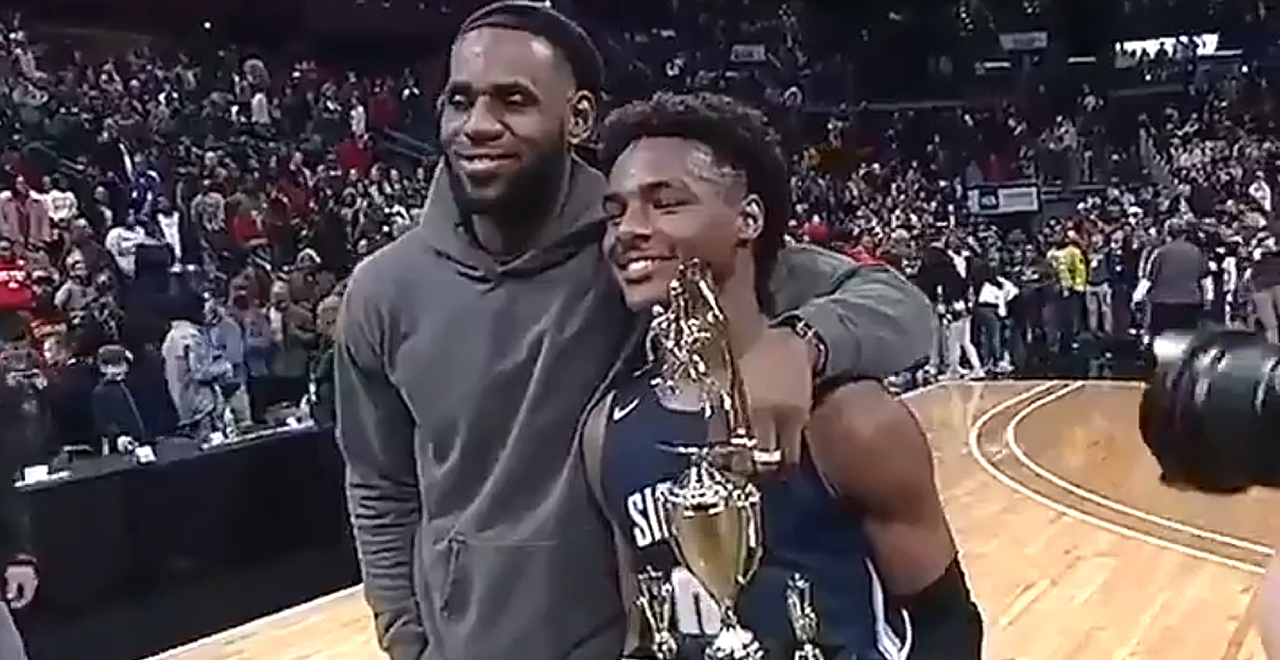 LeBron James crashed onto the sports scene as a high school basketball player at Akron's St. Vincent-St. Mary. James was heralded (correctly) as the future of the NBA and was featured on the cover of Sports Illustrated while still starring at SVSM. His son, LeBron James Jr. (who goes by Bronny) is following in his father's footsteps as a high school basketball star, with a couple of notable differences.
One, while Bronny is talented, he's not the number 1 player in the country. And 2, Bronny doesn't play in Akron. But Bronny did get a chance to play in Ohio, as his Sierra Canyon Trailblazers team had a mega-matchup with James alma mater. And it was Bronny who hit the go-ahead basket to put the digger in his dad's alma mater.
BRONNY IS CLUTCH!

Go ahead bucket vs.his dad's high school. 🔥🔥 pic.twitter.com/BZWZxdyieJ

— Complex Sports (@ComplexSports) December 15, 2019
Down one with less than a minute to play, Bronny elevated and stole an inbounds pass, racing it down the court for the game-winning layup, as Sierra Canyon held on to hold off SVSM 59-56.
LeBron was courtside for the televised showdown and prior to the game, had dinner with his old SVSM teammates. Still, when the ball was in the air, James made no qualms about turning on his alma mater to root on Bronny.
LeBron jumping up and down as Bronny gets the go-ahead bucket with less than a minute left 🍿 pic.twitter.com/7OA8dnAZoA

— SportsCenter (@SportsCenter) December 15, 2019
Obviously, as an NBA superstar, he doesn't get to see Bronny play live much, and this was the first game he got to see this season. James called the game a surreal moment and you can see the joy in his face as his freshman son was crowned the MVP of the game. He said it meant the world for him to be there.
What a moment for Bronny and LeBron 🙏

Bronny won game MVP in Sierra Canyon's win over his dad's alma mater, St. Vincent-St. Mary. pic.twitter.com/Lt20PyZwEt

— ESPN (@espn) December 15, 2019
Bronny, a 6-2 freshman guard, only recently cracked the starting lineup of the basketball powerhouse he attends, but will undoubtedly have plenty of eyes on him throughout his career. Hundreds of media members were credentialed for the high school basketball showdown as the game featured several top prospects outside of the No. 24 rated James. And having an NBA legend as your dad has to help your prospects of a successful career, but LeBron's advice for his son is pretty straightforward.
"Play hard. Have fun. Be a great teammate. And everything else will take care of itself." @KingJames to @Rachel__Nichols on what advice he gives to Bronny before games. pic.twitter.com/TQ41cThkGy

— ESPN (@espn) December 15, 2019