A Liquor Store Clerk Beat ESPN to Mahomes Contract Scoop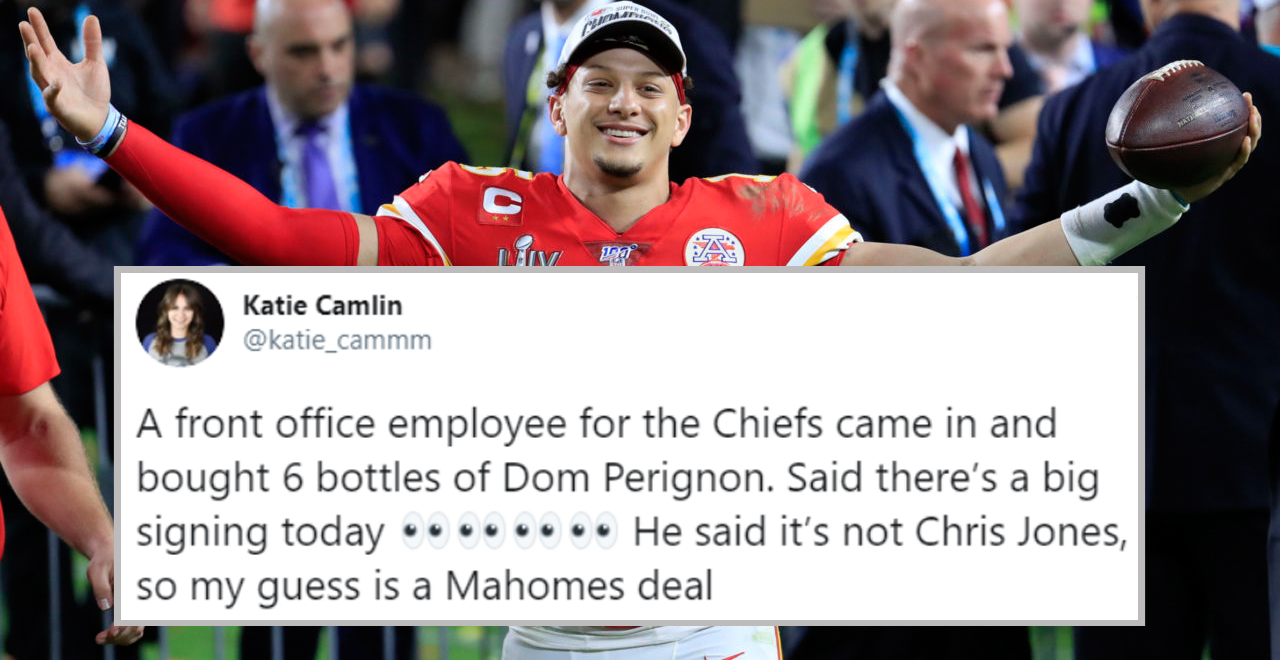 If you're a Kansas City Chiefs fan, you have a lot to celebrate these days.
Not only is your team the reigning champs, but they may also be the reigning champs for the foreseeable future, both because the status of the next season is very much up in the air, thanks to COVID-19 and because the team just resigned 24-year-old Super Bowl MVP and all-around phenom Patrick Mahomes to a new contract, keeping him in Arrowhead for the rest of the decade. And beyond.
When the news broke most of us heard about it thanks to ESPN's NFL insider Adam Schefter, as usual. But there was actually another person who had the scoop first, an unlikely news source who isn't connected to the NFL at all.
Almost two hours before Schefter broke the news, KC liquor store employee deduced the signing when a front office employee popped in to buy some champagne. Her tweet has since been deleted, but it was screen-capped for posterity.
— Gentleman Chief (@gentlemanchief) July 6, 2020
She's a regular Sherlock Holmes!
After she was proven correct, she dunked on ESPN's inside man with two delightful posts:
Holy shit I beat Schefter hahaha

— Katie Camlin (@katie_cammm) July 6, 2020
Me rn https://t.co/zjFIL2eIsm pic.twitter.com/btkQadzeOi

— Katie Camlin (@katie_cammm) July 6, 2020
Turns out you don't have to have incredible connections to get the jump on some top-notch NFL news. You just have to pay attention and put the pieces together. Nice work, Katie! hopefully, Mahomes will give the Chiefs more reason to buy champagne over the next few years!