Mahomes' Mom Gets Into It With Browns LB on Twitter for Injuring Her Son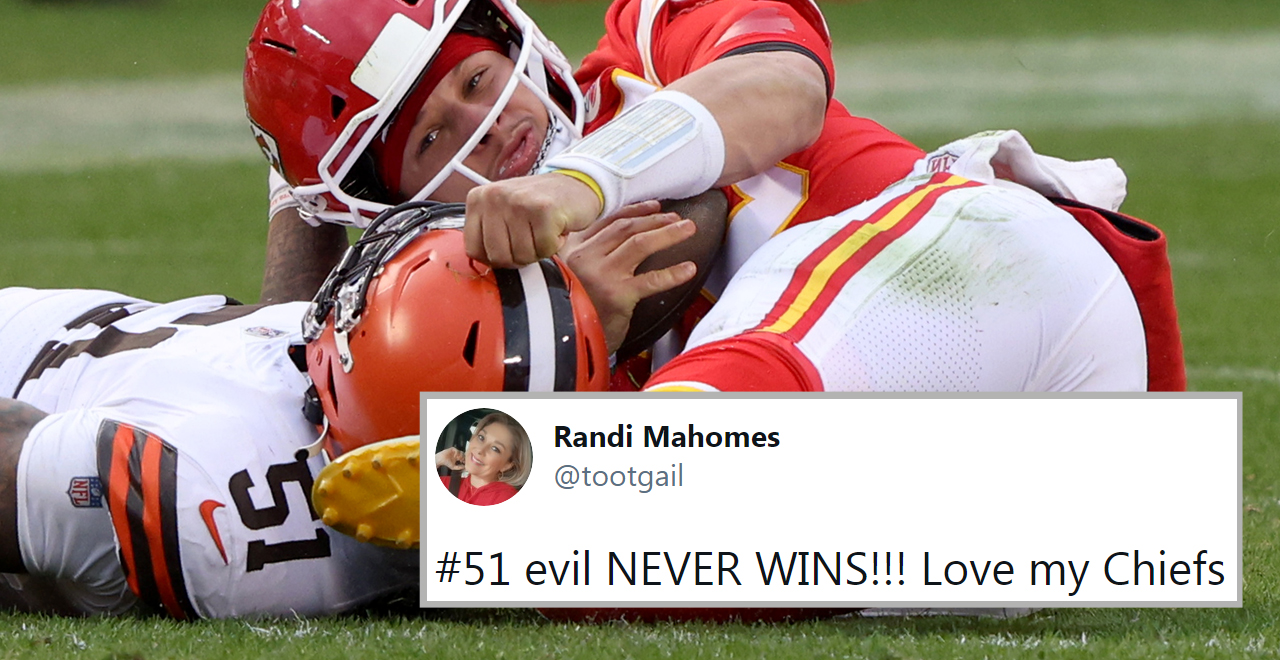 Hell hath no fury like a protective mom, even when she's protecting one of the best players in the league!
Cleveland Browns linebacker Mack Wilson learned as much when Patrick Mahomes' mother went at him on Twitter after Wilson's sacked him in Sunday's divisional playoff game. It left Mahomes dazed and sitting out the bulk of the second half while entering the NFL's concussion protocol.
Patrick's mom Randi called out Wilson's jersey number – and called him evil! – in her tweet:
#51 evil NEVER WINS!!! Love my Chiefs

— Randi Mahomes (@tootgail) January 17, 2021
Obviously, mom was worried for her son and fired off her tweet in a bit of a state, but Wilson probably didn't appreciate being called evil.
To his credit, he responded calmly and assured Mrs. Mahomes that he was just playing hard, as one does in a win-or-go-home game during the NFL playoffs.
No disrespect mom I'm just playing hard. This is a dangerous game we play and we take a risk every time we step foot on the field. I'm happy that Pat is okay but mind you.. I've never been a dirty player. I just want to win and be great like your son. 🙏🏾❤️

— Mack Wilson (@5mackwilson1) January 19, 2021
He closed his tweet with a compliment, and his opponent's mom thanked him and squashed the beef, admitting she was merely speaking as a concerned mom who loves her son.
Thanks!! I know every player was out there playing their best.. this momma bear was just having a hard time watching it…. it hurt me as a parent is all.. appreciate your kinda words.. #blessed

— Randi Mahomes (@tootgail) January 19, 2021
You can't really blame Mrs. Mahomes for overreacting, though calling one of her son's opponent's 'evil,' was a bit much. Kudos to Wilson for responding respectfully, and for Randi for admitting her emotions got the best of her.
If that game was any indication, this might not be the last time her son crosses paths with Mack!