March Madness Has Nothing on This Nail-Biter of a Baby Race [WATCH]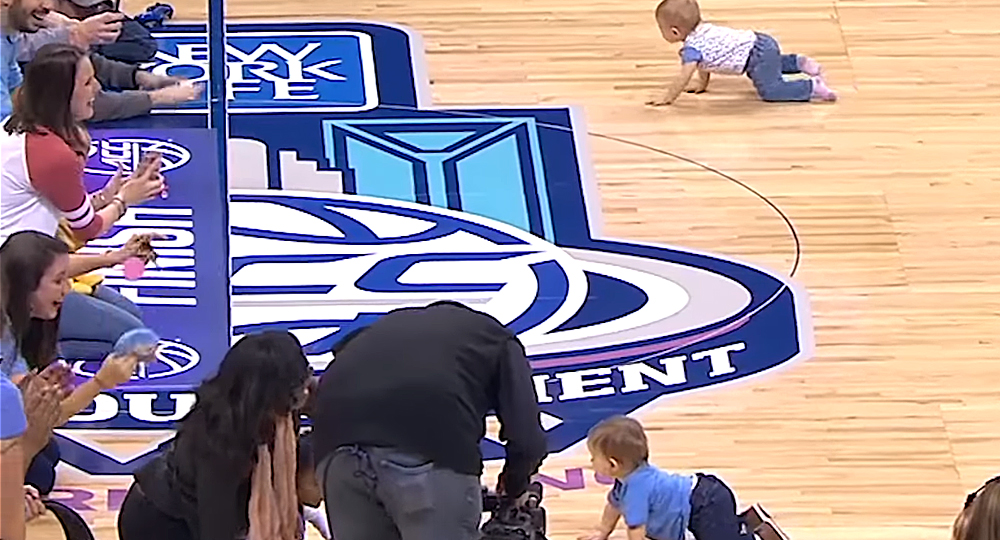 The NCAA Tournament is two weeks of nail-biting competition, agonizing last-second losses, and countless bracket busters. The 64-team tourney is a hell of a way to kick-off spring. There simply aren't many sporting events that bring the drama like March Madness does.
But we may have found one that gives it a run for its money.
Last week, during the ACC tournament, there was a matchup between ACC also-rans Boston College (GO EAGLES!) and Pittsburgh. Don't worry, this isn't the "drama" we're talking about. Neither of those teams factored into their conference tournament, let alone this weekend's big dance.
What we're talking about happened at half-time, when the teams left the court to make way for the true competitors: a bunch of babies! I don't just mean Dickie V's diaper dandies, I'm talking actual, literal babies.
The halftime "show" featured the 2019 ACC Tournament Baby Race, wherein a bunch of parents deposited their infants on the court and coaxed them into racing each other. Six babies were placed, on their hands and knees, at the foul line by one parent, while the other parent stood at half court and tried to exhort their child to crawl to them.
Somehow, this race of oblivious, poorly-coordinated babies resulted in some high drama! After some confusion, during which the lead baby turned around and went back to his mother, a blue-clad baby stormed out to a big lead.
Unfortunately, before reaching the finish line, the kid became distracted by something shiny, or maybe filled his diaper with something slimy, and slowed to even more of a crawl, leaving things wide open for the suddenly sprinting baby at the top to sneak up from behind and steal a victory.
The legitimately thrilling video has nearly 300k likes and over 167,000 shares. Which is a lot more engagement than the BC/Pitt game got!
Watch it here: