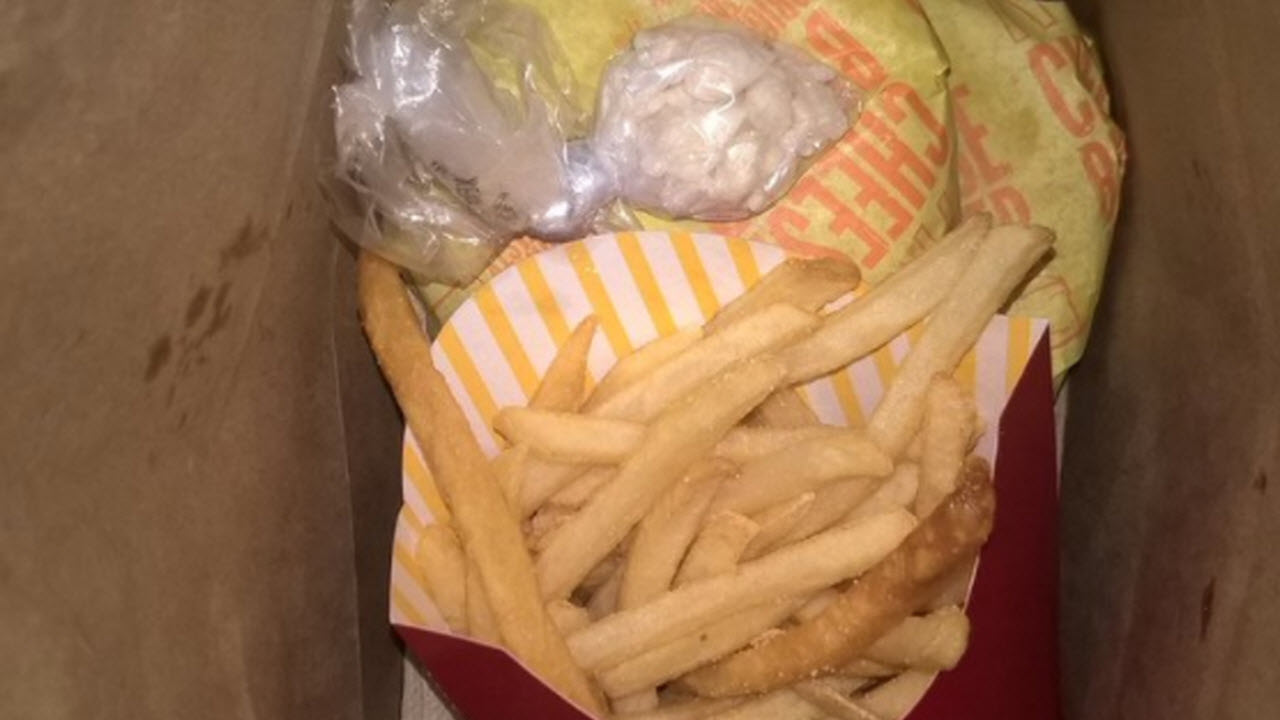 Credit: Twitter/Aaron Katersky
He was selling cocaine along with value meals
It's safe to say that new McDonald's manager who was nabbed by undercover cops after selling them over $10,000 worth of cocaine along with their order is no longer lovin' it.
A fair amount of his future meals are sure to be unhappy.
The name the police offers used for their three-month undercover sting was "Operation Off The Menu" so even they realized the scenario's potential for jokes.
The crime was perpetrated at a Bronx, New York McDonald's by eight-year franchise veteran Frank Guerrero, who now joins the Hamburgler and probably Grimace (who are we kidding, there's no way he's clean) as famous fast-food villains. He allegedly sold the undercover cops $10,900 worth of special sauce in eight separate installments.
Night shift manager at a McDonald's in the Bronx charged with selling cocaine to an undercover officer pic.twitter.com/tTWGoUsmfh

— Aaron Katersky (@AaronKatersky) October 4, 2017
The details of the crime were laid out in a press release from the Office of the Special Narcotics Prosecutor for the City of New York.
Bridget G. Brennan, New York City's Special Narcotics Prosecutor said, ""The conduct was so blatant it would be comical if he weren't committing a serious narcotics crime," clearly ignoring the fact that the conduct remains comical. "Ordering coke took on an entirely different meaning on the night shift at this McDonald's." She couldn't even resist a lame joke!
Guerrero was caught selling drugs in the parking lot, hiding the drugs with food orders, and, at one point, storing them in the restroom soap dispenser, confident they would remain undiscovered, since no one actually washes their hands at Mcdonald's.
Twitter, predictably, had some thoughts, which ranged from the relatable:
I had a friend in college who did this with weed and pizza at Domino's. It worked really well until it didn't. https://t.co/ODj48vtAG2

— Alex Knight (@alexknight222) October 6, 2017
(Didn't we all?)
To the socially trenchant:
https://twitter.com/stopbeingfamous/status/915989200905830401
To the shameless:
*joke about addictive French fries*

*joke about what goes into the secret sauce*

*joke about 'Boy, he sure was lovin' it!'*

— Ryan Flanagan (@flanaganryan) October 6, 2017
Ryan from Twitter is right, of course. This story is like a "Choose Your Own Adventure" of terrible puns!
Allow me: Ten thousand bucks in a bag of fries gives a whole new meaning to the term "value meal!" then again, cocaine is a stimulant, so it also puts the "happy" in "happy meal." Do we want to talk about fast food too? No, because I hate puns.
Obviously, this is no laughing matter for Mr. Guerrero, and, truth be told, neither is it amusing The Dad. Ultimately, Frank Guerrero is a small Filet o'Fish in this country's ongoing drug war, while McDonald's maintains its insidious grip on America's diet.
Hopefully this bust puts us one step closer to putting the clown-haired, child-fraternizing freak running that obesity factory behind bars!