Minnesota Vikings Player Asks Viewers To Help Name His Son On Thanksgiving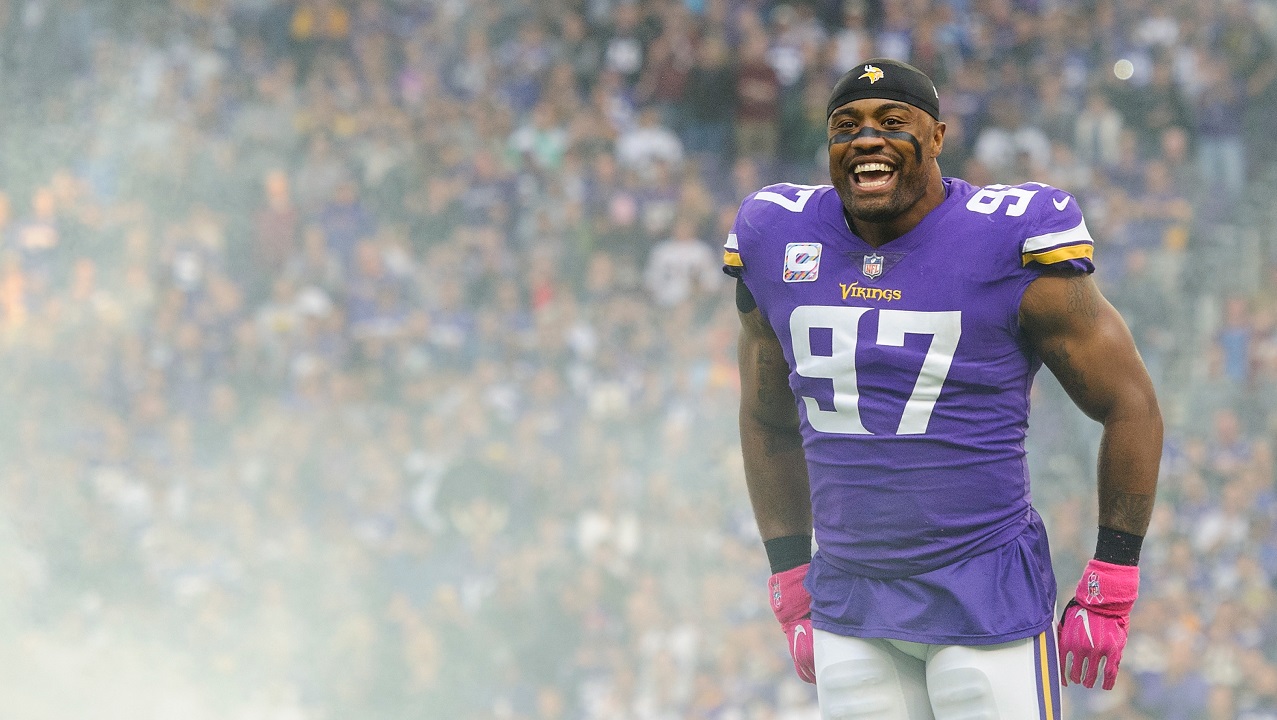 The Vikings player wrote the request on his t-shirt
This Thanksgiving, Minnesota Vikings defensive end Everson Griffen had plenty to be thankful for. His division-leading Vikings got a big 30-23 win over the rival Detroit Lions, Griffen recorded his 11th sack of the season, and he announced that he's having a baby boy!
After he notched that sack, he pulled down a t-shirt under his jersey. Written on the shirt was both an announcement and a request: "I just had a baby boy. What should we name him?"
"I just had a baby boy, what should I name him?" #Vikings fans, let's help out our good friend @EversonGriffen. pic.twitter.com/7Jw7go2bMO

— Minnesota Vikings (@Vikings) November 23, 2017
If the message seemed hastily written, it was probably because his third baby was born while Griffen was warming up for the game, and he actually watched the birth via FaceTime while prepping to face the Lions!
"I don't know," Griffen said. "I was thinking about doing something, and I just thought of that. You know, 'This will be funny.'"
I guess when you need some help brainstorming, asking the millions of people watching the Thanksgiving games is a good way to get it.
And the internet certainly wasn't afraid to offer their suggestions.
https://twitter.com/jetpack/status/933767843841298434
Thor Griffen has a certain ring https://t.co/HuxkCT8Jz4

— Thor Nystrom (@thorku) November 23, 2017
Griffin. Of course. https://t.co/TWdzQws1BQ

— Alex Marvez (@alexmarvez) November 23, 2017
I'm starting to think people didn't take his request seriously…
https://twitter.com/jetpack/status/933765397085437952
Dilly dilly

— Antonie (@antoniehodge) November 23, 2017
Griffen McGriffenface

— Sam Butcher (@samjbutcher) November 23, 2017
After that flurry of non-contenders, the NFL UK's Twitter account chimed in.
How about a good old fashioned ???????? name?

Oliver? Harry? George? ????????????

Any suggestions? ????????#MINvsDET | #Skol https://t.co/yCGzQjfN6o

— NFL UK (@NFLUK) November 23, 2017
Not everyone appreciated their suggestions.
Call him King Penis if you like but ANYTHING but fkng Harry!

— Puppyfeat (@Puppyfeat) November 23, 2017
If I were any of these people, I wouldn't be quite so cavalier about these jokey name ideas. Have you seen Everson Griffen?
This last one seems to capture the proper spirit, especially if the little one is anything like his Daddy.
Everson Griffen (@EversonGriffen) wants help naming his baby boy… let's send him some possible names folks!

We we're thinking Tank Griffen but always open to suggestions! pic.twitter.com/SttexlHubP

— 12up (@12upSport) November 23, 2017