MLB Player Uses Baby Shark as Walk-Up Song + More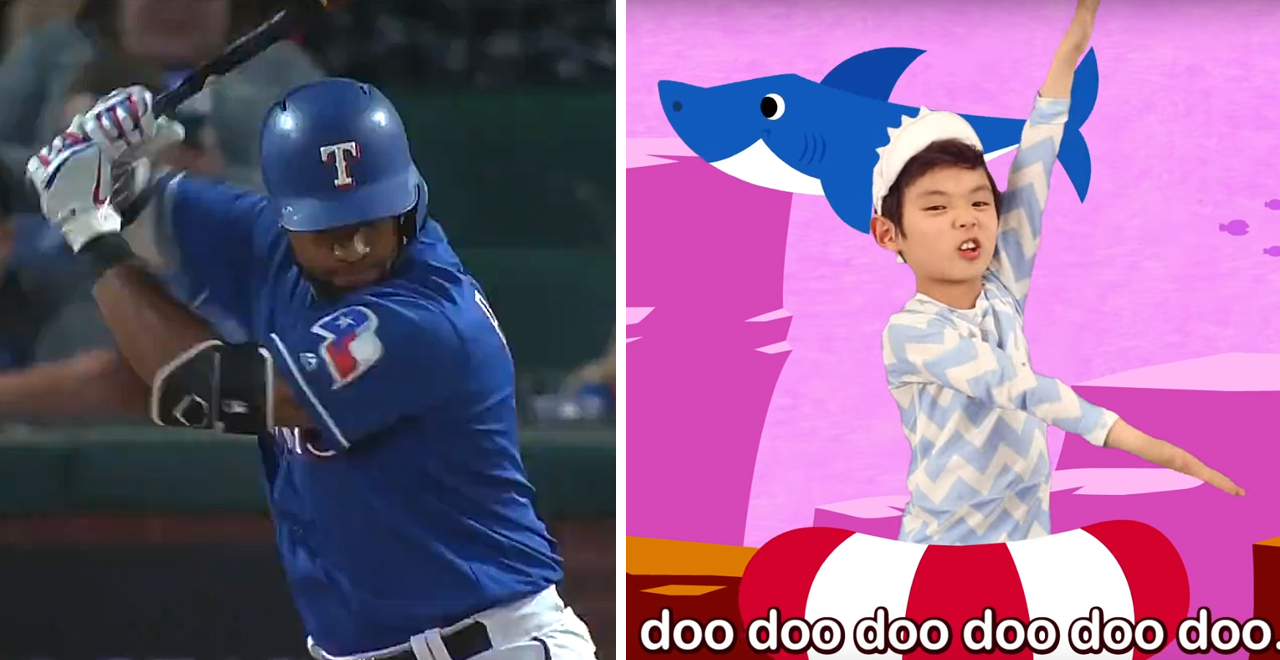 What started as a harmless, catchy kids tune quickly morphed into something much darker, corrupting the minds of toddlers and young children everywhere. "Baby Shark" is no longer content with billions of Youtube plays, and is now ruthlessly invading the sports world after Texas Rangers shortstop Elvis Andrus used it as his walkup song. He said it was his toddler son's favorite song, but what might have been a cute early season story could stick around longer, as he smashed a home run and added two other hits in the season-opener. It could've come and gone in the sports world if he had a forgettable day, but there is no stopping Baby Shark. He had a great game and threatened the song is here to stay. But we all knew that in our hearts. It is only a matter of time before it replaces the national anthem before games. Do not fight it any longer, simply bow down to our new baby shark overlords.
???? Baby Shark doo doo do doo do doo ????

Yup – that's what @Rangers SS Elvis Andrus is going with for his walk-up song. #TogetherWe | @Rangers | @EmilyJonesMcCoy pic.twitter.com/cVzJFIuEo1

— FOX Sports Southwest (@FOXSportsSW) March 26, 2019
RELATED: The Best Baby Shark Toys That Will Only Drive You Semi-Crazy – Fatherly
UCF lost to Duke in the second round in a very Duke way. Every single bounce went the Blue Devils way at the end, to the point that it was bizarre even for Duke. It's one thing when you have a demonstrably crooked ref who clearly has the fix in for you, but this was just missed shots that should've been easy and giving up freakish offensive rebounds on missed free-throws. Now, as a big fan of Zion and as someone who picked Duke in his bracket (we are the worst people), I was fine with it. But the video from the UCF locker room is really tough to watch.
"We end in tears…that's because we've invested so much in each other.

I love you guys. It's been amazing coaching this group." –@Coach_Dawkins pic.twitter.com/B58DbNZzWO

— UCF Men's Hoops (@UCF_MBB) March 25, 2019

As hard as that game was to watch for a UCF fan, imagine being head coach Johnny Dawkins. The former Duke star had to watch his son, who played amazing, miss a late game-winning shot. My heart breaks for my daughter if she misses a PK in soccer, in a league where they don't keep score and the kids care a thousand times more about the postgame snack than anything that happens in the game. I can't imagine what it would be like to see your son leading the team you're coaching in one of the biggest upsets of the year, only to see it crumbling away in the final seconds.
And I think that's part of what makes the NCAA tournament so great. It's an incredible roller coaster of emotions. You see an end-of-the-rotation guy get hot and hit a bunch of 3s. You see a future NBA player choke in the limelight and watch another have the game of his life in the next. And most importantly, you see that these guys care. Too often in professional sports, the fans care much more about the wins and losses than the players. If a team gets bounced from the playoffs, those millionaires are surely disappointed, and it might ruin their week before they are back to the grindstone working towards the next year or their next team. For some fans though, they live and die by those wins and losses. There is not the same disconnect at the college level, especially in a game with the immediacy of basketball, where the teams are smaller and the fans (and TV cameras) are right on top of them. You can see how much emotion they have, how much they care, and that makes you feel more invested as a fan.
If you need more evidence that college sports are great, some kids are now getting scholarships for e-sports. I wish I had been born a decade or two later, so I could have fully committed to the video game life. Now there is a clear career path for gamers, and that rules. And I get to be one of those ancient old-timers who can still talk about 'the good old days' playing EA Sports College Football.