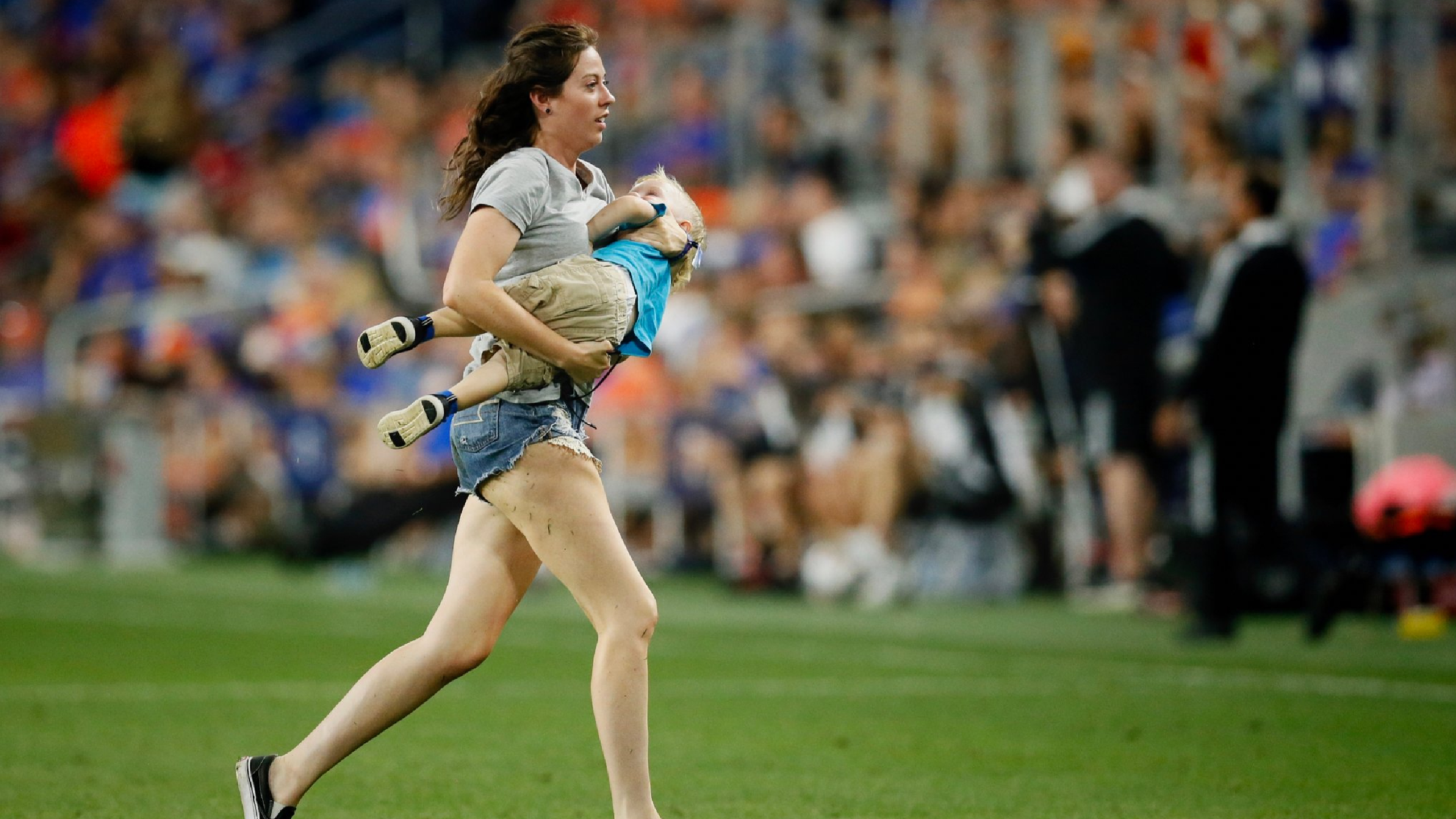 Credit: Twitter/SGdoesit
Fans running onto the field during a soccer game is a fairly common occurrence. Usually, those fans are inebriated young men fueled by liquid courage and sometimes they're naked. Typically, they aren't as young as toddlers, but that was the case in a recent MLS game, much to the dismay of one stressed-out parent.
During a game between FC Cincinnati and Orlando City SC, a two-year-old fan escaped from his mom and was able to run onto the field. This caused a brief delay, as the mom had to go into Hulk mode and sprint out onto the field to wrangle the "young pitch invader."
Of course, she hit a snag and slipped and fell during the process, but eventually, she was able to contain the 2-year-old. The moment was the highlight of the game, which ended in a 1-1 draw.
We hope this mother and her young pitch invader are having a great day. 😂
pic.twitter.com/hKfwa6wyWI

— Major League Soccer (@MLS) August 9, 2021
A photographer for the Cincinnati Enquirer tracked down the mom, Morgan Tucker, and her toddler Zaydek, and reported the duo still had a great time at the game.
Zaydek and his mom had a great time at the game pic.twitter.com/53TgisKvis

— Sam Greene (@SGdoesit) August 8, 2021
Even the hometown team praised him, calling him a "good kid" who "loves the game."
Good kid. Loves the game. https://t.co/HgBL9nEFzo

— FC Cincinnati (@fccincinnati) August 8, 2021
Every parent has been there before, albeit not on THIS big of a level. But what parent can't relate to a 2-year-old breaking free and creating havoc. It's a *little* bit easier when it's at a department store or daycare, and not quite as humiliating as when it happens at a major league professional sporting event.
Toddlers have that impulse to just break free and cause havoc. It's one of the things they do best. And when they flex that skill, the parent feels the eyes of every other person in the vicinity just staring a hole into them, watching their every move and judging them.
That's why most people enjoyed seeing a toddler run around the field, sprinting away from his mom, but most parents probably also felt a twinge of familiarity and empathy for that parent chasing their kid around the biggest field of all.