Neighborhood Comes Together To Give Heartwarming "Thank You" To UPS Driver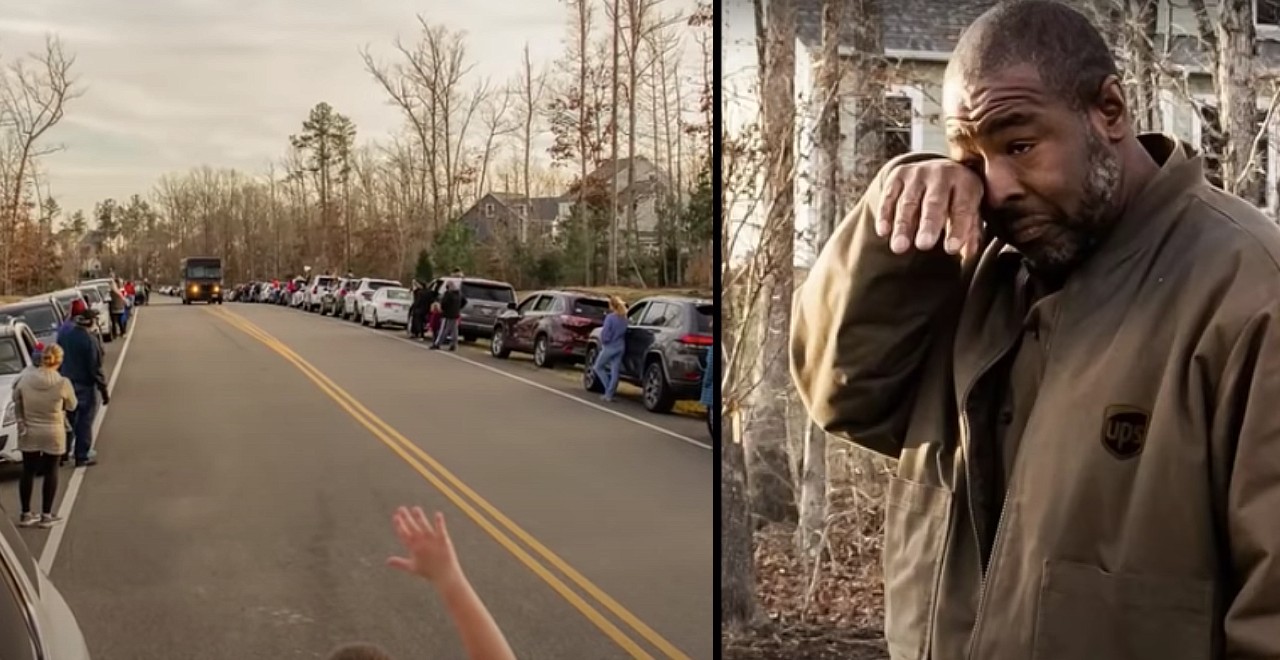 In a year filled with chaos and anxiety, we've found enormous joy in little pleasures. For some of us, that means extra time with family. For others, it's the release of a long-anticipated movie or video. But for almost all of us, for better or for worse, we've found some solace in buying ourselves little gifts. We're working hard, and honestly, we deserve it. Those beautiful brown boxes show up on our doorsteps with soothing regularity, and whether or not remember what's inside, it delivers a welcome hit of serotonin.
When we've spent a full day in the safe confines of our own homes, opening the door and catching the first glimpse of sunlight is briefly disorienting – but our eyes focus immediately on the small brown boxes, which seem to appear through some sort of magic. And honestly, it kind of is magic. Through every curveball this year has thrown, delivery drivers have completed their routes without fail. They have worked increasingly long hours, stepping up to help us through this year without hesitation.
One such delivery driver, Anthony Gaskin who works for UPS in Virginia, is the unsung hero of those along his route. Filled with gratitude for his hard work, Midlothian residents needed Gaskin to know that they saw him – and more importantly, that they appreciated him.
Patty Friedman, a woman on Anthony's route, explained to WTVR, "Through COVID, Anthony has continued working, delivering packages at our doors, record numbers of them, over 180 times to date."
She continued, "I wanted to thank him personally for how much he helped me feel welcome when I moved in during a pandemic. It was terribly lonely and he was always the highlight of my day. Mentioning this to a few people and the response I got was all I needed to know I was not alone."
Friedman was far from alone in her appreciation for the quiet hero. On December 15, more than 75 cars and hundreds of residents of the Hallsley neighborhood gathered to honor Gaskin. They held signs, honked their horns, shouted, and cheered for the man who has worked tirelessly for them.
A UPS driver went above-and-beyond this year, delivering nearly 200 packages a day through COVID lockdowns and the flurry of the Holiday season.

This week, hundreds of neighbors came out to give him a hero's salute.

Thanks to @CBS6 for the wholesome content 2020 craves. pic.twitter.com/b0uU22RTpl

— John Noonan (@noonanjo) December 19, 2020

Gaskin was brought to tears by the unexpected gesture, realizing that his long hours and challenging work hadn't gone unnoticed. Even Gaskin's supervisor was in attendance, presenting his star employee with a gift. After thanking the neighbors and trying to absorb the beautiful act of kindness, the humble hero climbed in his truck and got back to work.
"Anthony always delivers our packages with a wave and a smile," another grateful neighbor wrote. "Sometimes he is the only outside face we see during the day. We appreciate his hard work and dedication during the pandemic, which delivered food, supplies, and even holiday gifts to a high-risk family."
We see you too Anthony, as well as all other delivery drivers going above and beyond this year to keep our lives running smoothly. From the bottoms of our hearts, thank you.