Netflix Launches Los Angeles Comedy Festival Loaded With Legends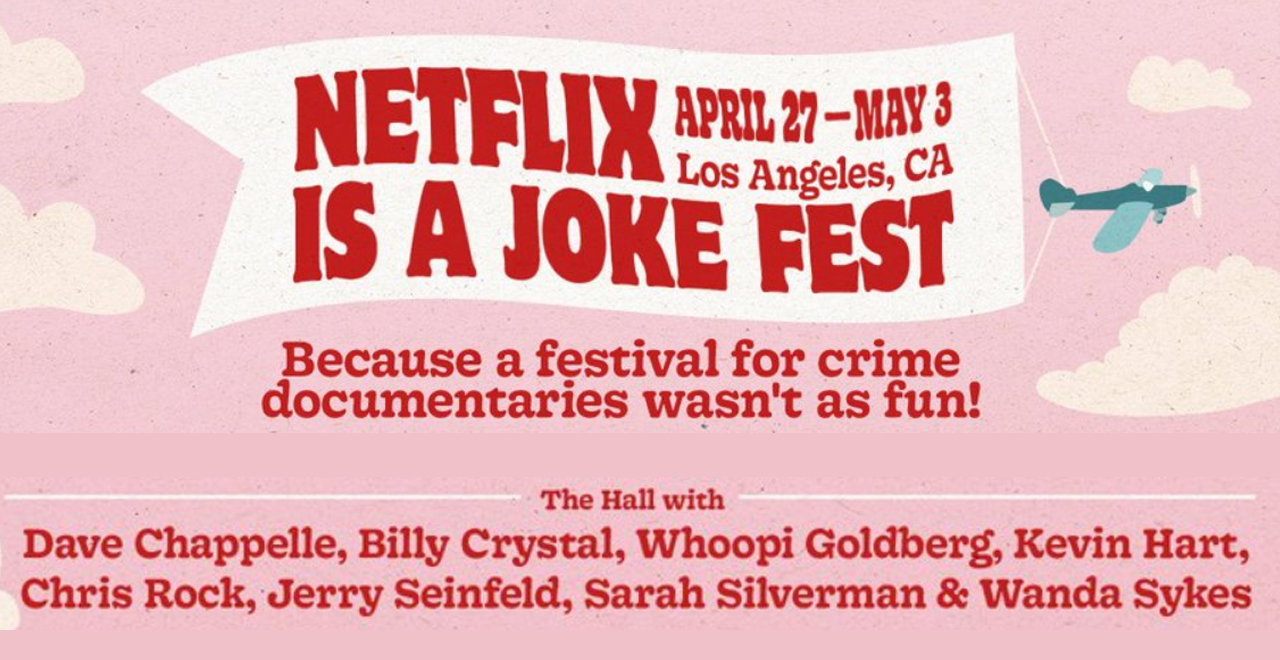 Netflix is a household name. Everybody has it, everybody watches it, everybody loves it. (Especially now that you can turn off that annoying AF autoplay feature.) We all watch different things on Netflix because we are all unique individuals with our own interests and personalities.
But we also all watch two things on Netflix: true crime documentaries and stand-up comedy.
These are the areas in which Netflix seems to be doubling, if not tripling down. There are countless true-crime series and specials, and when it comes to stand-up comedy, they've picked up the mantel from Comedy Central, and from HBO before that. They pay big bucks to host specials from prominent comedians like Dave Chappelle and Jerry Seinfeld and Amy Schumer, and they also offer opportunities for dozens of lesser-known comics to stream right into your living room and get discovered.
And now you won't have to watch them from your couch! Netflix announced earlier this week that they're not just making comedy specials anymore, they're actually launching a comedy festival!
It's called "Netflix is a Joke Fest" and it's a collection of literally every single living comedian you've ever heard of and more that you haven't, all performing on various stages and at various venues around Los Angeles from April 27 to May 3.
The streaming company tweeted out the announcement yesterday, including a poster listing all the participating comedians and making fun of their own penchant for true crime content!
More legendary comedians, shows, and venues than we could ever fit on a poster. Netflix Is A Joke Fest hits LA!! Tickets available Friday. https://t.co/tno4zRvBHB pic.twitter.com/7C18c1jJyV

— Netflix Is A Joke (@NetflixIsAJoke) March 2, 2020
The lineup is stacked, including the aforementioned Chappelle, Seinfeld, as well as Chris Rock, David Letterman, Ali Wong, Jane Fonda, and Lily Tomlin, Jamie Foxx, Sarah Silverman, Kevin Hart, Billy Crystal, Whoopi Goldberg, Ken Jeong, Martin Lawrence, and Amy Schumer.
"It's our honor to transform L.A. for one week into the funniest place on earth," Ted Sarandos, Netflix chief content officer, said in a statement. "This festival is a unique celebration of the art of comedy, and the role it plays in reflecting our lives and defining culture. It's a chance for comedy lovers to come together and see their favorite artists as well as discover new ones, and for us to be able to share the electricity and excitement of the festival in Los Angeles with Netflix members around the world."
The festival will be spread across more than 20 venues and will culminate in a tribute to four late comedic legends: George Carlin, Richard Pryor, Joan Rivers, and Robin Williams.
Whether or not any of this will eventually be available on the streaming platform itself is yet to be seen.