New Zealand House Speaker Feeds Member's Newborn During Debate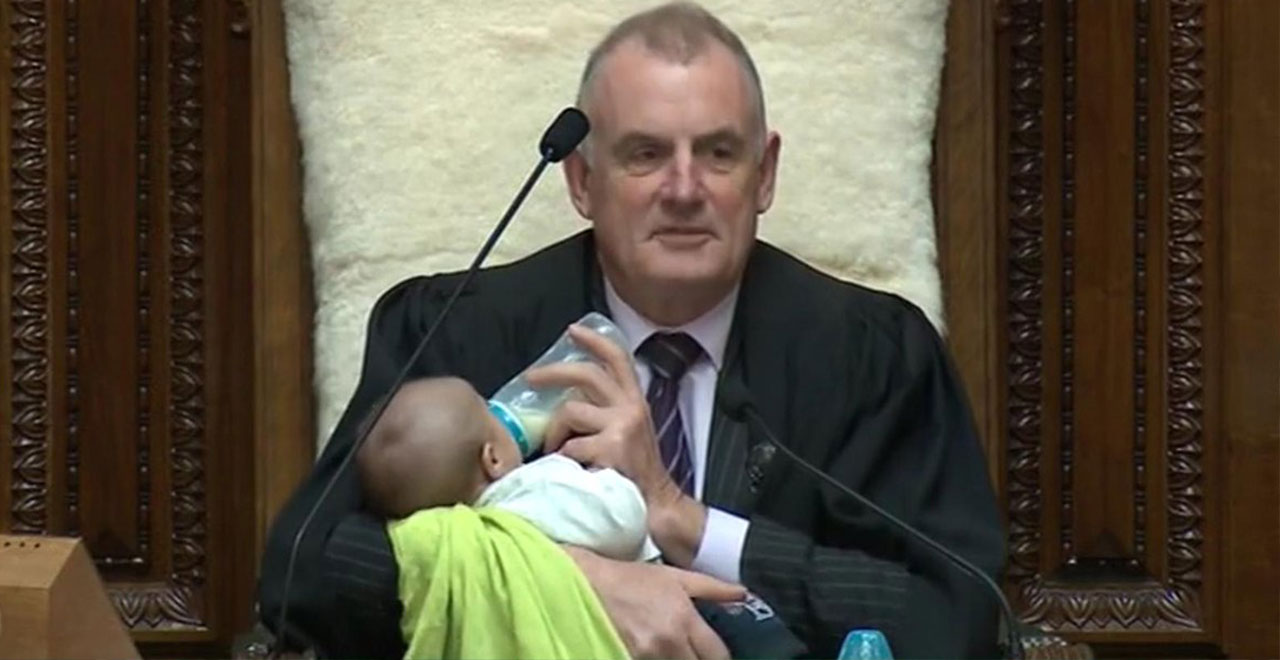 Even though many folks now get some form of leave when welcoming a new addition, the few weeks of paternity leave are often not quite long enough when it comes to bonding with your newborn.
So when MP Tāmati Coffey brought his son Tūtānekai to New Zealand's House of Commons this past Wednesday, most of his fellow members were more than understanding. However, Speaker of the House Trevor Mallard took a more hands-on approach, taking over babysitting duties during a floor debate. From soothing and holding the young boy to feeding him a bottle, the Speaker did it all while presiding over a heated discussion between his fellow Parliament members.
A video surfaced showing the Speaker holding tiny Tūtānekai while two other members went back and forth, debating over policy.
Mallard, a father of three himself, posted a photo along with a message of congratulations to the new dad on his Twitter account. The tweet has been shared thousands of times this week, netting over 11,000 likes so far.
Normally the Speaker's chair is only used by Presiding Officers but today a VIP took the chair with me. Congratulations @tamaticoffey and Tim on the newest member of your family. pic.twitter.com/47ViKHsKkA

— Trevor Mallard (@SpeakerTrevor) August 21, 2019
Fellow members also shared well wishes to the Coffey family, including MPs Gareth Hughes and Golriz Ghahraman:
Lovely to have a baby in the House, and what a beautiful one @tamaticoffey pic.twitter.com/EP6iP9eQES

— Gareth Hughes (@GarethMP) August 21, 2019
Who needs to see this today? Every single last one of us, that's who. Here's a brand new papa holding his new born in our House of Representatives right now ????❤️ pic.twitter.com/NU00SHfKFT

— Golriz Ghahraman (@golrizghahraman) August 21, 2019
Although bringing your newborn to work isn't as common here in the states, Coffey is hardly the first New Zealand politician to make headlines for such an act. Last September, Prime Minister Jacinda Ardern brought her newborn to the United Nations in New York for her first speech to the general assembly.
While business goes on, and governments govern, welcoming a new baby into the world has a way of making most everyone stop and smile — as it should.