Next Level Adulting: Things You Just Gotta Handle Now That You're A Dad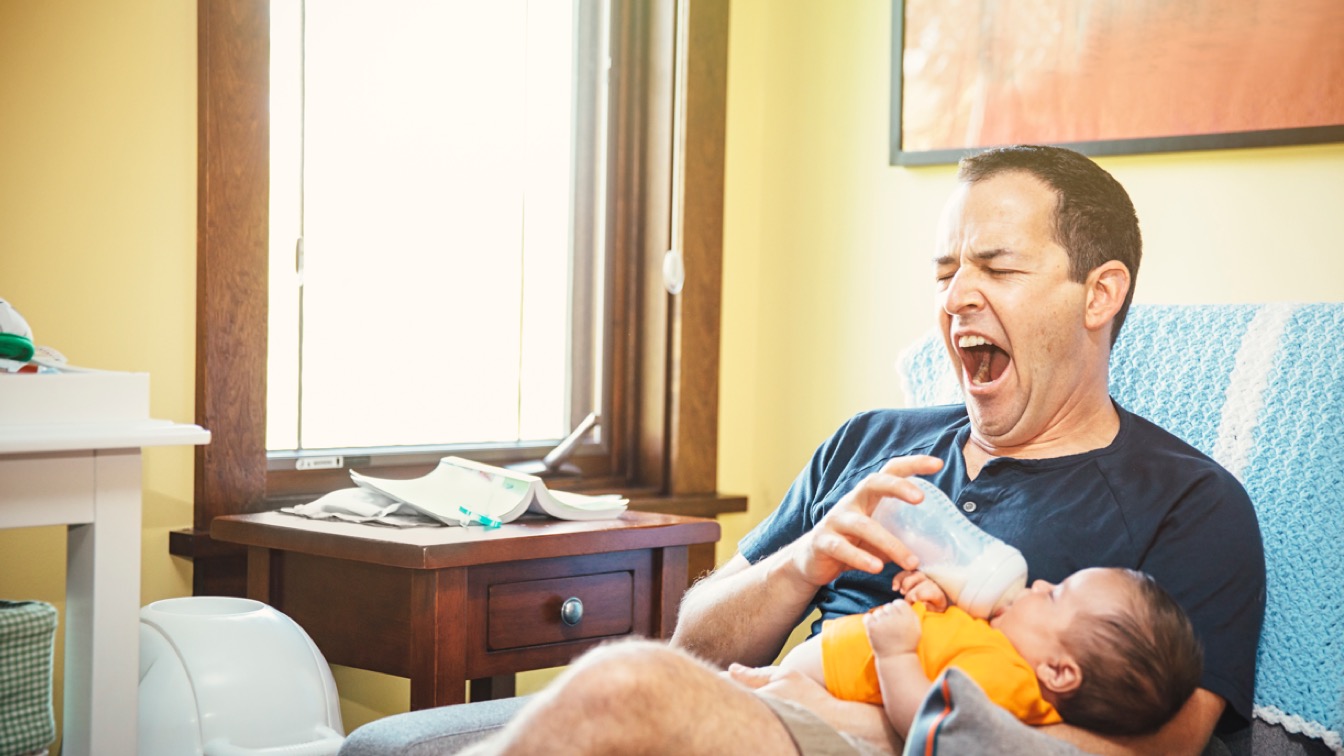 My wife likes to tell our child that when we met my room was such a gross disaster a quarantine wasn't completely out of the question. I think she does this to remind our kid that I used to not be a complete drill sergeant about keeping things neat and organized because, like me, they have a factory setting of "lazy" (the other options on my dial were lazier, downright slothy, and nachos, but that was a long time ago, I swear). Yes, I may still hide things under the cushions so the house appears clean for company, but I have, in so many ways, leveled up in adulting.
I bought the adult ticket when I became a dad and now I'm taking the ride. And what a roller coaster of twists and turns this parenthood thing has turned out to be. It's the small stuff that no one tells you about that will blow your mind and occupy so much of your time. The only thing you can do is stare adulting in the face, say goodbye to your pants-less, formerly gross-bedroom self, and take the adult challenge. Here are six things you gotta handle now that you're a dad.
1. Less Sleep Is Your Life Now
Operating on less sleep doesn't stop when your kid gets beyond the infant stage, and if your wife is nursing, it can be really hard on her. So giving her a break during the day means most of your free time will happen after everyone else goes to bed. If you want to do something creative, play your favorite video games, or watch the game instead of a cartoon, you're going to be doing it in the wee hours. So get ready to belly-flop into the coffee each morning — this is your life now.
2. You Will Own At Least One Tie And Jacket, And Not Just Graphic Tees
Look, if you want to, you could show up at the preschool interview wearing your old raggedy Phish T-shirt, but dude, don't. Being a grown man means sometimes suiting up and showing up in a way that marks you as a responsible and mature father so you get taken seriously. We know, it sucks, but save those old T-shirts for the days when the baby spits up on you for the 27th time.
3. You Will Become Mr. Fix-It
Want to have enough money to send your kid to college someday? Then it's time to break out the tools and start doing some of your own repairs — even if you fix something badly, hey, it's still fixed, am I right? Bonus if your spouse is also capable of handling pliers and a hammer, because then if the fix is worse than the problem you can share the blame. Winning!
4. You Will Realize Your Dad's Rules Weren't Just Him Being Mean
After the third time you find yourself doing first aid on your kid — whether it's just a scratch or you have to head off to get professional help — you realize, ohhh, THAT'S why my dad had all those darn rules. There's a reason behind the "don't jump on the couch" and "THAT IS NOT FOR CLIMBING" and "No, you can't help me cook on the outdoor grill with all the fire and hot coals and stuff" rules you grew up with. It's because your dad loved you and wanted to keep you safe — just like you do with your kids.
5. You Will Need To Make Your Own Doctor Appointments
Look, we get it. Going to the doctor is just… awkward. None of us want to do it, even though we're sick. 60% of men don't bother to get a physical every year, and doctors estimate that 200,000 people die each year because of preventable health issues. Don't be that dude. Go every year. You've got kids now, and they need you.
6. You Will Read The Fine Print and Almost Understand It
In the adult world, there are so many papers with teeny, tiny fine print. It's now your job to read it and just about understand it. Yes, this will require you to read, go back, zone out, go back again, and have the light bulb of recognition go off. But with car insurance, it doesn't get any easier than having GEICO's licensed agents available 24 hours to help you through it. It's like you're a kid again and don't even have to try — you just ask a question and someone else tells you how things work. Oh, the glory of those bygone days!
So buckle up, dads. It's time to grow up, put on your khakis (definitely no jorts allowed), and kick ass at this dad thing.
With GEICO's 24-hour customer service, no question is too small and you could save up to 15% or more by switching.
This post was sponsored by:
GEICO