NFL Receiver Goes Into Beast Mode in Epic Two Minute Dodgeball Battle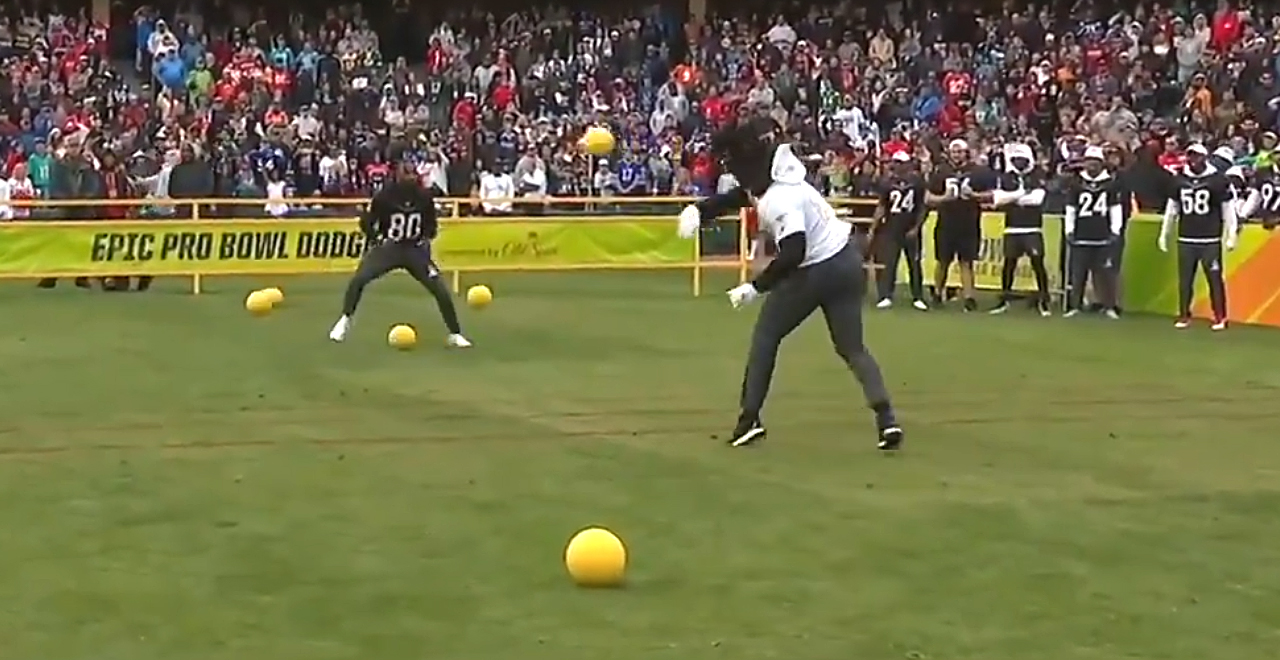 We have seen some incredible performances from numerous football players in the postseason. Perhaps the most incredible didn't even happen in a football game though, it was on the dodgeball field (yes, dodgeball isn't normally played outdoors, but it was a field this time).
10 of the best professional football players in the world came to Orlando for the NFL Pro Bowl skills competition. Sure, they ran through some football-related competitions, but the real showdown came in the dodgeball game, which would serve as the tie-breaker between the AFC and NFC teams.
Jarvis Landry completely took it over, changing the approach to dodgeball as we know it.
UNREAL 2 MINUTES OF DODGEBALL FROM JARVIS LANDRY 😱@God_Son80 put the team on his back.

(via @NFL)pic.twitter.com/qb3V2LwvlH

— ESPN (@espn) January 24, 2020
As his team was quickly outnumbered, Landry and real-life teammate Nick Chubb were in a tough spot. But then Landry went on the defensive and put the entire conference on his back in the process. He started using his Pro Bowl hands to catch his opponent's throws, knocking them out instead.
It was so insane that Landry, in a total baller move, started rolling balls back to the other team, daring them to throw at him again. Of course, no pro athlete is going to leave that bait untouched, and they came with their best. It was nowhere near good enough to knock Landry out, as his circus catches eliminated the opposition in the most humiliating way possible, one-by-one.
Naturally, an NFL receiver is going to rely on what got him there, and Landry has the best hands in the game (well, he won the "best hands" competition at least). And while Landry may be one of the best receivers in football, there is no question he's the best dodgeballer out there.
JARVIS LANDRY.

Don't miss this Dodgeball performance for the ages. 😱 @God_Son80#ProBowlSkills pic.twitter.com/0yGr4mPE3A

— NFL (@NFL) January 24, 2020
Why dodge it when you can catch it🤟🏾🤟🏾🤟🏾🤞🏾😂😂 pic.twitter.com/p26zOb9N6P

— Jarvis Juice Landry (@God_Son80) January 25, 2020