Nurse Adopts Hospitalized Infant Who Had No Visitors for Five Months [WATCH]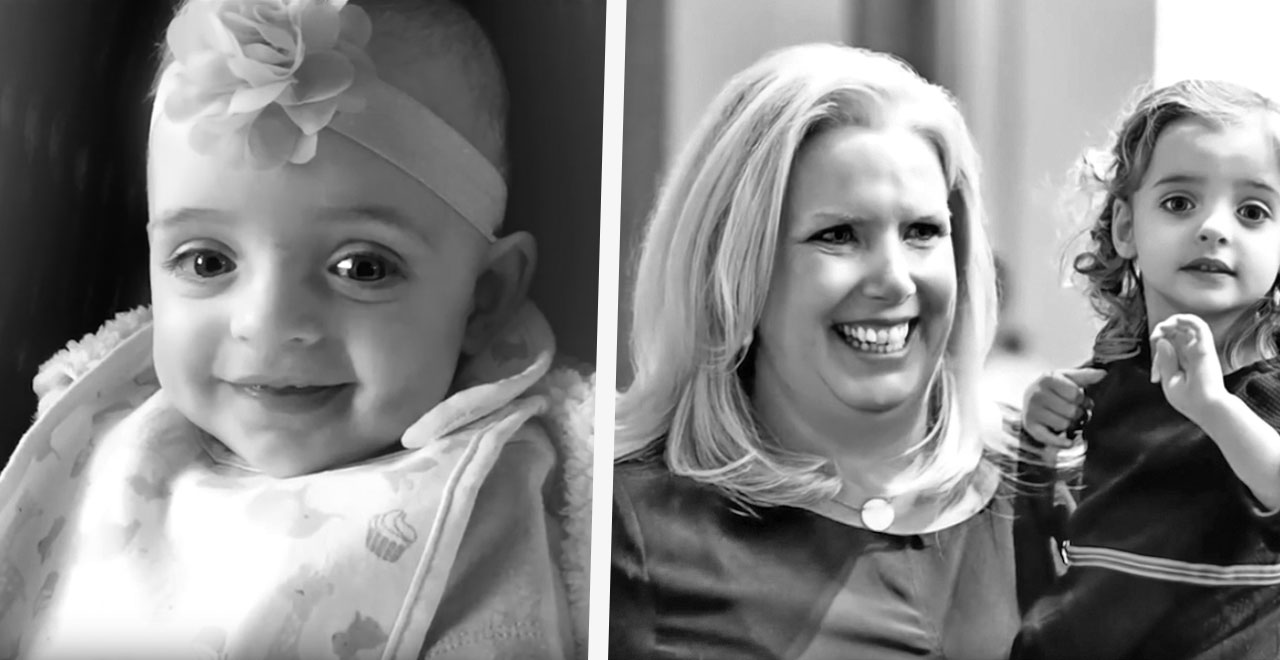 In July of 2016, a baby girl was born. Several weeks early and with complications from her mother's drug use during pregnancy, baby Gisele had a very rough arrival into the world.
A ward of the state, Gisele spent the next several months at Franciscan Children's Hospital in Massachusetts, undergoing specialized care for Neonatal Abstinence Syndrome – a result of the sudden discontinuation of substances used by the mother during pregnancy.
During her next five months at the hospital, Gisele did not receive a single visitor aside from the staff charged with her care.
Then, on a day like any other, fate intervened.
Liz Smith, Director of Nursing at Franciscan, was walking down a hallway and spotted Gisele with another nurse. According to an interview with the Washington Post, Liz was immediately taken by the young girl and her incredible story.
"Since the moment I met her, there was something behind her striking blue eyes capturing my attention," she said. "I felt that I needed to love this child and keep her safe."
Upon learning that social service workers were now attempting to place Gisele in a foster home, Smith said she knew what had to be done. On her drive home that night, only one thing was running through her mind: "I'm going to foster this baby. I'm going to be her mother."
After years of being the "world's greatest aunt", Smith was ready to take the next step. A step that she always knew she wanted to take, but one that always seemed just out of reach.
While awaiting her request to foster Gisele to be approved, Smith visited her room every day.
After several weeks of waiting, Smith was finally able to bring Gisele home with one caveat: the state of Massachusetts would continue efforts to reunite Gisele with her birth parents.
After initially approving supervised visits with the birth parents, the state eventually deemed them incapable of fully caring for Gisele and their parental rights were terminated. It was a bitter-sweet moment for Smith, who would now be able to legally adopt Gisele.
"It's a feeling difficult to describe when you are experiencing this life-changing moment that someone else is as well, in the opposite way. The bottom line is: It's devastating for another family." Smith told the Washington Post.
However the wheels of bureaucracy move slowly, and Gisele's adoption would take time.
On October 18th of last year in a Brockton, Massachusetts courtroom filled with family and friends, a judge signed the paperwork and approved the adoption.
Smith had been a mother since the first day she took Gisele home, but this made it official.
While Gisele still requires some specialized care, she is now an energetic and fun loving 2-year-old as seen in a CNN interview this week:
When baby Gisele was born prematurely and in withdrawal due to her birth mother's drug use at just 1 lb. 14 oz, a pediatric nurse stepped up to adopt her. Now she's thriving and full of joy.

"I've never been happier or stronger and I couldn't imagine life without her." pic.twitter.com/2VYy9eW4v9

— New Day (@NewDay) April 4, 2019
For more information on Foster care or becoming a foster parent, visit childwelfare.gov.