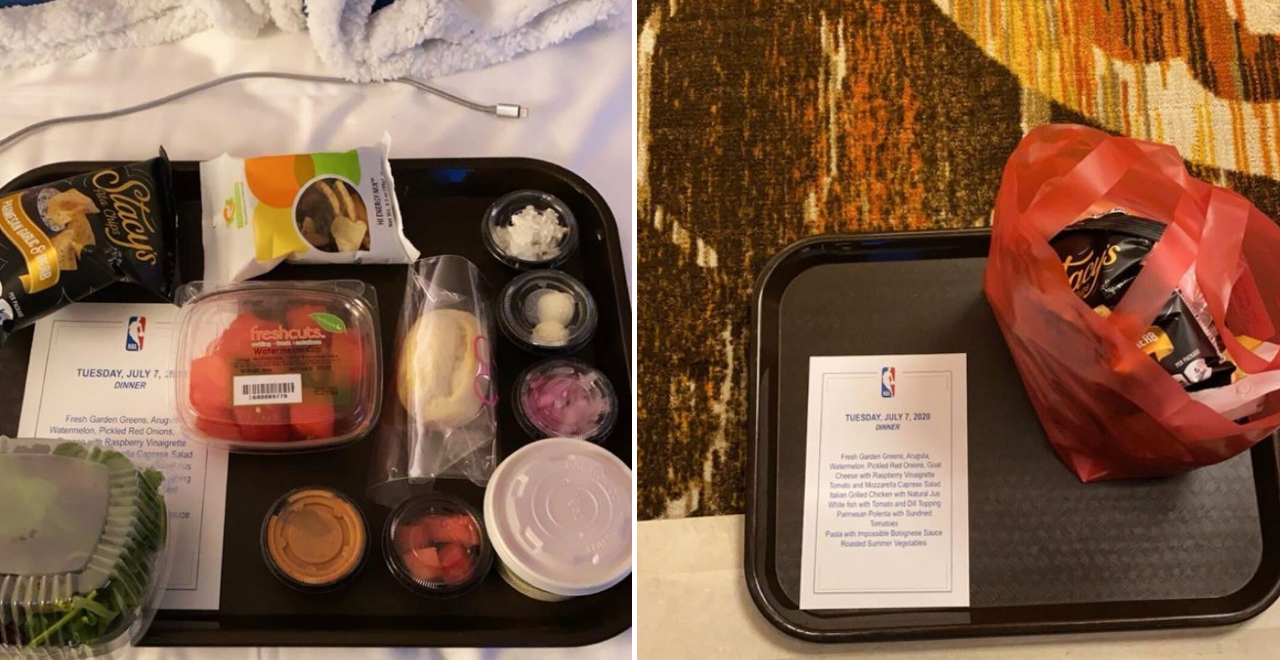 Credit: Twitter/troydaniels
A couple of years back, the internet watched in horror – or glee, depending on your personal stance – when the much-ballyhooed Fyre Festival turned out to provide visitors with a lot less than they'd originally bargained for. The island-based festival left attendees with abominable living conditions, a complete and utter lack of musical performances, and limited escape routes.
Among the most ridiculed aspects of the expensive production was the food, which was revealed to be little more than a take-out container with a prepackaged sandwich and not much more. The mess resulted in multiple documentaries, and you'd think the lesson had been learned.
Unfortunately, for the NBA teams heading to the Orlando bubble as the season prepares to resume amid the pandemic, they seem to be stuck in a sequel to the Fyre Fest. At least based on the images of the food that players like the Denver Nuggets' Troy Daniels are sharing on social media.
It's not quite Fyre Fest levels of disappointment, but it's close!
Troy Daniels' dinner from night one inside the Orlando bubble.

(via @troydaniels) pic.twitter.com/AbuOGNm2ba

— Bleacher Report (@BleacherReport) July 8, 2020
You'd sort of expect something a bit more elaborate, not only because this is the NBA, one of the biggest sports organizations in the world, but also because these are world-class athletes who need sustenance! They burn more calories on an off-day than most of us do in a week. A package of pita chips probably ain't getting the job done!
Fans are having fun with the images, joking that teams in bigger markets – like the lucrative Los Angeles Lakers – have far better spreads.
playing for the playing for the
Lakers vs. Nuggets pic.twitter.com/7GUTMN24kN

— 2.8.24 (@haladjianchris) July 8, 2020
And the NBA isn't alone. But at least MLS players get a banana?
Yummm… #MLSisBack pic.twitter.com/nelyLH9YsW

— Omar Gonzalez (@Omar4Gonzalez) June 30, 2020
The good news is that even the Nuggets' meager spread is better than what was served up at the Fyre Fest. The better news is that the NBA players eating this food didn't have to pay thousands of dollars for it.