People Are Watching 'Friends' For The First Time And They Have Some Issues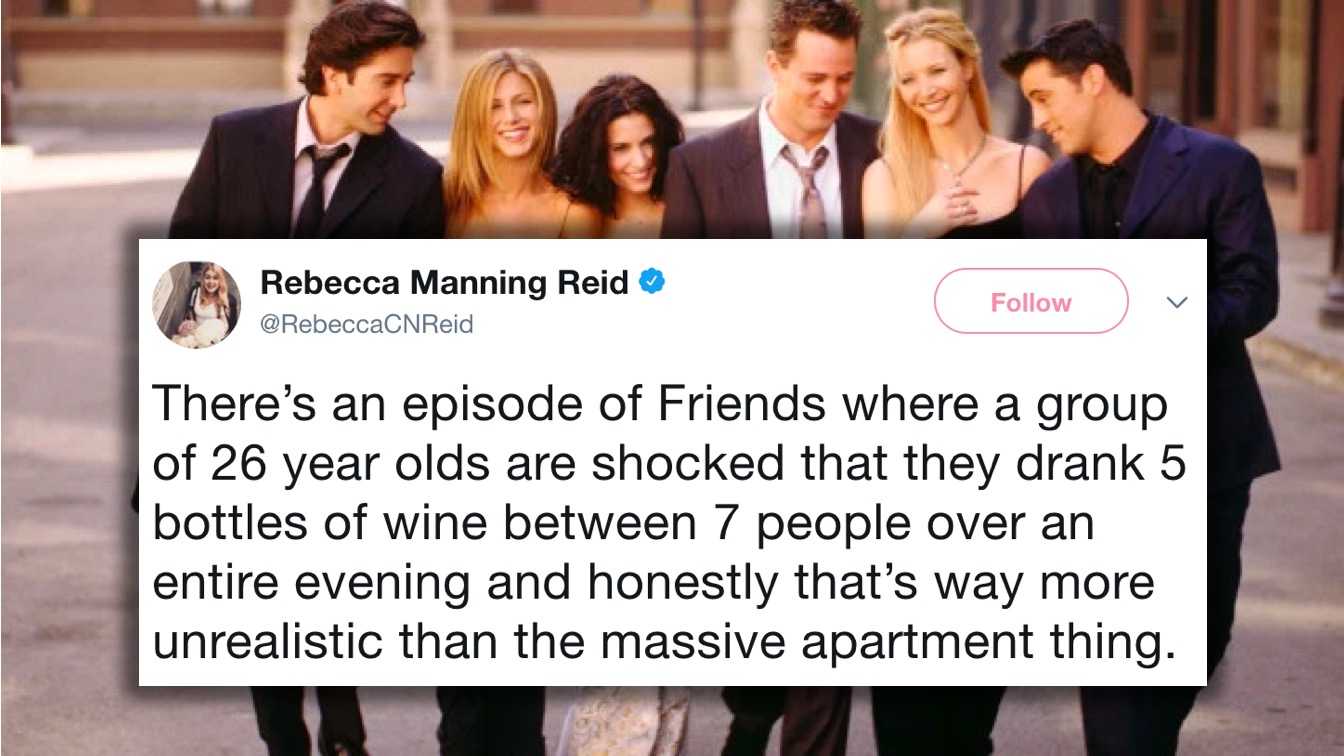 But I think we can all agree on a few things…
It's been more than a decade since Friends graced our airwaves, but thanks to streaming, it's been making a resurgence lately. A whole new generation of viewers is discovering the show, and recently, when the beloved 90s sitcom finally landed on Netflix in the UK, many of them started discussing it on Twitter.
Thanks to the wonders of social media, we are able to hear their impressions, and laugh at their questions, as they make their way through all ten seasons in real time. It's both a trip down memory lane and a long overdue dissection of some of the show's most obvious problems.
Let's start with the basics.
First, the hair:
So first things first… my god the hair

— Daniel Faulkner (@TheDanFaulkner) January 5, 2018
And the fashion:
watching #friends properly for the first time…..I just want all the outfits minus the awful shoes pic.twitter.com/G0Ux0aX1Se

— alisha (@alishajordanXO) January 9, 2018
no offence but Monica Geller deserves Rachel Green level appreciation and attention. pic.twitter.com/KbBKF9BIhR

— minnie (@minmakesmusic) January 4, 2018
Can I also just say that Phoebe Buffay served us some serious looks too. Appreciate them all. Thnx. pic.twitter.com/TrHLvLtqh3

— minnie (@minmakesmusic) January 6, 2018
And the… lack of fashion?
Watching FRIENDS on Netflix and I have questions: 1) was there no room in the wardrobe budget to purchase bras? 2) how cold were those sets?

— Blake Northcott™ ⭐️ (@BlakeNorthcott) October 31, 2017
Watching Friends on Netflix and it's basically just nipples

— Big Ron Bentham OBE (@UncleRBenson) January 9, 2018
But then we get down to the real shit.
Watching Friends for the first time ever. Like Chandler and Rachel, Hate Ross, Joey creeps me out, Phoebe's fun in a scary way. And why does everyone mock Monica for trying to keep a clean, organized home?

— Ellen Natalie (@EllenNatalie87) January 7, 2018
Seems fair. Even more fair? Trashing Ross!
I'm watching Friends all the way through for the first time and Ross is an absolute ass. WHY DO PEOPLE LIKE HIM?

— Becky ???? (@Blupye) January 4, 2018
Watching Friends for the first time n all I can say is that Ross is an absolute turnip

— ❣ Annie ❣ (@justmagica_l) January 6, 2018
And, obviously, people have opinions on Ross/Rachel. Some firmly on Rachel's side:
Watching through Friends for the first time. Ross is a monster. What is Rachel seeing in him

— Bee Wakefield (@Bee_Wakefield) January 5, 2018
Others going the other way:
watching Friends for the first time and Ross and Rachel were def on a break. I don't know why people argue it was obviously a break

— Clay Ingold (@ClayIngold) October 30, 2017
Clay must be single.
Of course, no matter where you fall on their will they/won't they/he sucks/she's wrong continuum, some moments still get you shook:
Watching Friends with the boyfriend for the first time. His reaction when Ross says "Rachel" instead of "Emily" ???????????????? pic.twitter.com/a4z9tOIjeu

— Ellyn Tyler (@MissEllynphant) November 26, 2017
Most of the issues people are having are matters of opinion. Hell, maybe you were a fan of the absurd Joey/Rachel dalliance that occured long after most sane people abaondoned the show. To each his own! But there is one thing on which we can all agree:
There's an episode of Friends where a group of 26 year olds are shocked that they drank 5 bottles of wine between 7 people over an entire evening and honestly that's way more unrealistic than the massive apartment thing.

— Rebecca Manning Reid (@RebeccaCNReid) January 9, 2018
The lack of drinking is total bullshit.