Pilot Makes Tear-Jerking Flight Announcement to His Passenger Parents [WATCH]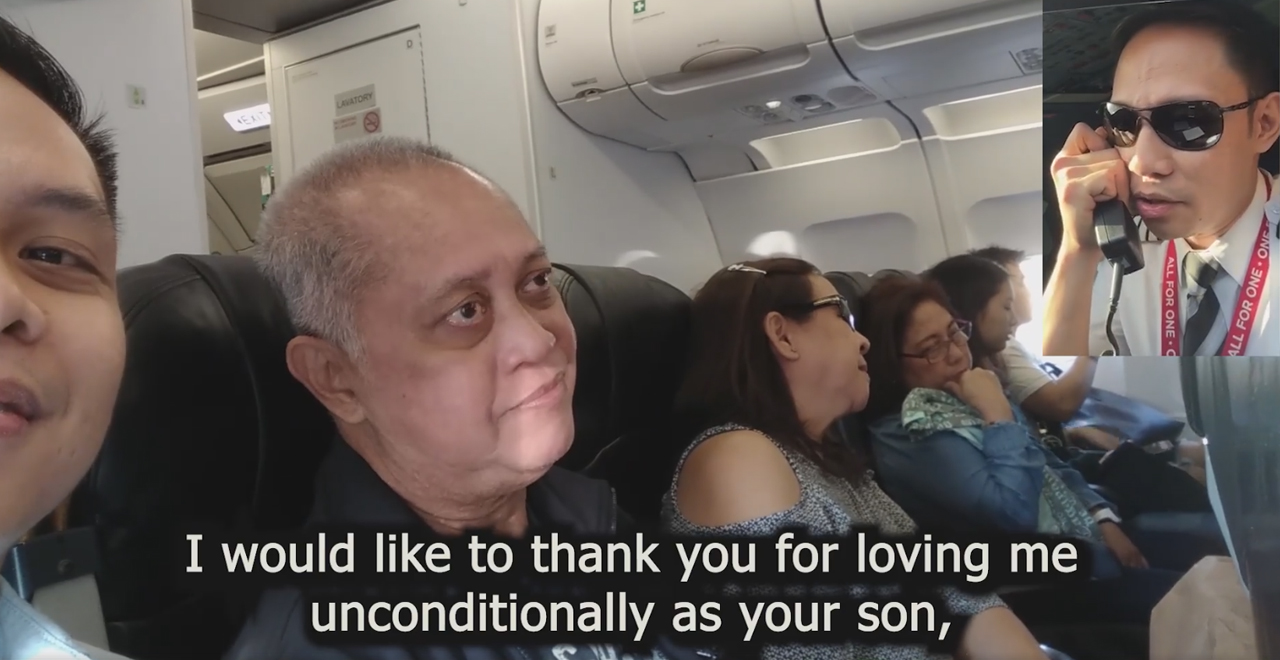 Everybody knows about take your kids to work day. But it's not often that children get to take their parents to work.
Even fewer get to take their parents to work thousands of miles above sea level!
That's what Genesis Bernardo got to do last week. Genesis is a pilot for Air Asia, and when he made his flight announcement from the cockpit, his parents were among the passengers he addressed. They had no idea their son would be flying their plane from Manila to Taipei. His brother Joshua was also on the flight, with his girlfriend, and had helped arrange the surprise.
"Good morning, ladies and gentlemen, from the flight deck, this is Genesis Bernardo, your captain speaking," the proud son said to the plane full of travelers. After relaying the details of the flight, he then proceeded to thank his parents as "two very important persons in my life," for helping him reach his goal of becoming a pilot.
"I would like to thank you for loving me unconditionally as your son and for teaching me to do my best in everything that I do," Bernardo announced. "I also thank you for inspiring me to never stop dreaming big and making me believe that everything is possible as long as you have faith," he added.
Genesis shared the video on his Facebook page, including his parents' reaction to his announcement. It has received over three million views, 68,000 likes, and 32,000 shares. In the caption to the video, he wrote a message thanking parents everywhere for helping their kids reach their dreams.
"The greatest fulfillment of a parent is when they see their child achieve success…and the happiest moment of a child is when he sees his parents being proud of his achievements. To all the parents who have been an inspiration to their kids to achieve their dreams, I salute you! Always "believe" in them and they will definitely move mountains. To everyone of us who made our parents proud, treasure every moment of it. These things are priceless."
Watch the video of the touching moment: