Credit: Getty/photoschmidt
There are just certain things in our lives that can lift up our spirits.  A favorite TV series or a certain kind of food.  It's different for everyone, but video games are what helped me cope during a rough patch in my life.
Almost eight years ago, I was diagnosed with testicular cancer.  While in the shower, one of my testicles felt like a rock.  It was solid and painful to even graze it on anything.  Putting any kind of pants on would become a chore and unfortunately, you have to wear pants out in public.  After expressing concerns with my doctor, I was booked in for an ultrasound.
Immediately the day after the scan, I got a call from my doctor and she asked me to come in to discuss the results.  She told me to bring my wife and kids as well.  The positive, inviting sound of her voice almost made it seem like we were going to like what she had to say.  She broke the news and my wife and I held back tears.  Our kids didn't really know what was going on since they were young at the time (one and four).  For me, I thought that was it.  The beginning of the end.  Game over, man.
Ultimately it was decided that surgery would be the best option.  They would remove my right testicle (they make an incision in-between your pelvic area and your stomach) and after that perform some tests to see if the cancer had spread any further.  It is the most common form of cancer in men age 15 to 35 and statistically, 95% of men survive testicular cancer, you just have to catch it early enough.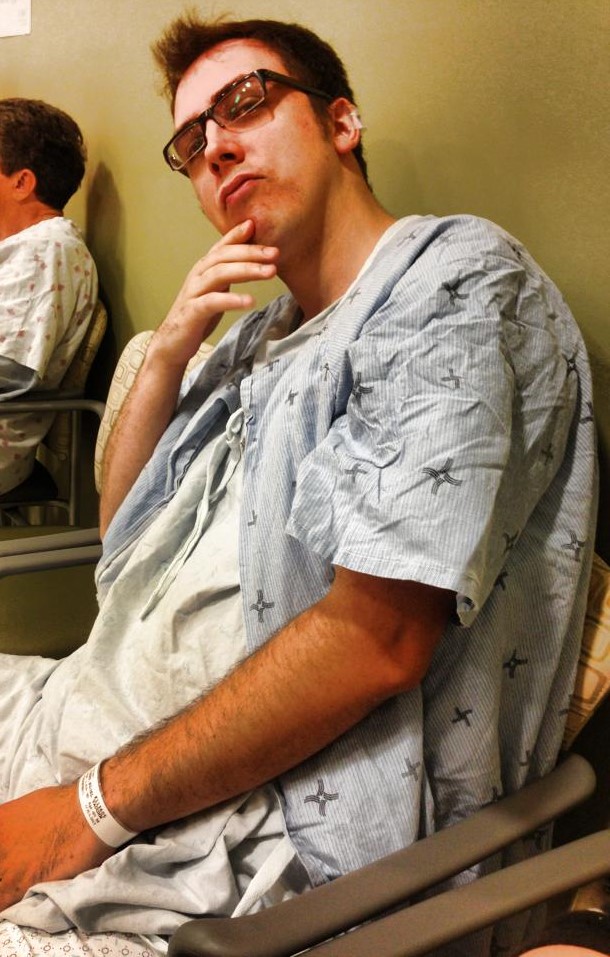 The day of the surgery arrived and I was on edge.  I constantly kept making sure with the doctor and nurses that they knew that it was my right testicle they were removing. I had this fear they would accidentally remove the wrong testicle and then they would end up having to remove both.  Even when they were giving me the anesthesia, I made sure with them that it was my right testicle they were removing.  After the surgery, I woke up groggy and disoriented, but not so disoriented that I didn't immediately check underneath the covers.  They had removed the "right" testicle.  I breathed a sigh of relief and might have laughed because I was still ridiculously high on pain meds.
Once I was back at home, any movement was pretty painful and my mental state wasn't the greatest.  That's the thing, the surgery wasn't the hard part, it's what comes after.  Growing up, your testicles are a coveted treasure.  I can guarantee you've heard "Grow a pair" or "Get some balls".  It's rammed into your head that your testicles define who you are as a man (they don't).  Well, now I was short one.  In desperate need to get away from my current situation, I figured this was as perfect a time as any to chill on the couch and catch up on my backlog of games.  Parental duties had pushed Borderlands 2 to the wayside so I decided to start a new character and immediately, I found myself lost in its wild, hilarious, messed-up world.  That's one of the great things about video games, they're able to distract you and help with the healing process.  I'm not quite sure I'd recommend something as intense as Dark Souls, but if that helps you relax, go for it.
I hadn't played any of the expansions yet for Borderlands 2 and there's one called 'Assault on Dragon Keep'.  It involves you traveling through various fantastical areas within a board game called 'Bunkers and Badasses'.  Much like an actual Dungeons and Dragons game, the world shifts and transforms right in front of your eyes.  It's really awesome and as with most of Borderlands, it has its fair share of funny moments.  While you're playing through it though, there are little hints as to why one of Borderland's most outrageous characters Tiny Tina loves playing 'Bunkers and Badasses' so much.  She uses the game to cope with the death of her friend.
It was at that moment I realized I had something in common with the adorable little psychopath and this game spoke volumes to me.  Borderlands 2 allowed me to escape to a world where I got to be a badass Vault Hunter.  Like most video games, it offered a form of escapism that I so desperately needed at that time in my life.  I just wanted to get lost in something and forget about the situation I was in.
Almost eight years later, surgery would end up being all I needed.  I'm still in remission, but I get checked yearly just to be safe.  It honestly took a while before I didn't feel any different and felt confident again with myself, but video games helped with getting through that whole process.  Things turned out alright in the end for me, but I can't imagine the stress and fear of the families dealing with a situation like mine that doesn't go according to plan.  I have friends and family who have dealt with and are currently dealing with cancer in their lives.  You don't realize how many people it actually affects until you've been there yourself.
Video games have the power to take your mind off things, allowing you to heal, and Borderlands 2 holds a special place in my heart for that reason.
Sometimes, just like Tiny Tina, you have to escape the real world for a little while.
Testicular cancer is no joke.  Most young men are reluctant to talk about it or examine themselves because they're embarrassed, and those with testicular cancer may not discover it until it's too late.  Don't let the stigma hold you back from getting checked out.  If you think you might have testicular cancer, here's how to self-examine yourself.